Top iPhone apps for Windows admins: Nice Trace
Tracking network connections on-the-go could get easier for Windows admins with Nice Trace, a remote traceroute application with real-time monitoring capabilities.
#9: Nice Trace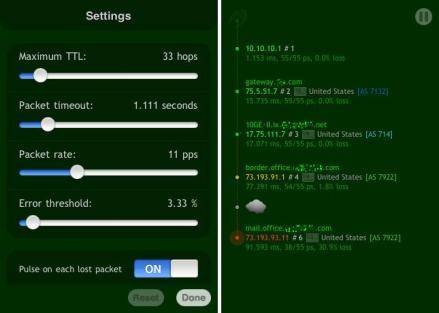 (Image credit:App Store HQ)
Nice Trace is a remote traceroute application created by developer Pavel Ahafonau and designed to let admins monitor network issues without being in the office. The app tracks the network route to a host site and screens any issues along the way, such as bottlenecking and other network connectivity problems.

Devices: iPhone, iPod Touch and iPad

Features: Real-time monitoring, bottleneck monitoring, network origin and range detection, packet generation and loss detection

Price: $1.99

Reviewers give Nice Trace a 3 out of 5 star rating, though some have noted a confusing color scheme and small font size that can at times make the screen difficult to read.
Dig Deeper on Enterprise infrastructure management