Top iPhone apps for Windows admins: Rove Virtual Machine Manager
Rove Virtual Machine Manager aims to give admins virtual machine management functionality from outside the office – but is it worth the hefty price tag?
#10: Rove Virtual Machine Manager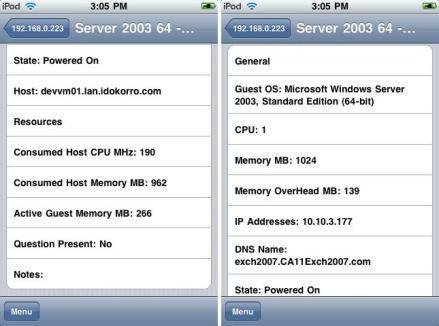 (Image credit:iTunes App Store)
Rove Virtual Machine Manager from Rove Mobile Inc. is one of the few iPhone apps out there specifically designed to manage VMs. The app is set up for VMware virtual environments, with support for vSphere, Virtual Center and ESX servers of various editions.

Devices: iPhone, iPod Touch and iPad

Features: Virtual machine memory management, Resource Pool management, virtual machine search functionality and power, shutdown, reset and reboot capabilities

Price: $39.99

In order to use the app, admins must download the free Rove Mobile Applications Gateway from the Rove site and install it to a Windows machine(s) within their network. Reviewers give Rove Virtual Machine Manager a 4 out of 5 star rating in the iTunes App Store, though the high price tag could cause some to shy away from what has been described as a slower application with a lot of potential.
Dig Deeper on Microsoft Hyper-V management