Evaluate
Weigh the pros and cons of technologies, products and projects you are considering.
Top iPhone apps for Windows admins: What's Goin' Down?
Admins can nurse their networks from the road with What's Goin' Down, a network monitoring app designed to keep admins in the know about Windows server health.
#8: What's Goin' Down?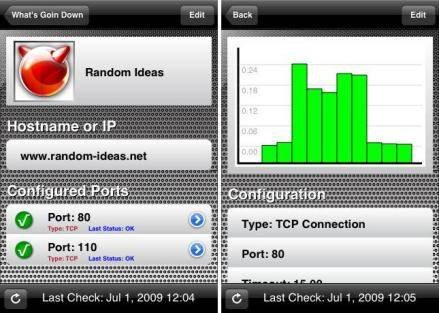 (Image credit:iTunes App Store)
What's Goin' Down lets admins track the health and status of their network servers and ports straight from the iPhone. Designed by Random Ideas, the TCP server network monitoring app is meant to give admins configuration management capabilities to assure their connections are working properly.

Supports: Any Windows server using TCP/IP

Devices: iPhone, iPod Touch and iPad

Features: Customized server images, automatic status checks and ability to monitor up to 10 connection results

Price: $4.99 for full version, with free Lite version also available (Note: Random Ideas states that part of the proceeds will be donated to benefit autism)

Reviewers give What's Goin' Down a 3 out of 5 star rating in the iTunes App Store, noting its speed and efficiency.
Dig Deeper on Enterprise infrastructure management