Manage
Learn to apply best practices and optimize your operations.
Two don'ts for optimal Exchange 2007 mailbox server efficiency
Avoid disk compression and don't use the Quick Format option for storage volumes to achieve optimal Exchange 2007 mailbox performance.
How a storage system is configured in Exchange 2007 is an important factor when determining a server's overall performance. This is particularly true for mailbox servers.
Microsoft recommends placing databases and transaction logs on different disks. This is just one of many ways to improve the efficiency and reliability of Exchange Server disk resources. This tip explains techniques you can use to keep mailbox servers running at peak efficiency.
Volume formatting
One of the most overlooked optimization methods is typically performed before Exchange Server is installed. Figure 1 shows the Windows Server 2003 version of the Format New Volume dialog box. Other versions of Windows Server contain similar options, but may have some cosmetic differences.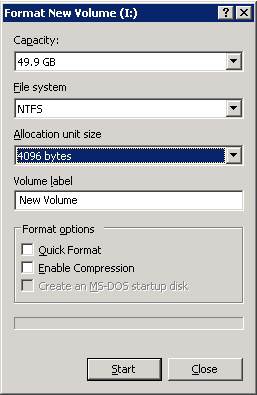 Figure 1. Here is the Windows Server 2003 version of the Format New Volume dialog box. Take Exchange Server into account when formatting storage volumes.
Some system administrators prepare a brand new server and accept the default settings in the dialog box. The assumption is that Windows Server has been designed to display default options that are best for the system. In some ways this is true.
For example, Windows sets the default allocation unit size based on the size of the volume that's being formatted. The problem is that when you install Windows Server, Windows doesn't know that you will install Exchange Server later. Therefore, the default options displayed in the Format New Volume dialog box are general-purpose recommendations, not necessarily what's best for Exchange Server.
Disk compression
There are several recommendations to prepare a disk for use by a mailbox server. First, never compress a volume that will be used to store the Exchange Server database or its transaction logs. Microsoft does not support the storage of Exchange Server data files on a compressed NTFS volume.
Compression can cause many issues, the most common of which is performance degradation. When Windows reads a compressed file, it must be decompressed on-the-fly. Compressing and decompressing files consumes a significant amount of CPU resources that would have originally been available for Exchange Server.
A more serious consequence of compressing volumes set aside for Exchange storage is that once the database grows to a certain size, it may become corrupted or refuse to mount. The size of the database varies from one version of Exchange Server to another. Microsoft documentation indicates that problems occur once databases reach about 4 GB.
The Quick Format option
A common mistake Exchange administrators make is using the Quick Format option to prepare a new volume. A Quick Format essentially erases any preexisting files and prepares the volume for use. Although standard formatting takes longer to complete, the disk is scanned for bad sectors as part of the formatting process.
This additional time is worth the investment, though. It's better to find bad sectors before any data is placed on the volume than it is to encounter undetected bad sectors later.
By default, Windows sets the allocation unit size based on the size of the volume being formatted. Any NTFS volume with a size of 2049 MB or larger (just over 2 GB) has a default allocation unit size of 4096 bytes (4 KB). A 4 KB allocation size usually works fine for general purpose storage, but Microsoft recommends setting the allocation unit size for volumes storing Exchange Server data to 64 KB.
About the author: Brien M. Posey, MCSE, is a five-time recipient of Microsoft's Most Valuable Professional (MVP) award for his work with Exchange Server, Windows Server, Internet Information Services (IIS), and File Systems and Storage. Brien has served as CIO for a nationwide chain of hospitals and was once responsible for the Department of Information Management at Fort Knox. As a freelance technical writer, Brien has written for Microsoft, TechTarget, CNET, ZDNet, MSD2D, Relevant Technologies and other technology companies. You can visit Brien's personal website at www.brienposey.com.
Do you have comments on this tip? Let us know.
Please let others know how useful this tip was via the rating scale below. Do you know a helpful Exchange Server, Microsoft Outlook or SharePoint tip, timesaver or workaround? Email the editors to talk about writing for SearchExchange.com.