Evaluate
Weigh the pros and cons of technologies, products and projects you are considering.
Workflow Studio 1.0
FullArmor's Workflow Sudio platform was created to allow automation of business processes and the datacenter through Windows PowerShell.

The new FullArmor Workflow Studio platform enables enterprise-scale data center and business process automation through Windows PowerShell and the flexibility of workflow.
Workflow Studio version 1.0 uses a graphical workflow designer that allows administrators to build full automation of business and/or IT processes. These processes include user account management, server and application provisioning, security enforcement and automation, disaster recovery automation and routine and emergency maintenance on data center resources.
FullArmor designed the system to enhance Windows-based automation by combining Windows PowerShell and a workflow engine. Rather than writing time-consuming script code with limited capabilities, Workflow Studio has end-to-end IT and business process automation through a drag-and-drop interface.
Workflow Studio 1.0 allows admins to do the following:
Provision Active Directory
Provision Group Policy
Provision virtual machines
Automate client self-service
Automate corrective action for server problems
Reduce mean time to repair (MTTR)
Simplify PowerShell scripting
Automate any PowerShell-enabled system/application
Ensure regulatory compliance
Eliminate costly, repetitive IT tasks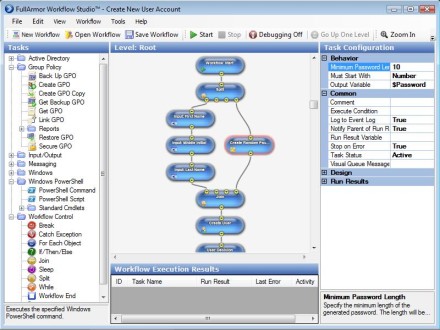 System requirements: Windows XP SP2 or higher, Windows Vista or higher, Windows Server 2003 SP1 or higher, .NET Framework 2.0 or higher, Windows PowerShell 1.0.
Pricing: $295 per user (console license), $25 per server (server runtime) and $100 per 10-pack (client runtime).