eZines and eBooks for Windows server professionals
A library of Windows server resources, with technical advice for IT professionals on working with the latest storage technologies, file systems, Windows Server 2008 and more.
Our collection of eBooks and eZines provides IT professionals with the latest information and advances in the world of Windows server management. Peruse the chapters and issues below to find some of the Web's best expert technical advice on working with Windows storage technologies, file systems and more.
| | |
| --- | --- |
| Windows Servers and Storage | |
Chapter 1: Choosing your server
Selecting, installing and implementing the servers in your organization is a critical challenge. Once you've selected a server, careful planning for its installation and management is crucial. Indeed, the future of your organization may depend on it.
This chapter from the e-book, Windows Servers and Storage, contains information to guide administrators and IT managers in the selection and installation of servers, systems and subsystems. The chapter discusses server hardware, server architecture, server form factors and server scalability.
Reading this chapter will tell you which factors should enter into the purchasing decision for a server, what creates a successful server installation and how to set up a server room.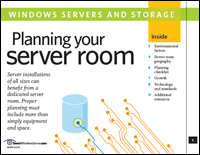 Chapter 2: Planning your server environment
There are many factors to consider when planning for your organization's server environment: the server vendor, which operating system it will run, how much memory and I/O, and perhaps even which processor. This chapter provides systems administrators and IT managers with practical knowledge they can apply to avoid missteps when selecting the machines that will run their critical business applications.
Also included in this chapter from SearchWindowsServer.com's e-book, Windows Servers and Storage, is an overview of server virtualization.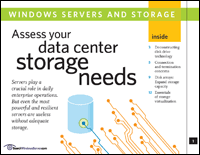 Chapter 3: Assess your data center storage needs
Servers play a crucial role in daily enterprise operations. But even the most powerful and resilient servers are useless without adequate storage. This chapter provides systems administrators and IT managers with practical knowledge they can apply to avoid missteps when selecting the machines that will run their critical business applications.
Not all storage is the same, though. So how do you know what your organization needs? This chapter provids details on disk drive technology, connection and termination concerns, how to expand storage capacity with disk arrays, the essentials of storage virtualization and more.
| | |
| --- | --- |
| The Windows manager's guide to iSCSI SANs | |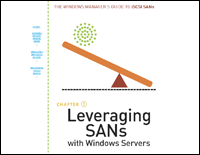 Chapter 1: Leveraging SANs in Windows Servers
An iSCSI storage area network (SAN) offers several advantages over direct-attached storage (DAS) in a Windows server environment. In this chapter, get the information every Windows manager needs to gain the most out of an iSCSI storage platform, with details on:

Making the most of iSCS SANs
SAN resiliency and disaster recovery
Understanding the iSCSI Initiator
Chapter 2: Gearing up for SANs on a SQL Server
One main benefit of using iSCSI to attach your SQL Server to a SAN is that it reduces SAN infrastructure set-up costs. There also are no additional fibre network costs to consider when configuring your solution, which means that there are no delicate fibre cables to handle. In this chapter, learn about preparing for SANs on a SQL Server and how this solution can facilitate environment scalability, with info on:
Deploying and tuning an iSCSI SAN
Configuring the iSCSI Initiator
Data security over the LAN
iSCSI issues and workarounds
Chapter 3: Reducing Exchange Server complexity with SANs
Selecting the proper storage solution in an Exchange Server 2007 environment requires careful consideration. Because they're more cost-efficient and scalable than direct-attached storage, iSCSI SANs are gaining popularity as the storage method of choice for many companies. This exclusive ebook chapter covers iSCSI SAN topics such as: , , .:
Disk capacity
Exchange Server backups
High availability
Disaster recovery
Download the eBook
| | |
| --- | --- |
| The End of File Replication Service | |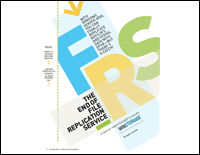 Put an end to FRS with Windows 2008
The introduction of Distributed File System Replication (DFSR) with Windows Server 2003 R2 was a welcome addition for administrators burdened for years with the poorly implemented File Replication Service (FRS). With DFSR, Microsoft created a completely new (and more reliable) replication engine from scratch. Unfortunately, at that point DFSR could only be used to replicate DFS data, so SYSVOL data replication still required FRS. Now, with the release of Windows Server 2008, administrators can use DFSR for SYSVOL replication - putting an end to FRS once and for all. The catch? A tricky migration process when upgrading from Windows Server 2003 to 2008.
This special report is an original, independently-produced editorial product that was researched, written and published exclusively for SearchWindowsServer.com.
| | |
| --- | --- |
| WinStorage | |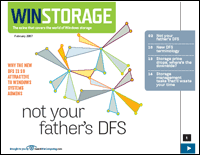 Not Your Father's DFS
The Distributed File System (DFS) has been around since the days of Windows NT 4.0. Now improvements made to DFS in Windows Server 2003R2 have made it a more attractive storage feature to Windows administrators. New functionality is available in the areas of:
Target priority
Client failback
Bandwidth throttling
Replication scheduling
Collecting data for backup
File and subfolder filters