Download Top IT consumerization considerations
Review essential insights that can help you address top BYOD concerns in your organization,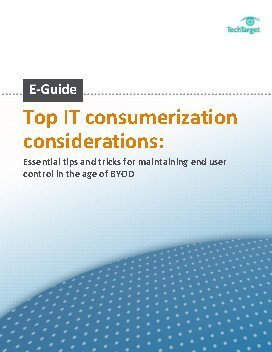 Download Top IT consumerization considerations
IT consumerization is significantly impacting the role IT shops play in today's organizations. As users continue to bring various personal devices into the workplace, IT pros must find ways to effectively manage, secure and provide support for these end points – a task much easier said than done.
Fortunately, the same experts who spoke at our Consumerization of IT seminar compiled these exclusive guides to provide eye-opening insights to help you address the critical challenges that this evolving end-user trend introduces.
Utilize these essential resources to learn how to embrace BYOD so you regain control of your users and prepare for the next era of IT.
Dig Deeper on Outlook management