News
Stay informed about the latest enterprise technology news and product updates.
Part 8: Conclusion
A primer on server roles and Exchange hardware, part 8
The information that I have given you in this primer is based on my own experiences. It's important to remember that every organization is different. My recommendations are just guidelines. The only way to accurately determine exactly what hardware will be best suited to your organization is to use Performance Monitor to gauge your resource usage.

A PRIMER ON SERVER ROLES AND EXCHANGE HARDWARE

Home: Introduction
Part 1: Microsoft's hardware recommendations
Part 2: Server roles
Part 3: Mail servers
Part 4: Public folder servers
Part 5: Bridgehead servers
Part 6: Gateway servers
Part 7: Front-end servers
Part 8: Conclusion
Part 9: Related links

ABOUT THE AUTHOR: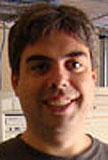 Brien M. Posey, MCSE
Brien is a Microsoft Most Valuable Professional for his work with Windows 2000 Server and IIS. He has served as CIO for a nationwide chain of hospitals and was once in charge of IT security for Fort Knox. As a freelance technical writer, he has written for Microsoft, TechTarget, CNET, ZDNet, MSD2D, Relevant Technologies and other technology companies.
Copyright 2005 TechTarget