News
Stay informed about the latest enterprise technology news and product updates.
Worst Practice #6: Throttle the RAM available to Exchange
Checklist: Top 10 Exchange performance worst practices, worst practice #6
It seems like every day I see a post or e-mail from someone asking why store.exe is consuming a large part of Exchange Server's memory. Often this is accompanied by questions on how to throttle store.exe to limit its memory consumption.
Whatever way you do it, throttling RAM for Exchange is a bad thing. Exchange is designed to use as much memory as it can get its "hands" on. You need to let it.
This means that you should never install Exchange on the same server as SQL Server, for instance, since this will result in serious memory contention issues, and cause significantly degraded performance. Similarly, co-locating Exchange on a domain controller or global catalog server is not recommended.
Speaking of RAM, don't forget to pay attention to well-known tuning recommendations concerning:


Top 10 Exchange performance worst practices



Home: Introduction


#1: Treat "high availability" as a future project


#2: Leave "IOPS" for the consultant


#3: Use identical configuration for all Exchange Server roles


#4: Encourage users to keep everything in their Inboxes


#5: Schedule backups and system maintenance during peak usage


#6: Throttle the RAM available to Exchange


#7: Virus scan and back up the M drive


#8: Ignore client configuration, type and usage


#9: Don't use change control


#10: Ignore management tools

ABOUT THE AUTHOR: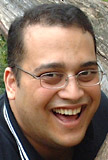 David Sengupta, Exchange expert
David Sengupta is a Product Manager in the Windows Management group at Quest Software. He has also been a Microsoft MVP in the Exchange Server category for six consecutive years. Sengupta has contributed to various Exchange and Windows books, magazines and white papers from a number of publishers. He also frequently represents Microsoft on staff at Ask the Experts, Microsoft Experts Area and Peer Talk at conferences such as MEC and TechEd. David has an M.T.S. from Tyndale Seminary, Canada, a B.Sc. from University of Ottawa, Canada and MCSE (Messaging) and CCA certifications. David runs a blog on Microsoft Exchange and e-mail compliance issues at http://p0stmaster.blogspot.com and can be reached at mailman@quest.com.
Dig Deeper on Exchange Server setup and troubleshooting