News
Stay informed about the latest enterprise technology news and product updates.
Part 3: Recipients
Crash Course: A tour of Exchange System Manager, part 3: Recipients.
The Recipients container, shown in Figure B, can appear a little intimidating at first glance, because it has so many sub-containers. This container deals primarily with custom address lists, but it is also used to define user e-mail addresses and control the way Exchange related data is displayed through Outlook.
Figure B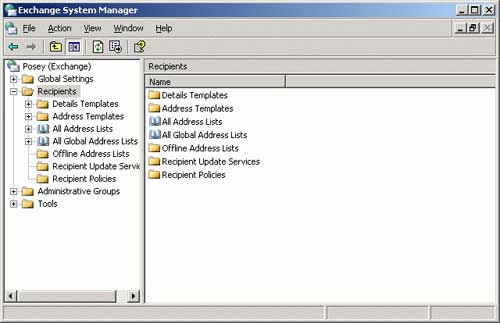 The first two sub-containers beneath the Recipients container are the Details Templates and Address Templates containers. They contain templates that control the way various details and addresses are displayed through Outlook, in different languages. You likely won't ever need to touch either of these containers.
The All Address Lists sub-container needs a bit more explaining. As you might expect, an address list is basically a mailing list. Exchange Server 2003 allows you to create custom address lists based on a variety of factors.
For example, you could create an address list of users with Exchange mailboxes who also belonged to some other group, perhaps all the employees in the Finance Department. The All Address Lists container acts as a repository for any custom mailing lists that you create.
By default in an Exchange organization, all Exchange users can access the Global Address List. However, if you host Exchange services for multiple companies, you might not want one company's employees accessing another company's address list. The All Global Address Lists sub-container allows you to create separate address lists for each virtual Exchange organization, and assign any necessary permissions.
The next sub-container is the Offline Address Lists container. The offline address list feature is pretty self explanatory. It is an address list that Outlook users can download if they are going to be working offline.
In Exchange Server 2003, the various address lists are dynamically generated based on a set of rules and conditions. However, to remain current, Exchange must occasionally reprocess those rules. It is possible that some address list members no longer meet the list's criteria. It is also possible that new user accounts have been created that should be included in the address list. Reevaluating address list membership keeps the list's membership up to date.
The reevaluation process is the responsibility of the Recipient Update Service. The Recipient Update Service sub-container offers options that allow you to schedule how frequently Recipient Update Service runs.
The last container I want to talk about for this section is the Recipients Policies sub-container. The main operation this container allows you to perform is to specify user e-mail addresses. For example, my domain is brienposey.com. I therefore have a recipient policy that defines user SMTP addresses by appending @brienposey.com to usernames.

Crash Course: A tour of Exchange System Manager

Home: Introduction
Part 1: Getting started
Part 2: Global Settings
Part 3: Recipients
Part 4: Administrative Groups
Part 5: Tools

ABOUT THE AUTHOR: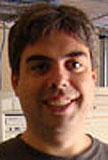 Brien M. Posey, MCSE
Brien is a Microsoft Most Valuable Professional for his work with Windows 2000 Server and IIS. He has served as CIO for a nationwide chain of hospitals and was once in charge of IT security for Fort Knox. As a freelance technical writer, he has written for Microsoft, TechTarget, CNET, ZDNet, MSD2D, Relevant Technologies and other technology companies.
Dig Deeper on Exchange Server setup and troubleshooting