News
Stay informed about the latest enterprise technology news and product updates.
Managing recipients with system policies
In this tip from "15 tips in 15 minutes: Managing recipients and distribution lists," you'll strengthen your Exchange administrative skills by learning how to manage Exchange 2003 system policies in the Exchange System Manager.
Up to this point, you've configured recipient storage using settings on individual mailbox stores. You can avoid all that work by setting up system policies that control the same settings for all the mailbox stores on servers in an Administrative Group. These system policies override settings applied locally.

Create and manage system policies using ESM by drilling down under an Administrative Group to the System Policies folder. Figure 5.67 shows an example with a few policies already created.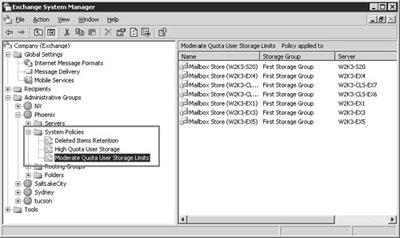 Figure 5.67 ESM showing the System Policies folder in an Administrative Group with a few policies already in place. (Click on image for enlarged view.)
Creating new system policies
To create a new system policy, right-click the System Policies folder and select New; then select one of the object types to manage: Public Store Policy, Mailbox Store Policy, or Server Policy. Figure 5.68 shows the menu.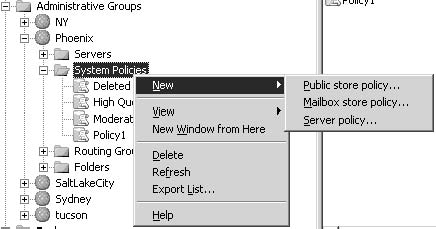 Figure 5.68 Options for creating new types of system policies in the System Policies property menu. (Click on image for enlarged view.)
When you select an object type, a New Policy window opens. The window divides each policy into options that correspond to tabs on the Property window for the associated object type. For example, a Public Store policy can manage settings on the General, Database, Limits, and Full-Text Indexing tabs, as shown in Figure 5.69.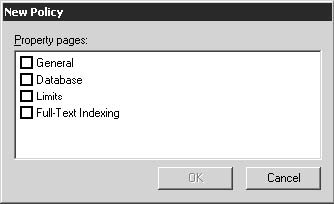 Figure 5.69 Options for property tabs to include in the new system policy. Tabs can be added after the policy has been created. (Click on image for enlarged view.)
Once you select a property page or pages to include in the policy, the resultant Properties window (example in Figure 5.70) shows the associated tabs and their settings.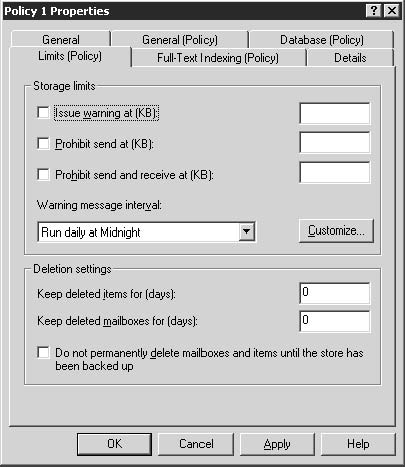 Figure 5.70 System Properties settings showing that the tab in the properties mimics the tab in the local policy. (Click on image for enlarged view.)
Targeting a system policy
System policies do not take effect until you link them to one or more mailbox stores, servers, or public folder stores. To do this, right-click the policy icon and select the Add option that matches the policy type you created. A Select Items window opens that lets you browse to the correct object type: mailbox store, public folder store, or server.
Once you link a policy to a particular object, the linked object appears under the policy icon in ESM, as shown in Figure 5.71. You can remove the linked object to return control back to the locally controlled settings.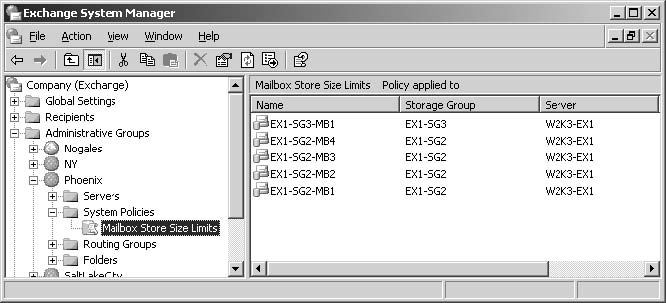 Figure 5.71 ESM showing links from a System policy to selected mailbox stores. (Click on image for enlarged view.)
You can link only one property page from one policy to any given property page on a store or server. If you try to link a second, you'll get a warning that the store has already been put under the control of a conflicting policy.
When you link a policy to a property page on a store or server, ESM locks you out from changing the settings locally. If you view the local property page in ESM, you'll see the values set by the policy with the fields dimmed, indicating that you cannot make changes.
To figure out which policy has locked a particular page, click the Policies tab. This lists any policies linked to the store and the property page affected by that policy. Figure 5.72 shows an example.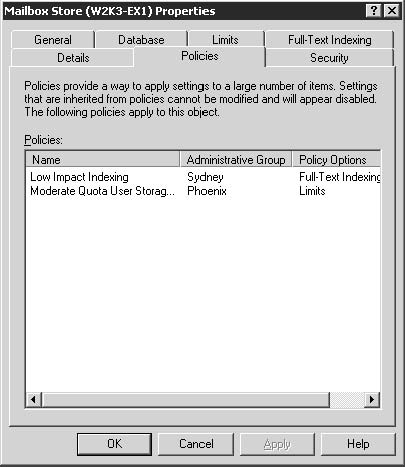 Figure 5.72 List of policies that affect the settings of a local mailbox store. The corresponding property pages would be dimmed in the local policy. (Click on image for enlarged view.)


15 tips in 15 minutes: Managing recipients and distribution lists



Home: Introduction


Tip 1: Exchange security groups


Tip 2: Group membership expansion


Tip 3: Managing Exchange group email properties


Tip 4: Exchange 2003 Query-Based Distribution Groups


Tip 5: DSAccess for Exchange


Tip 6: DSProxy for Exchange


Tip 7: Managing Exchange recipient policies


Tip 8: Exchange Recipient Update Service and proxy addresses


Tip 9: Restricting mail storage on an Exchange server


Tip 10: The Exchange server mailbox management service


Tip 11: Blocking a user's email access


Tip 12: Accessing another user's mailbox in Outlook


Tip 13: Exchange mail retention


Tip 14: Managing recipients with system policies


Tip 15: Managing recipients with Global Settings

This chapter excerpt from Learning Exchange Server 2003 by William Boswell is printed with permission from Addison-Wesley Professional, Copyright 2004. Click here for the chapter download or to purchase the book.
Dig Deeper on Exchange Server setup and troubleshooting