News
Stay informed about the latest enterprise technology news and product updates.
Managing recipients with Global Settings
In the following tip from "15 tips in 15 minutes: Managing recipients and distribution lists," you'll learn to manage Exchange global settings, including internet messaging, Exchange Rich-Text format, message text word wrap, and mobile services settings.
The system policies you've worked with so far in this chapter affect only servers and stores within an individual Administrative Group. Some settings require a more universal influence.

Exchange defines a set of Global Settings to control certain operations throughout an entire organization. In ESM, the Global Settings container sits right under the root
of the Organization.

Exchange defines three types of global settings: Internet message formats, Message Delivery, and Mobile Services. Let's see what each one does.

Internet message settings

If you do business with a client from a certain SMTP domain and you want to manage the messages sent to that client, you can impose a policy for your entire organization that targets messages sent to anyone in that particular SMTP domain.

For example, you can create a Message Format policy that determines the format for messages traveling to and from that particular SMTP domain. Figure 5.73 shows an example.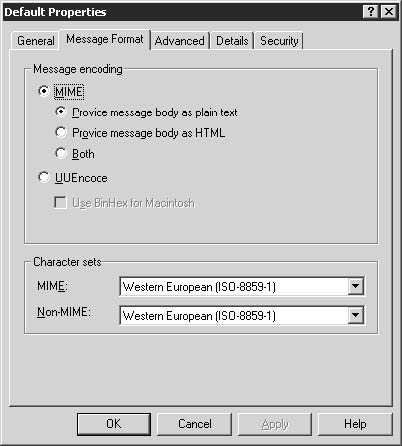 Figure 5.73 Internet Message Settings showing default message encoding and character set parameters. (Click on image for enlarged view.)
Exchange Rich-Text format
The body of a message from an older Outlook client might contain Rich Text formatting rather than HTML. You can disable this formatting, forcing Exchange to remove any portions of the message that contain Rich Text features. This significantly reduces the size of the message and makes it more compatible with third party email clients.
Message text word wrap
This option is handy when the client application cannot word wrap a message and the line endings get truncated. The choice of 77 characters fits most text screens.
Additional messaging options
The automatic messaging options are disabled by default so that you do not invite spam automatically by replying to an Internet message.
You might want to disable the option to Preserve Sender's Display Name on Message if you do not want the user's friendly name (LDAP display name) to show up on Internet messages. This also helps if your country of origin uses character sets that are not widely recognized. SMTP addresses are required to use ASCII, but your display name might use Unicode characters.
You should leave the delivery and non-delivery report options enabled. They provide helpful information for outside clients who might want an explanation of why their messages are not arriving. If you find that spammers use this information to gain data about your users, disable the options.
Message delivery settings
As shown in Figure 5.74, you can specify message size limits to discourage soaking up bandwidth with frivolously large message attachments.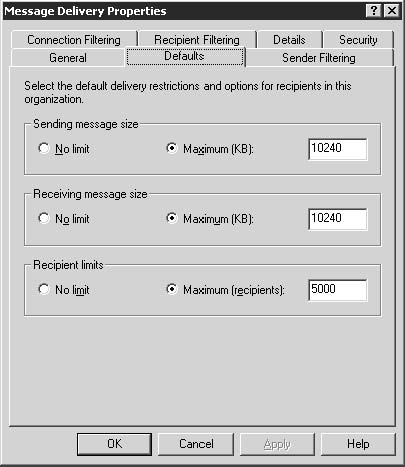 Figure 5.74 Global Message Delivery settings limiting size of mailboxes that affect all Exchange servers. Note the default setting of 10MB, which limits impact of Denial-of-Service (DoS) attacks. (Click on image for enlarged view.)
The Default settings get applied to all messages. The filter settings -- Sender, Recipient, and Connection -- get applied only by selecting the filter at an individual SMTP virtual server or servers. See Chapter 13, "Service Continuity," for more information about using these filter options to block spam and other unwanted email.
Mobile services settings
If you want to take advantage of the ability in Exchange 2003 to synchronize email with portable devices or to provide access by handheld devices using Outlook Mobile Access, you can use the Mobile Services settings to enable the services, as shown in Figure 5.75.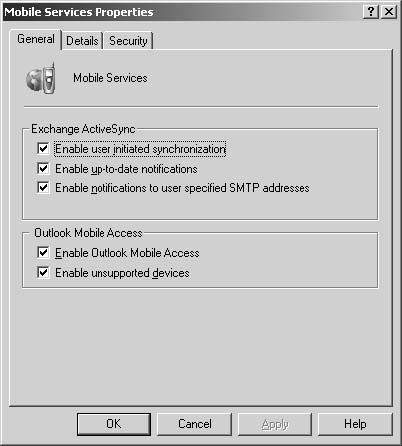 Figure 5.75 Mobile Services settings in Global Settings shown as enabled. Mobile services are disabled by default. (Click on image for enlarged view.)


15 tips in 15 minutes: Managing recipients and distribution lists



Home: Introduction


Tip 1: Exchange security groups


Tip 2: Group membership expansion


Tip 3: Managing Exchange group email properties


Tip 4: Exchange 2003 Query-Based Distribution Groups


Tip 5: DSAccess for Exchange


Tip 6: DSProxy for Exchange


Tip 7: Managing Exchange recipient policies


Tip 8: Exchange Recipient Update Service and proxy addresses


Tip 9: Restricting mail storage on an Exchange server


Tip 10: The Exchange server mailbox management service


Tip 11: Blocking a user's email access


Tip 12: Accessing another user's mailbox in Outlook


Tip 13: Exchange mail retention


Tip 14: Managing recipients with system policies


Tip 15: Managing recipients with Global Settings

This chapter excerpt from Learning Exchange Server 2003 by William Boswell is printed with permission from Addison-Wesley Professional, Copyright 2004. Click here for the chapter download or to purchase the book.
Dig Deeper on Exchange Server setup and troubleshooting