News
Stay informed about the latest enterprise technology news and product updates.
Part 1: How DNS works
Tuturial: A primer on DNS and MX records, part 1: How DNS works
Before I get into how an MX record works, you need to understand some DNS basics.
Computers are designed to work primarily with numbers. Human beings, on the other hand, tend to have an easier time understanding words. For example, if you wanted to visit my Web site, would you rather type www.brienposey.com or 24.235.10.4?
If you are like most people, it's a whole lot easier to remember a URL than an IP address. The problem is that if you enter a URL into your Web browser, your computer has no idea what you're talking about. Since it doesn't know what the URL means, it forwards it to a DNS server.
When you enter www.brienposey.com into a Web browser, your browser is smart enough to know that the site you're visiting exists somewhere within the brienposey.com domain. But, since brienposey.com isn't directly connected to your network, your browser has no idea where to find it.
Domain names are hierarchical in nature. Brienposey.com is a child of a top-tier domain named .com. Therefore, if your Web browser were to visit a .com-level DNS server, it could point the Web browser to brienposey.com. Unfortunately, your Web browser doesn't know the IP address of a DNS server for the .com domain either.
However, there is a domain called the root domain that exists above the .com domain. The root domain contains domains such as .com, .net, and .org.
A root hints file on your DNS server points to the IP addresses of the DNS servers for the root domain. The Web browser goes to the root domain and asks for the IP address of a DNS server associated with the .com domain. It then queries that DNS server for the IP address of a brienposey.com DNS server.
Once your computer knows the IP address of the brienposey.com DNS server, it can send a request to that DNS server and ask for the IP address of the server hosting it. You Web browser will cache the IP address and then communicate with the Web server directly without having to perform a DNS query each time (at least until the cached entry expires).

TUTORIAL: A PRIMER ON DNS AND MX RECORDS

Home: Introduction
Part 1: How DNS works
Part 2: An introduction to DNS records
Part 3: How to create an MX record
Part 4: How to set up a Host record
ABOUT THE AUTHOR: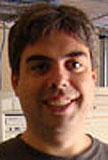 Brien M. Posey, MCSE
Brien M. Posey, MCSE, is a Microsoft Most Valuable Professional for his work with Exchange Server, and has previously received Microsoft's MVP award for Windows Server and Internet Information Server (IIS). Brien has served as CIO for a nationwide chain of hospitals and was once responsible for the Department of Information Management at Fort Knox. As a freelance technical writer, Brien has written for Microsoft, TechTarget, CNET, ZDNet, MSD2D, Relevant Technologies and other technology companies. You can visit Brien's personal Web site at http://www.brienposey.com.
Dig Deeper on Exchange Server setup and troubleshooting