News
Stay informed about the latest enterprise technology news and product updates.
IT shops find their reasons to upgrade to Windows Server 2016
Selected technical features and technical support twilight inspires more Windows Server 2008 and 2012 IT shops to upgrade to Windows Server 2016.
A growing number of IT shops have gained enough confidence to upgrade to Windows Server 2016, including some Windows...
Continue Reading This Article
Enjoy this article as well as all of our content, including E-Guides, news, tips and more.
Server 2008 R2 users who will skip Windows Server 2012 to access specific server OS features or preserve their technical support.
Some 32% of respondents to the TechTarget 2018 IT Priorities survey said they plan to roll out Windows Server 2016 over the course of this year, compared to only 15% who plan to implement Windows Server 2012. This compares to 20% who said they would roll out Windows Server 2012 in 2017 and 29% who planned to deploy Windows Server 2016.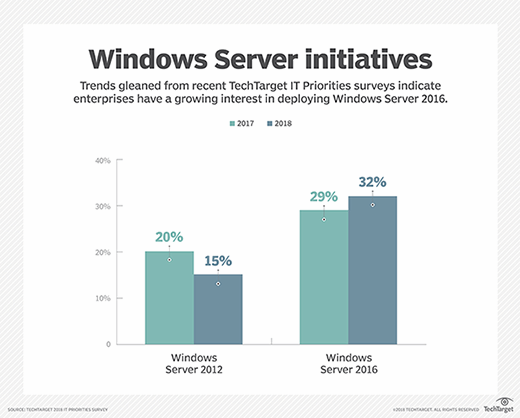 In the 2016 IT Priorities survey, some 38.6%, or more than double the number of respondents in the 2018 survey, said they would implement Windows Server 2012 that year. Only a negligible number said they were interested in delivering that year because the finished version of the product was still in beta testing and wasn't officially released until September.
Upgrade Windows Server for features, tech support
Respondents gave several different reasons for their decision to upgrade to Windows Server 2016. Some cited improvements to specific features such as Server Message Block 3.1.1, or to Storage Replica, which now supports asynchronous stretch clusters and RoCE V2 RDMA networks.
Others had more general long-term reasons to move up. Some Windows Server 2008 R2 users, for example, don't want to pay for technical support when Microsoft officially ends support for it in mid-January 2020.
With the current security landscape, you don't want to be on an unsupported server OS. The specter of being unpatched works in Microsoft's favor.

Jim Gaynorresearch vice president, Directions on Microsoft
"[Microsoft is] counting down to Windows Server 2008 and R2 support ending," said one Boston-based respondent with a large telecommunications company, referring to a recent bulletin issued by the company. "Two years may seem like it will give people enough time, but it comes at you pretty quickly."
Some analysts agree, and advise their IT clients that use both Windows Server 2008 R2 and Windows Server 2012 R2 to formulate migration plans to Windows Server 2016 and associated budget adjustments before the end of this year.
"With the current security landscape, you don't want to be on an unsupported server OS," said Jim Gaynor, research vice president at Directions on Microsoft. "The specter of being unpatched works in Microsoft's favor these days."
Windows Server 2012 R2 users are on the clock as well, as the product exits mainstream support in October 2018. While there's another five years of extended support for Server 2012 following that, Microsoft seems to favor no new features in a product after its mainstream support ends.
"Look at what's happening in 2020 with connectivity to Office 365 services," Gaynor said. "We have no indication, official or otherwise, that similar policies will come to [Windows] Server, but it's fairly obvious that Microsoft doesn't want customers sitting on the same [perpetually-licensed] version of Server for years."
It's unclear how many Windows Server 2008 R2 users will leapfrog Windows Server 2012 to upgrade Windows Server 2016, but it's likely a small fraction. For those who do, however, costs associated with additional server hardware and IT training would prove to be a worthwhile investment, according to one survey respondent.
Dig Deeper on Microsoft Windows Server 2016