geometrix - Fotolia
Microsoft puts a new face on remote server management
Microsoft's Project Honolulu puts the GUI back in the spotlight for systems administrators who felt left behind by the company's focus on advanced initiatives.
Though Microsoft's focus of late has been on advanced mobile, cloud and application development products, a recent...
Continue Reading This Article
Enjoy this article as well as all of our content, including E-Guides, news, tips and more.
debut of a remote server management tool shows the company has not forgotten to fortify the Windows Server admin's tool chest.
Microsoft last month released a technical preview of Project Honolulu, a free browser-based utility aimed at small and medium-sized businesses. The utility combines tools that manage and monitor Microsoft systems in one interface.
Editor's note: In April 2018, Microsoft changed the name to Windows Admin Center and made the tool generally available.
Project Honolulu offers flexibility to IT pros on the go, as well as IT pros who work on non-Windows devices. An admin on an iPhone or a Linux desktop can log into Project Honolulu running on a gateway server to check on a Windows Server system if an urgent help desk ticket arrives.
Smaller organizations that see Microsoft embrace various open source projects and steer admins to PowerShell command-line management might think the company has moved away from the familiar GUI. Some features in Windows Server 2016, such as Storage Spaces Direct, require an admin with PowerShell expertise to perform certain tasks. But not every IT shop works with PowerShell on a regular basis, and a cmdlet can't visualize the performance of a VM to help pinpoint a slowdown.
"I think customers were telling Microsoft they needed something to help them and were saying, 'If you're going to take away our GUI, then why don't we just go to Linux anyway?'" said Jim Gaynor, research analyst at Directions on Microsoft in Kirkland, Wash.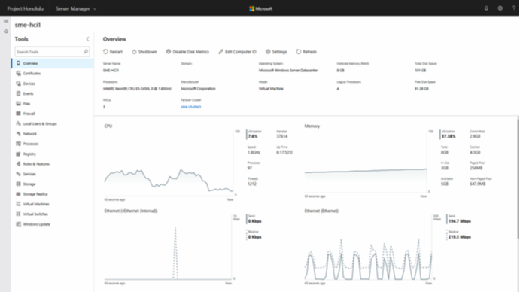 Microsoft says Project Honolulu is ideal for managing a single rack of servers that run Windows Server 2012 and newer. Honolulu also connects to Windows Server VMs that run in the cloud, such as Amazon Web Services.
Although Microsoft will support the Windows Server 2008 and 2008 R2 operating systems until 2020, Honolulu cannot manage these OSes, because its functionality relies on PowerShell cmdlets that came after those releases.
"Anywhere there's a Windows Server running, you can use Honolulu to manage it," said Jeff Woolsey, principal program manager for Windows Server at Microsoft. The official release for Honolulu will be sometime in 2018.
Richard Hooper, an IT project analyst with Utilitywise, a U.K.-based energy cost management firm, said Project Honolulu's unified interface helps him work with his infrastructure of just over 20 physical servers and more than 200 VMs. He uses PowerShell for a number of daily tasks, but appreciates the efficiency of Honolulu's streamlined layout, which makes it easy to dive into a VM to make a configuration adjustment or troubleshoot a problem.
"You just need one tool instead of the 20-odd tools I used before," Hooper said. "Before, to manage Hyper-V, you would have to open Hyper-V Manager. But then, to manage the cluster, you needed to open Failover Cluster Manager, as well."
Why admins need new server management tools today
Windows Server is more than 20 years old and has accumulated new features with each release. Microsoft must provide new snap-ins to its Microsoft Management Console to manage these roles, such as Active Directory, file servers or Hyper-V, which are not enabled by default. Out of this necessity, there are now dozens of tools administrators use to add or change roles, depending on the server's purpose.
Then, there's server maintenance. If a machine underperforms, the admin might go into the Task Manager to see the CPU usage or run the Performance Monitor to gather more data. If an issue recurs, the admin checks the logs in the Event Viewer for further insights. This juggle between multiple tools becomes second nature for many administrators, but it's time-consuming, as well as a distraction. Project Honolulu attempts to bring order to the chaos.
"[With Honolulu,] I can go to the registry. I can add roles. I can add features. I can uninstall things. I can configure services. I can configure storage VMs. All of this is happening within the context of a web browser, so no more switching between 10 different tools," Microsoft's Woolsey said.
The groundwork for Project Honolulu came with the release of Windows Server 2012, which included a significant increase in the PowerShell cmdlets used to manage Windows systems. Microsoft added more than 2,000 cmdlets in Windows Server 2012 and another 1,000 cmdlets in 2012 R2, according to Woolsey.
"What that did was make Windows Server a completely automatable, PowerShell-able platform for just about everything you need," he said.
Project Honolulu first appeared in early 2016, when it was known as Server Management Tools (SMT), a free Azure-based service to manage servers remotely through a web browser. While the tool was appreciated by some, others disliked the need to connect to Microsoft's cloud to manage on-premises machines.
"When you are troubleshooting, you need some tools where you can actually get on the servers without a network connection," Gaynor said. "SMT is useless then."
Microsoft incorporated that feedback and removed the Azure requirement with Project Honolulu, which features new versions of Server Manager, Failover Cluster Manager and Hyper-Converged Cluster Manager. Microsoft plans to publicly release a software development kit, so vendors and users can construct their own plug-ins to extend the tool's functionality. And because Honolulu uses PowerShell cmdlets to execute tasks, there is the potential for it to manage other platforms, such as Linux, now that Microsoft is developing PowerShell Core -- the open source, cross-platform version of Windows PowerShell.
The Honolulu team expects to deliver product updates every four to six weeks and takes feature requests at the product's user voice forum.
Tracking Project Honolulu
While it covers many important server-based tasks, Project Honolulu does not completely replace Remote Server Administration Tools (RSAT), the standard suite of utilities admins use for remote server management. One shortcoming of RSAT is, with every new release of the Windows client, RSAT must be updated. As an HTML5-based application, Project Honolulu could mark the beginning of the end for RSAT.
"Microsoft will have to bring Honolulu up to parity with RSAT," Gaynor said. "Microsoft needs to kill RSAT, because there's no way that you can have this compiled set of desktop tools that keeps up with the cadence of Windows 10."
Gaynor said he also sees Honolulu as a catalyst for companies that are interested in the Windows Server Semi-Annual Channel releases, which are geared toward organizations that want the latest app development features.
"You'll see Microsoft prioritize support for any showcase feature that comes out in a future Semi-Annual Channel release. ... If it's something they want to promote to improve adoption, it's going to be in Honolulu," Gaynor said.