News
Stay informed about the latest enterprise technology news and product updates.
Active Directory: Scary for some, a cinch for others
Two years since its initial release, Microsoft's Active Directory is finally making headway within the enterprise.
Two years since its initial release, Microsoft's Active Directory is finally making headway within the enterprise.
According to a recent TechTarget survey of 950 Windows IT professionals, nearly 40% of respondents said they have installed Active Directory, and another 13% plan to do so within six months. More than 20% said they will install Active Directory within two years. Only a quarter said they have no plans to install the software.
The trademarked directory, first released in May 2000, is central to Microsoft's networking architecture and the Windows 2000 operating system. But until recently, companies have been slow to adopt it because of its complex, confusing and costly installation process.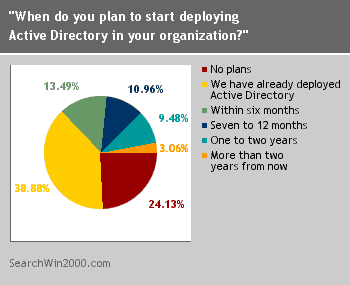 Analysts say the largest companies are among the first adopters -- they've got the money and the staff to build a test bed, which gives a company a place to try out AD in a recreated corporate environment before introducing it within a production environment.
Amerada Hess Corp. is one example of a large corporation that invested in building a parallel environment to minimize risks. Amerada Hess is mid-way through a three-year upgrade that includes a move to Active Directory (now completed), upgrades to Windows 2000 Professional (under way), and upgrades to servers (on tap for next year).
"I completely understand someone's reaction to undertaking this complicated migration [reluctantly]," said George Defenbaugh, manager of global IT infrastructure projects.
At one point Defenbaugh said he became overwhelmed by the thought of the migration and how much staff retraining it would require. In the end, however, the company cut over without a hitch.
Two years of planning and test modeling made their fears unfounded. Amerda Hess was ready long before they flipped the switch. But many smaller companies can't afford to test the water before they dive in.
"When you look at the cost of doing upgrade evaluations and testing how it will integrate with other systems -- you have to test how it will impact your other systems -- plus licensing costs, it really doesn't make it feasible," said Matt Pierce, a network administrator at Saferent Inc., a Denver company that screens applicants for apartment communities.
And without a compelling reason to install Active Directory, these smaller companies will continue to hold off on adoption as long as they can. "We're still evaluating the risks versus the rewards," said Mark Resh, CIO at Standard Forms, a division of WorkFlow Management Inc., Palm Beach, Fla. "It's probably a foregone conclusion that we will [upgrade], but at this point, there is a consensus that there is no reason to rush out and do it."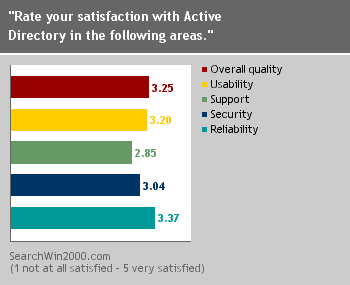 Dan Kusnetzky, vice president of systems software research at IDC, says Active Directory still lacks some basic management tools that would make it easier for customers to manage their systems, and the software could be more scalable than it is today.
Furthermore, despite Microsoft's push for companies to adopt an all-Windows computing environment, most enterprises have a mixture of operating systems that have evolved over the years. What these people really need is an "ueber directory" that can accommodate their patchwork of directory information and systems, Kusnetsky observed.
The benefit of Active Directory is that it hierarchically stores information about network objects. By doing so, it helps manage user authorization and assists with systems provisioning. Directory centered environments are also cheaper to run, Kusnetszky said.
But a continuing problem, according to Al Gillen, an analyst at IDC, is the lack of tools to make the software easy to install. Customers who start down the path without proper planning will run into trouble.
Microsoft doesn't really have any program to help customers move toward Windows 2000. "They are telling people how easy it will be and they have programs for early adopters, but most people will have to work with their hardware vendors," Gillen said.
Over time, Saferent's Pierce said he thinks more small companies will make the switch, but as long as Microsoft is rolling out products at such a fast clip, he predicts those companies will wait to see just how much will be compatible with older systems.