News
Stay informed about the latest enterprise technology news and product updates.
Microsoft's mission-critical condition:BizTalk has yet to walk the walk
This is the fifth article in the series.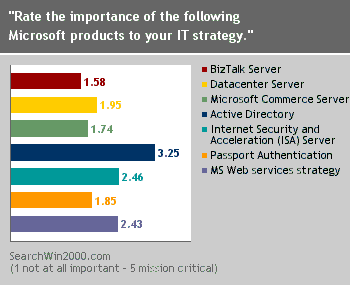 Microsoft may be tooting its horns, but Windows pros aren't yet dancing when it comes to the software giant's newer stand-alone servers and services.
Respondents to a recent TechTarget survey said that BizTalk, Commerce, and the high-end Datacenter servers along with the new Passport authentication service are barely resonating as mission-critical components of their companies' IT strategies.
Bill Veghte, vice president of the Windows .NET server group, told SearchWin2000 he was not surprised by the findings, but he predicted that leading-edge XML-based servers like BizTalk and Commerce servers will be making inroads soon.
"Biztalk is on a good ramp," Veghte said. "And when people in the IT industry start to understand what Biztalk offers, we're going to see those numbers rise."
About the author:
Marilyn Cohodas is the site editor at SearchWin2000. Please email your comments to her and suggestions for future articles at mcohodas@techtarget.com
Dig Deeper on Enterprise infrastructure management