News
Stay informed about the latest enterprise technology news and product updates.
SearchWin2000 poll: Most customers deep six Licensing 6.0
The Licensing 6.0 era has now begun, like it or not. Most SearchWin2000 readers are in the "not" category.
Though Microsoft Corp. may believe that customers will eventually move over to its new licensing plan, Licensing 6.0, a large majority of enterprise customers have chosen to balk at signing up for new licenses as of yesterday's July 31 deadline.
According to an ongoing poll being conducted this week by TechTarget, roughly 75% of 595 Windows administrators have dug in their heels and refused to sign new contracts. Only 25% said that they signed up for the new licensing program.
Licensing 6.0 includes a program called Software Assurance, which makes it necessary for customers to pay an annual fee to purchase software. This entitles customers to software upgrades for the life of their contracts. Software Assurance replaces previous one-time upgrade programs, including Upgrade Advantage, which let customers purchase software at a discount whenever they wanted. Customers who don't sign up for Licensing 6.0 must pay full price for the software each time they want to upgrade.
One company that isn't budging is Cendant Corp., a New York-based travel and real estate corporation. "We are not going to get pushed ahead of our schedule just so Microsoft can have a revenue stream," said Paul Edwards, a Windows administrator at Cendant.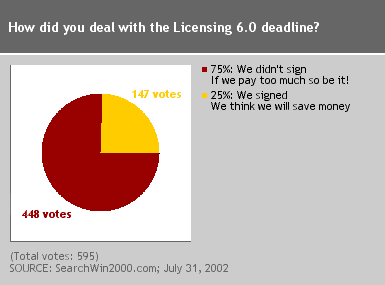 Edwards said Cendant will pay for new server software "as we go," and though it will cost more money, the company can upgrade when it feels it's ready so payments can be spread out over a longer period of time. Like many other customers, Edwards laments Microsoft's decision to change the way it licenses its software.
"I just didn't see a problem with Version 5.0," he said. "If you wanted to buy Upgrade Advantage you could, and if you didn't want to buy it you didn't have to."
Many customers that did sign new licensing agreements did so begrudgingly.
"We did it, but it may be for the last time," said Steve White, IT operations manager at the Texas Association of Counties in Austin. "We will be watching Linux, Winux and StarOffice real close over the next two-year period."
White said that his decision to upgrade this year was advantageous because his agency was in the process of moving from NT 4.0 to Windows 2000 on its servers and from NT 4.0 to 2000 on its clients. White has maintained a multi-office license agreement with Microsoft for years because it made it easier to track licenses. He said Microsoft's Licensing 6.0 program simply made him angry.
Plenty of customers like John Logan, IT manager at ClearStream Technologies Ltd., a Queensbury, N.Y. medical device manufacturer, made their decision just hours before the July 31 deadline.
Logan also said he believes that Microsoft cares less about customer convenience and more about its own revenue stream. Logan said he plans to purchase the Upgrade Advantage for Windows 2000 Pro, which lets him upgrade to XP, but he will buy nothing at the present time for his servers. Still, he said that moving servers to Linux isn't really an option because his company's ERP software runs on operating system software from either Novell or Microsoft.
"Microsoft has touted Licensing 6.0 as beneficial when it's really increasing my costs," Logan said. "If I had to upgrade every two years it might make sense, but who can afford to do that?"
Though customers complain, what can they do? Texas Association of Counties' White said his agency is staying with Microsoft because it's still the premier system in use, and as a state agency, it corresponds with many other state agencies that are using Microsoft.
But Linux stays on his mind, and he vows to watch any Linux applications as they appear and mature. "We'll see what Linux does in two years," White said. Other users are reluctant to switch because they recognize that a steeper learning curve and higher cost to transition would offset any savings from Linux.
Alvin Park, research director at Gartner, the Stamford, Conn., consulting firm, said Gartner has seen an increase in the number of companies that are signing enterprise agreements. "This doesn't mean that folks are buying into the Software Assurance model per se," he said. "They may have been contemplating agreements anyway."
Park said he believes that while most customers were upset when Microsoft made the change in its licensing program, many are getting over their anger, and he doubts that the agitation will lead to a mass exodus to another platform.
But Park's colleague Michael Silver has another prediction. He said that if Microsoft doesn't make serious concessions to Office licensing and pricing, that Sun Microsystems Inc.'s StarOffice could gain at least a 10%market share at the expense of Microsoft Office by about 2004.