News
Stay informed about the latest enterprise technology news and product updates.
Users give Windows high marks on quality
SearchWin2000.com wanted to know -- are our readers happy with Microsoft? According to our second annual survey, Windows admins and IT managers are glad to see Microsoft at least trying to make its products more secure and reliable. But despite the improvements, more Microsoft customers are thinking about alternatives this year than they did last year.
IT administrators say they are more satisfied with Windows products today than they were one year ago, according...
Continue Reading This Article
Enjoy this article as well as all of our content, including E-Guides, news, tips and more.
to TechTarget's second annual report card on user attitudes about Microsoft products and policies.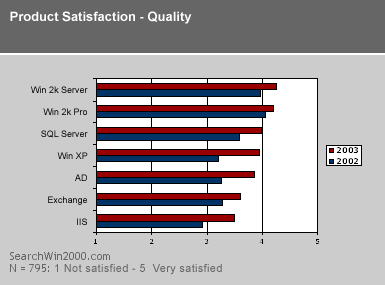 But despite improvements in overall quality, security and Microsoft support, Redmond's frequent rollout of expensive upgrades, its prices and its complicated licensing agreements continue to draw admins' ire. More than half of survey respondents said that they are looking more seriously at Linux on the server today than they were last year.
The survey, conducted during March and April, showed visible gains in users' perceptions of security, quality and customer support for seven major products: Windows XP, Windows 2000 Professional, Windows 2000 Server, Exchange Server, SQL Server, Active Directory and Internet Information Server (IIS). More than 1,000 IT administrators and managers participated in the survey.
The top-rated product in all three categories was Windows 2000 Server, scoring 4.26 on a scale of 1 to 5 for quality (with 5 being the highest) and 3.7 in two areas: security and support.
With a rating of 4.2, Windows 2000 Professional ran a close second to Windows 2000 Server for overall quality. But in security -- with a score of 3.48 -- the client OS came in fourth, after not only Windows 2000 Server but also Active Directory (3.7) and Windows XP (3.54). XP and SQL Server -- with a middling score of 3.5 -- tied for second place in customer support.
Among all seven products, respondents cited Windows XP and IIS as the most improved of all software -- a victory for Microsoft, given that both XP and IIS were targets of multiple worms, viruses and hack attacks during 2001 and 2002. On a scale of 1 to 5, XP security ratings climbed from 2.7 in 2002 to a credible rating of 3.5 in 2003, while IIS jumped from a marginal 2.1 to 2.7. The two products demonstrated equally dramatic progress in overall quality -- up from 2.9 to 3.5 for IIS and 3.2 to 3.9 for XP.
"XP is definitely more locked down, more secure," said Robert Hand, an IT engineer at Ward and Smith, a New Bern, N.C., law firm.
Though the gains were not as impressive as those in product security and quality, Microsoft also racked up points for better customer support over the past year. The strides were particularly noteworthy considering the absence of any direct marketing program that specifically addressed customer support issues. In post-survey interviews, respondents honed in on two key achievements: faster reporting on product vulnerabilities and new patch management tools.
"I don't think the platforms are better as a whole, but at least the patches are coming out," said Peter Czurak, a senior system analyst with Appleton, Wis.-based Warehouse Specialists Inc.
"When they find a hole, they patch it."
IT admins and managers cited particular enthusiasm for two new products that they say do a good job keeping an eye on various aspects of patch management -- Microsoft Baseline Security Analyzer (MBSA) and Software Update Services (SUS).
MBSA scans for configuration problems on the Windows platform, which, while helpful, also has a serious downside -- the patches it deploys may break something else in a customer's enterprise. SUS is free patch distribution software for the Windows platform. Respondents also praised Microsoft's Windows Update, which scans PCs for fixes.
Jim Hebert, general manager of Microsoft's Windows Server product management group, said that the company has never been truly satisfied with its product quality and security, and it continues to work hard to close holes in its products. To that end, SUS and Windows Update are major steps forward, as is the newest version of MBSA.
But Hebert acknowledged that when it comes to quality and security, "you are never done," he said. "The targets just get a little smaller."
For admins, two of these targets include MBSA's reference database, which they say is not always updated quickly enough, and SUS's scheduling inflexibility. Still, most agree that while neither tool is a panacea, they both help more than hurt.
Others contend that the survey findings about improved Microsoft product security, quality and support are more a matter of customer perception and awareness than of actual technological achievements coming out of Redmond.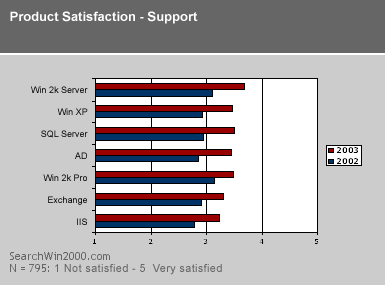 Microsoft started speeding up delivery of patches and fixes just after the Nimda and Code Red viruses hit customers in late 2001. IT administrators noticed, but not all of them think that speedy dissemination of patches translated into improved service over the course of 2002.
John McNeilly, a network administrator at Dermody Truck Sales Inc., in Grand Rapids, Mich., recalled an experience with a patch designed by Microsoft to help counter the Nimda worm, which brought down his company's Exchange 5.5 e-mail server for almost three weeks.
McNeilly said that his company spent $225 just to open a trouble ticket with Microsoft -- which led to numerous installs and reinstalls of Exchange -- only to be told two weeks later by a Microsoft technician that there was nothing Redmond could do to help.
Dermody Truck Sales, which sells and maintains trucks that cost hundreds of thousands of dollars, was unable to place orders because most of its communication with its factory took place via e-mail. McNeilly had to bring in a specialist to rebuild Exchange at a cost of about $10,000, not including the cost of downtime and the inconvenience to customers.
Ward and Smith's Hand agrees that, to some extent, overall improvements are more the result of perception than real change. Something went wrong with Office XP, and Hand called Microsoft for a resolution. "They couldn't find one," he said. "We had to call them up eventually to tell them what the problem was."
But Hand also said that Microsoft has definitely given users some new tools that make it easier to solve problems. The event viewers on XP, for example, provides links to a Web site that may help customers get answers to some of their questions. "That has been a great improvement," he said.
FOR MORE INFORMATION:
Full index of the SearchWin2000.com Report Card on Microsoft
Dig Deeper on Windows Operating System Management