News
Stay informed about the latest enterprise technology news and product updates.
To upgrade or not? Windows users offer mixed views
Think of NT 4.0 as Sean Connery and Windows Server 2003 as Pierce Brosnan. Microsoft is banking on the graying hairs of NT 4.0 to stoke interest in Windows Server 2003. But just as there are James Bond fans who're diehard Connery fans and don't care for the modern 007, there are NT 4.0 fans who see no reason to upgrade anytime soon.
Will customers trade up to Windows Server 2003?
SearchWin2000.com's online poll of 1,000 members shows that the number of people who will upgrade this year, next year or never is almost a three-way tie.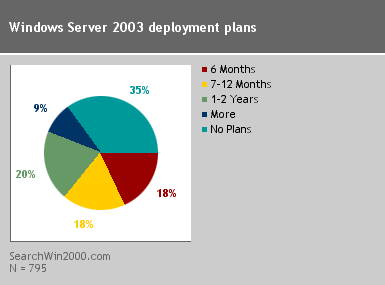 About one-third said that they will install Windows Server 2003 within one year, another third will wait a year or more, and the final third have no plans to install the software.
Released last month, Windows Server 2003 is the newest version of Microsoft's Windows operating system software.
Microsoft has said it hopes that many of its customers who are still on NT 4.0 will upgrade to this latest version. The company will pull the plug on NT support in 2004, one year later than previously planned; the company extended the deadline because of customer demand. Microsoft has estimated that about 60% of its customers still run some NT.
These customers are Microsoft's best hope for sales, but whether they make the leap remains to be seen. IT executives who have already upgraded from NT to Windows 2000 are less likely to feel pressured to make the jump.
Mark McConnell, a systems administrator at Romac Industries Inc., a small Seattle pipefitting manufacturing company, said that his company is currently moving from NT to Windows 2000 and has no plans beyond that for at least another year. He plans to wait and watch while Microsoft works out the kinks that come with early versions of software. "We don't want to be the guinea pig," he said.
But McConnell also said that the feature set in Windows Server 2003 isn't enough to merit making a move. "Windows 2000 already has so many features that it is mind boggling," he said.
There are some customers who will always be out in front, however. Delta Solutions has had Windows Server 2003 installed since its beta and has recently upgraded to the recently released production code. Why jump in so early?
"It's hard to get our customers to buy the software if we don't have it," said Scott Hill, director of the solutions group at the Houston integrator.
Hill said that he has two clients negotiating to make the move from NT to Windows Server 2003. The primary reason for them to go straight to Windows Server 2003 is because they can go to Active Directory and not have to make all the interim updates, service packs and fixes contained in Windows 2000, he said.
Hill said that he thinks most users will eventually upgrade because, if they have bought into Microsoft's grand plan, then "this is the path that is chosen for them."
Microsoft executives realize that IT customers are determined to upgrade when their own cycle tells them to upgrade. Jim Hebert, general manager for the Windows Server product management group, said that about 560,000 customers have downloaded the software so far and that, as independent tests are published, he expects more customers will consider upgrading.
"Think about our lives seven years ago, when NT 4.0 was released," Hebert said. "So much has happened since then. Windows 2003 is so much more secure and reliable.
"NT had a great ride, but we're looking for more opportunities to move customers to a more contemporary infrastructure."