News
Stay informed about the latest enterprise technology news and product updates.
Active Directory goes mainstream
AD -- two letters that used to be a four-letter word among Windows administrators-- isn't quite the curse it used to be. Active Directory finally seems to be going mainstream.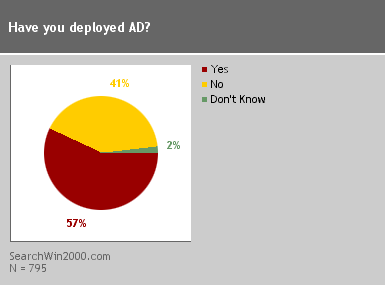 Continue Reading This Article
Enjoy this article as well as all of our content, including E-Guides, news, tips and more.
Last year, the thought of installing Active Directory struck fear into the hearts of more than one otherwise rational IT administrator. But this year it appears that Microsoft's directory software has finally gone mainstream.
According to TechTarget.com's second annual survey of 1,000 IT administrators, nearly six out of 10 respondents said that they have already deployed Active Directory.
Of those who have yet to install the directory architecture, almost half said that they will install Active Directory by the end of this year. About 16% of respondents will wait one to two years. Another 34% will wait at least two more years before they install Active Directory. Only 2% have no plans at all to install the technology.
Active Directory is necessary for customers who are installing certain applications like Exchange 2000, Windows 2000 and XP on some scale. It is possible to retain NT domains with Windows 2000, but XP requires making the move to Active Directory, said Michael Hoch, a research directory at Aberdeen Group, a Boston-based consulting firm.
Survey respondents who have already deployed Active Directory, say the biggest benefit is improved desktop management, followed by network security and the ability to upgrade to Exchange 2000. Two-thirds of respondents who have not yet made the AD leap say they will be moving in that direction within the next two years.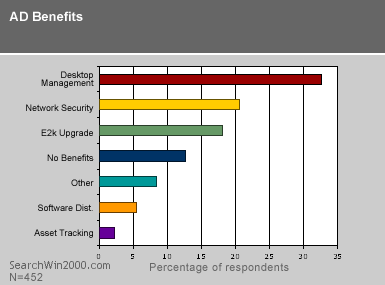 Vernon Wold, a technical service specialist at First Midwest Bank, Itasca, Ill., said that his company plans to upgrade to Active Directory within the next six months, driven by the new desktop hardware it purchased to run new versions of specialized financial software. The new workstations are equipped with Windows XP and Windows 2000 -- not Windows NT, he said.
"We could probably retrofit, wipe the drives and reinstall with [NT] but why do that?" Wold said. "We are an IBM shop, and if we had problems with the machine, they would tell us to wipe the machine and reinstall XP or Windows 2000."
A full third of the survey respondents say that they have no plans to install Active Directory, largely because of its reputation for being difficult. "Eventually I know we will have to go toward [Active Directory] said John McNeilly, network administrator at Dermody Truck Sales Inc., Grand Rapids, Mich. "Everyone says 'plan, plan, plan,' but even with planning you make a lot of mistakes."
The fact that Active Directory is finally getting a toe hold in the Microsoft customer base does not mean the old headaches are gone, but perhaps they are just better understood, Aberdeen's Hoch said.
Dig Deeper on Microsoft Active Directory Tools and Troubleshooting