News
Stay informed about the latest enterprise technology news and product updates.
Old attitudes die hard when it comes to Microsoft
Microsoft is still fighting an old enemy -- its own reputation. Customers still grouse about Redmond's monopolistic ways and pressure tactics, and they're glad Linux has at least brought some competition into the mix.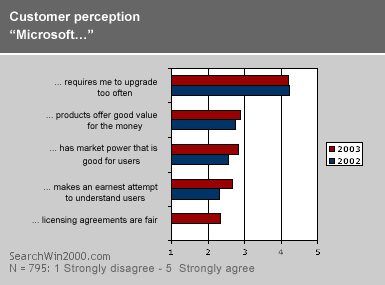 Continue Reading This Article
Enjoy this article as well as all of our content, including E-Guides, news, tips and more.
Microsoft is working hard to reach out to customers and create better community relations, but old attitudes die hard. IT administrators and managers who responded to the second annual TechTarget.com customer satisfaction survey still have many of the same gripes as they did last year.
Respondents still believe that Microsoft wields too much market power, even though the presence of Linux has had some positive effect. They also believe that the company forces them to upgrade their software faster than they can afford.
According to the poll of more than 1,000 IT administrators, many still believe Microsoft is a near monopoly that would return to its bullying ways if no one were looking. Half said they are looking more seriously at Linux as a competitor to Windows on the server today than they were one year ago.
Sye Keene, a systems administrator and MIS manager at Anacom General Corp., an Anaheim, Calif., company that manufactures hospital communication equipment, agreed that the presence of Linux helps keep Microsoft in check. "If they squashed Linux or found a way to circumvent it, they would return to their attitude of 'we know what's best'," Keene said.
Whether these customers actually end up making a move is unclear. But IT administrators already appreciate the fact that even so much as a whisper of competition has forced Microsoft to react favorably toward customers.
"I think Microsoft has improved some because of market pressure," said Peter Czurak, senior system analyst, at Warehouse Specialists Inc. in Appleton, Wis. "The new [Windows Server 2003] Web server is $400, and if there were no Linux, there is no way it would cost that little."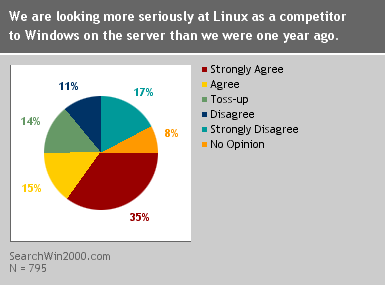 Customers are adamant -- they want to be the ones who decide when to upgrade. Many are happy with their current software configuration and don't want to be forced to change, and they certainly don't want to be forced into buying what they don't need.
"What comes on XP -- Movie Maker, a better Media Player -- we are not interested in," said Vernon Wold, a technical service specialist at First Midwest Bank in Itasca, Ill. "If they came out with an [operating system] and the price to upgrade wasn't as high, and you could purchase add-ons [then] that would be more attractive to us."
Customers also said they prefer that Microsoft produce solid products and not rush releases just to make an artificial deadline. "If they do an upgrade, it should come out clean," said John McNeilly, network administrator at Dermody Truck Sales Inc. in Grand Rapids, Mich. "I've got [Windows] 95, 97 and 2000. I'm trying to move everyone to 2000. I say back off and come out with something strong. Give us a reason to upgrade."
Dig Deeper on Enterprise infrastructure management