News
Stay informed about the latest enterprise technology news and product updates.
Survey: IT spending back from the dead
TechTarget's exclusive 2004 spending research found that many of the nearly 750 IT professionals surveyed have some reason for optimism.
According to a recent survey conducted by SearchExchange.com and other TechTarget Web sites, enterprises are bullish about information technology spending.
Sixty-two percent of respondents to TechTarget's 2004 IT Spending Survey said that their overall IT budgets would increase during 2004, and approximately 17% said that increase would be greater than 10%. Slightly more than 10% said their IT budgets would decrease.
Additionally, IT workers were asked specifically about spending plans in their areas of expertise, such as Lotus Notes/Domino, Linux, Web services and customer relationship management (CRM). Fifty-three percent said their companies plan to increase spending this year in the respondents' particular specialties. Nearly one quarter of respondents said that spending in those areas would grow by more than 10%.
The survey was conducted by 14 of TechTarget's industry-specific IT Web sites during October and November 2003. Nearly 750 readers participated.
Tom Pohlmann, vice president and research director with Cambridge, Mass.-based Forrester Research, said that smaller companies are more inclined to up their IT spending this year.
Pohlmann said that Forrester's most recent Technographics research, which in October surveyed 820 IT decision makers at companies with at least $500 million in revenue, showed that only 32% intended to increase their IT budgets this year.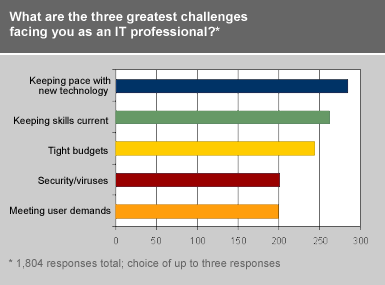 One reason for increased spending may be that previously delayed IT projects are now moving to the forefront. Paul Pedron, a senior network administrator for a California municipality, said that, after a long delay, his organization is finally deploying the SuSE Linux 9.0 operating system and the OpenOffice.org productivity suite on at least 200 of its users' desktops.
"This project has been postponed [for] over a year," Pedron said. However, he said, now that Novell Inc. has acquired SuSE Linux AG and launched an indemnification program that will protect its Linux customers from third-party copyright-infringement claims, his organization has decided to move forward with the implementation, which will lessen the company's Windows licensing costs.
Grant Walters, a Unix contractor working for New Zealand-based Card Marketing International Ltd., said his company is about to begin the second phase of a project to build a Web-based membership subscription system. He said that part of this year's IT budget will be spent on Web services, platform upgrades and other integration work to leverage what was built during the project's initial phase.
"This is to allow for a total 24/7 operation, which has become a requirement with online services being made outside normal business hours," Walters said.
When asked about their greatest IT-related challenges, respondents said that their two biggest struggles are keeping pace with new technologies and maintaining their skill sets.
Walters said that, now that his company has replaced its SCO-Unix back-end systems with Linux, keeping track of the numerous patches and updates can be time-consuming.
"The learning (or re-learning) level required is large, even for something based on established standards," Walters said.
Though his company doesn't offer training for more advanced IT disciplines, Walters said he takes advantage of the free and low-cost training that many vendors make available via the Web.
Pohlmann said that, like Walters' firm, most companies aren't allocating much -- if any -- of their 2004 budgets toward training or other staffing-related expenses.
"My sense is that, even though companies may say, 'We're going to spend on training for IT associates' at the beginning of the year, in many cases those training programs are the first things to hit the cutting-room floor when it's time to shave the IT budgets," Pohlmann said.
Other IT challenges cited most often in the survey were dealing with tight budgets, handling viruses and other security threats, and managing user-demand issues.
Dig Deeper on Exchange Server setup and troubleshooting