News
Stay informed about the latest enterprise technology news and product updates.
Changes in Exchange suit users, survey finds
Users give high marks to Microsoft's messaging platform in newly released research. Find out how the new kid on the block, Exchange Server 2003, fared in this year's 2004 Microsoft Report Card Survey.

Satisfaction with Microsoft's Exchange messaging platform has risen for the third consecutive year in an annual survey, buoyed this year in particular by the performance of Exchange Server 2003, a product still in the infancy of enterprise adoption.

Only 16% of the 1,000 IT professionals surveyed in the 2004 Microsoft Report Card Survey said they are currently using the latest version of Exchange.

The results of the survey show

that Microsoft has made considerable strides in its quest to convince users that Exchange is a secure and reliable platform. Users gave Exchange Server 2003 a solid B- in the category of overall system security, whereas Exchange 2000 received a C+. The results were mirrored in the area of overall system quality: 2003 also got a B- and 2000 got a C+.

Lee Benjamin, a Microsoft Most Valuable Professional (MVP) and adviser at ExchangeGuy Consulting Services, agreed that Exchange is heading in the right direction. "The quality and quantity of the knowledge base is growing, and that is helping users."

One notable improvement is Outlook 2003 and its connectivity to Exchange, Benjamin said.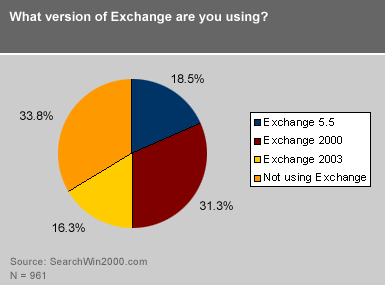 He also praised the cache-mode of Outlook/Exchange for allowing users to work with a synchronized local copy of their inbox while the networking happens in the background.
New antispam capabilities
Another area of improvement is Microsoft's antispam measures. Today, combating spam remains a largely third-party issue, Benjamin said. However, Exchange 2003 is providing some underlying antispam functionality that may have significant impact on the spam problem in the future.
Jeff Horn, a systems engineer with Atlanta-based Horn Consulting Group, said he's impressed with Exchange 2003's increased integration with Active Directory (AD). Horn has worked with each version of Exchange since 5.5.
In past versions of Exchange, Horn said the system was configured as an open relay by default. But, he added, Microsoft has fixed this problem in Exchange 2000 and beyond. "You don't want to be an open relay, [because] you can get on [an antispam blacklist] and no one will accept mail from you anymore," he said.
In the new report card survey, Exchange security got a boost as well. Starting with a subpar satisfaction grade of 2.68 (out of a possible 5) for Exchange Server 5.5 in the 2002 report card survey, Exchange 5.5 rose to 3.14 and Exchange 2000 to 3.55 in 2003. This year, Exchange 2000 received and overall rating of 3.36 while Exchange 2003 came in at 3.61.
Where Exchange fits in the big picture
Bob Muzzy, an IT manager at Planitax Inc. in Emeryville, Calif., said the security improvements of Exchange Server 2003 made a big difference in his organization's decision to upgrade. "The new OWA [Outlook Web Access] is great," Muzzy said.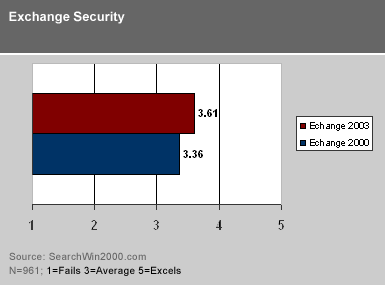 "I consider the security and overall stability improvements the main reasons to upgrade."
Another area where Exchange saw a dramatic jump was in its role in overall IT strategy. When asked to grade Exchange on a scale of 1 (not important) to 5 (mission critical), Exchange Server jumped from 2.81 in 2003 to 3.71 in 2004.
Some users remain cautious, however. Mark Jackson, IT supervisor Quark Inc.'s U.S. operations, in Cheyenne, Wyo., is still running Exchange 2000 and sees no reason to rush to upgrade. While Jackson is reasonably sure he will upgrade to Exchange 2003 eventually, it doesn't hurt to wait until the potential bugs are worked out, he said.
"We typically don't upgrade until something has proven itself in the real world," Jackson said. "Besides, there is no imminent need since we upgraded to Exchange 2000 just last year."
Benjamin said he believes those already in the process of moving to Exchange 2000 may continue doing so rather than switching gears in mid-migration. However, those currently on Exchange 5.5 will probably move straight to Exchange 2003, he said.
The best Exchange so far
Mickey Metcalf is president of the Momentum Group, a Kernersville, N.C.-based a network integration consulting firm. Metcalf is currently heading up plans to migrate the government offices of Thomasville, N.C., to Exchange 2003 from Exchange 2000.
"Exchange 2003's great strength is that it's more than a mail server," Metcalf said. "I like the productivity functions like public folders, shared calendaring and resource scheduling."
Metcalf, who has worked with every release of Exchange since version 5, said Exchange 2003 represents a significant improvement over previous versions, particularly in the areas of security and interoperability with third party antispam products.
Currently, Metcalf has Thomasville running GFI MailEssentials on an Exchange 2000 server. MailEssentials uses Bayesian analysis to detect spam at the server level. "It integrates seamlessly with Exchange," Metcalf said of GFI MailEssentials. "But the one thing (Exchange 2000) can't do is reject mail at the GFI level."
Better handling of NDRs
Oftentimes, spam gets sent to non-existent e-mail addresses at the city of Thomasville. To compound the problem, the spam is sent from a fake, or spoofed, address. Metcalf said that sometimes the Exchange 2000 server can get bogged down trying to send non-delivery reports (NDRs) to sender addresses that aren't there.
With Exchange 2003, Metcalf said Microsoft offers the enhanced ability to manage the flow of the NDRs, and makes it easier to eliminate unwanted e-mail as it comes into the GFI filter.
On a related note, Metcalf said his company is eagerly anticipating this summer's release of SMS version 2, which is expected to offer automated patching of Outlook and other Microsoft desktop applications.
"This will be a tremendous help," he said.
Dig Deeper on Legacy Exchange Server versions