News
Stay informed about the latest enterprise technology news and product updates.
For Microsoft, image isn't everything (but it helps)
Customer perceptions about Microsoft on everything from security to customer relations have taken a positive turn over the past year, new research finds.

Microsoft has improved its products and done a better job of working with its customers this year compared with previous years -- at least that's what customers perceive, according to new research.

Overall, the company has earned better marks with IT administrators in several areas, including making an effort to understand customers better, and offering customers a better value for their money. Slightly fewer customers

this year said they were looking at Linux as an alternative to Windows, compared with last year.

There are still a few rough spots, however. Despite what it says is a campaign to make its much-maligned licensing program easier to understand, customers still say it's a struggle. And customers continue to feel that Microsoft wants them to upgrade their software too frequently, although that has been blunted somewhat by Microsoft's recent decisions to extend support for some popular platforms that are being phased out.

Turning the corner on quality

Microsoft has spent a great deal of effort to trumpet its efforts to secure Windows, and customers give good reviews to some of their latest big products, such as XP Pro and Windows Server 2003.

"I see them as producing better quality stuff and that has turned the corner for them," said Tony Meholic, vice president of IT risk and application security at Bank One Corp., of Wilmington, Del.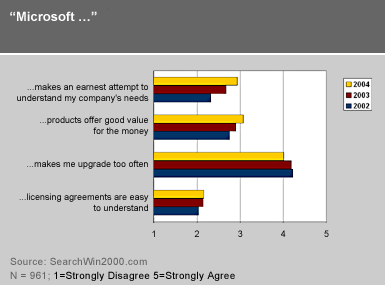 But even if you don't think Microsoft's technology is any better than in the past, the perception that the software maker is trying to work with customers seems to go a long way, said Michael Simmons, chief technology officer at Luxuryres.com, a Houston-based online travel agency. "I'm not sure whether or not they are really doing anything, but it gives the appearance of improvement," he said.
Another customer said he liked getting predictable monthly security patches and the creation of a Web site that provides a "feedback loop" for customers to weigh in on problems with their software. "It creates goodwill and people feel listened to," said Kevin Benson, network PC support manager for parks, recreation and tourism in Columbia, S.C.
The titans tone it down
But not everyone agrees that an altered company perception is related to specific changes that have happened within. Microsoft has become a less aggressive and controversial competitor in the media, but so have notoriously prickly Oracle Corp. and Computer Associates International Inc., said Kent Smith, chairman of the Boston Area Windows Server User Group.
"They may have stepped back from the confrontational computing," Smith said. "Microsoft was extremely aggressive about pushing every boundary it could, and it's either stopped or it is not being reported in the same way."
Smith said the economic downturn has caused those and many companies to consider just how much return they are getting from such aggressive behavior. Perhaps it's not enough for all involved. "After all, it's distracting to be in lawsuits," he said.
Dig Deeper on Enterprise infrastructure management