News
Stay informed about the latest enterprise technology news and product updates.
Tougher tests renew challenge of Microsoft certifications
Being book smart can only take you so far as an IT professional these days. Find out how Microsoft and others are challenging IT pros to be all that they can be.

Microsoft's certification program lost some allure in recent years because too many test takers were memorizing test questions and getting credentials without earning any real-world knowledge.

But Microsoft has slowly changed its testing practices, requiring more information that can only be learned on the job. These changes are starting to pay off and some IT managers say they have new respect for the program.

During the past five years, the tests have gotten tougher, with fewer multiple-choice questions and more diagrams, said Tony Meholic, vice president of IT risk and application

security at Bank One Corp., of Wilmington, Del.

Though this is good news for Microsoft's certification program, it may still be too soon for the numbers to reflect that change in attitude. In new research from SearchWin2000.com, the largest numbers -- 36% of respondents -- said Microsoft certification is nice to have. Only 21% said the certification was important and just 11% said it was vital. At least 30% of respondents still said such certification was not very important or was useless.

The fact that the largest percentage of IT administrators have said certifications are "nice-to-have" is probably just leftover from the days where they could read a few books to become certified, Meholic said.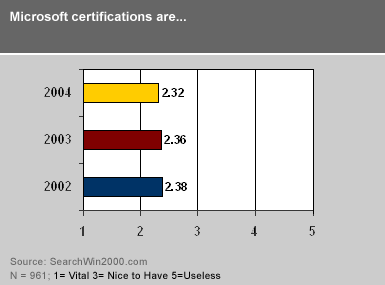 "Once [they] understand that Microsoft's test will be thorough, this will turn around. I've been getting [certifications] for years and this last round was challenging."
Scenario-based testing becoming a standard
Microsoft executives are continuing to tweak their testing practices. Rich Kaplan, who was until mid-April Microsoft's corporate vice president of content delivery, had overseen Microsoft's certification programs. Kaplan said the type of testing where scenarios are simulated is the wave of the future.
"It is a much better predictor of success in terms of answering test questions," Kaplan said.
There are Microsoft certification exams in China today that test using simulation, and IT administrators in North America can expect to see something similar in the next year or so, Kaplan said.
Kaplan acknowledged that the number of people seeking certifications peaked just before 2000, which mirrored the growth of technology in the late 1990s and the rise of dot-coms. But Microsoft plans new specialty certifications that are similar to the ones it has already developed for security and desktop administration. "They are a good way for people to show what they know," Kaplan said.
Many IT administrators recommend certification for their employees, although it hasn't historically been a requirement.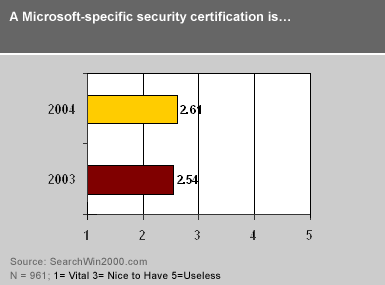 "Now it's something we will look at," said David Driggers, an IT manager and desktop system team leader at Alabama Gas Co., of Birmingham, Ala. "I'm going to request that [employees] have the desktop certification. It seems to give you good knowledge on how to support a desktop."
Nothing like real-world experience
And Josh MacNeil, assistant director of technology services at the Whitman-Hanson Regional School District in Whitman, Mass., said certification is something he does recommend, although hands-on experience still counts for more with him.
He's not alone in his respect for those who have on-the-job training.
Today, people getting certified are at a disadvantage, said Jeff Horn, a systems engineer at Atlanta-based Horn Consulting Group. "They don't know DOS and they aren't familiar with a command line," he said. "They don't know what's behind the GUI."
IT professionals today need to get their certification and get hands-on experience. It's helpful if they work with someone who can pull all the pieces together, he said.
"If you've got the certification, it's important, but if you don't, the marketplace doesn't care," Horn said. "It's a useful way to develop the technology skills you will need to evolve. The primary benefit is in motivating people to continue to improve and that's not insignificant."