ra2 studio - Fotolia
Office 365 Clutter brings order to disorderly mailboxes
Clutter, one of the newest Office 365 features, learns email habits to help end users create more space in their inboxes.
Call it a little less than junk. Call it filler. Call it gray mail. In the end, it's mail you've probably opted into and read sparingly. Microsoft calls it 'clutter.'
What would be considered clutter? One example would be an industry newsletter you subscribed to, but only read every so often because you see a catchy subject line. Now you have a new place in your inbox for this kind of mail that's separate from junk mail, and it's called the Clutter folder.
How does Office 365 know what's clutter and what isn't? Essentially, Microsoft has a new Big Brother kind of feature called Office Graph that watches what you do. If it notes you have subscribed email coming through that you read every so often and don't mark as junk or spam, those messages go into the Clutter folder. It learns what email you're likely to ignore based on your own actions. This should keep your inbox lean and easy to get through while giving you the option to quickly peruse the "clutter."
In addition to the automated side of clutter identification, you can work with the feature to help ID clutter by marking email messages or moving them to the Clutter folder. You could also help "train" the feature by pulling items out and telling Clutter not to label those messages as such. Clutter doesn't intervene when there are pre-existing rules in play; it only focuses on the email going into your inbox that isn't characterized as spam or some other way through a pre-existing rule.
Initially, it was thought that the Clutter folder would only be visible if you logged into Outlook Web App (OWA), but it actually works across Outlook, OWA, OWA for devices and ActiveSync-connected systems once it's enabled for your mailbox. However, once an admin enables the feature for the Office 365 tenant, end users have to opt-in through settings. Go to Outlook Web App > Options > Clutter and then choose to have the feature filter (Figure 1). You can't enable Clutter from options in Outlook -- you have to go through OWA settings. Outlook 2016 may resolve some of that disconnect between what you can do with OWA and Outlook clients.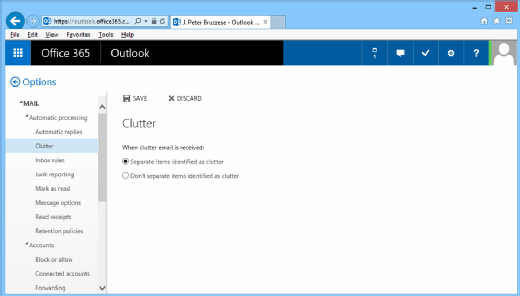 Admins may not like that end users have final control over opting in or out of this feature. Admins have no way to force the matter and no way to use a PowerShell cmdlet to enable the feature -- not yet, anyway.
Immediately after enabling the feature through my OWA account -- and without having to close or open Outlook -- I have a Clutter folder in my Outlook 2013 client on my desktop. I also have an email in my inbox stating, "Meet your new cleaner inbox." I can move files in and out of Outlook to train Clutter from within Outlook. But from within OWA, you can right-click and choose the Mark as clutter or Mark as not clutter (Figure 2).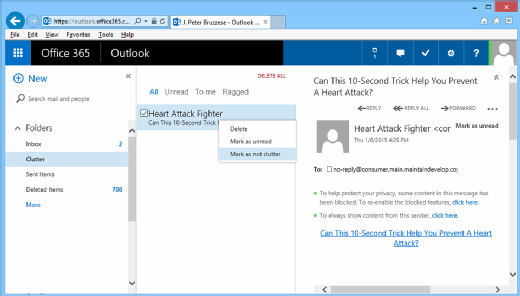 The final word on Office 365 Clutter
On one hand, it would seem that the Clutter feature is a bit of a no-brainer. It's one we've seen for years with third-party add-on tools or personal rules we configure in Outlook so that "almost junk, but not really" email goes somewhere other than the inbox.
However, some admins are reluctant to trust the process to the Office Graph filtering intelligence. One reason for that might be because of past experiences with antispam or antimalware options that inevitably mark items as false positives (and vice versa). But the narrowed focus of Clutter -- email the end user has possibly opted into or doesn't mind receiving -- and the fact that end users can train it to mark or unmark an item as clutter, should give admins less cause for concern. In the end, Clutter will keep an inbox leaner without tossing email in the junk folder.
About the author:
J. Peter Bruzzese is a Microsoft Office 365 MVP, as a five-time awardee with previous technical expertise in Exchange, a Triple-MCSE, an MCT and an MCITP: Enterprise Messaging. He is the co-founder of an end-user training solution called ClipTraining.com and is a strategic technical consultant for Mimecast. He is an internationally published author with more than a dozen titles to his name. He is a technical speaker for a number of conferences, including Techmentor, IT/Dev Connections and Microsoft TechEd. He writes for online and in-print tech and has written InfoWorld'sEnterprise Windows column for more than five years. More recently, he focused his attention on new users in the Exchange/Office 365 community and wrote a short book titled Conversational Exchange (in 10 days!) to help them learn Exchange's conceptual side. In his spare time -- well, let's face it, folks, with all that, JPB has no spare time.
Dig Deeper on Office 365 and Microsoft SaaS setup and management