Evaluate
Weigh the pros and cons of technologies, products and projects you are considering.
Eight influential Microsoft experts to follow on Twitter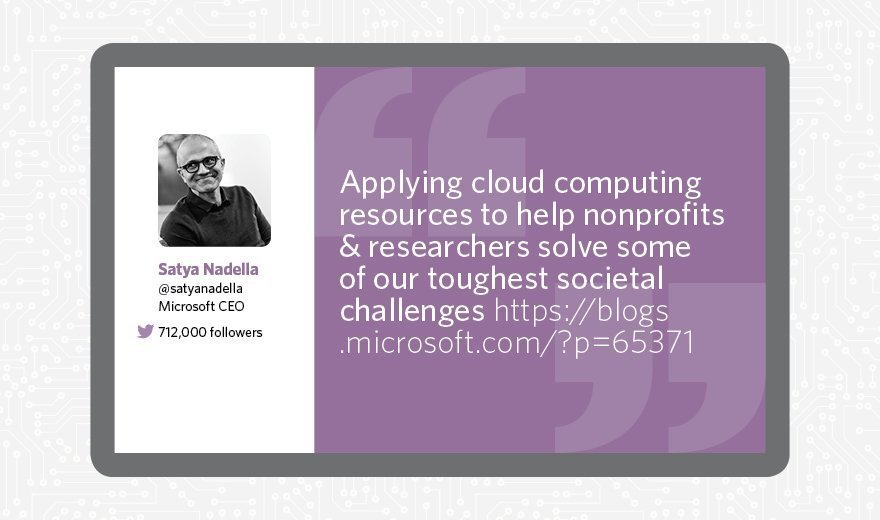 Source:
Twitter, Anita Koury
Satya Nadella, CEO of Microsoft, has been aggressively pushing the company out of its comfort zone since he took the helm from Steve Ballmer in 2014.
Nadella has been working for the company since 1992 -- he worked his way up to executive vice president of Microsoft's cloud and enterprise group before taking on the CEO role -- so you may think a longtime employee would take the safe route. And you'd be wrong.
Nadella's moves over the past two years show Microsoft won't just be a player in whatever market it is in -- it'll be a force. Rather than retreat from the hardware space after a poor reception to the initial Surface line, the company roared back in 2015 with the stellar Surface Book and Surface Pro 4. Microsoft has continued to improve its Azure cloud service as the first real contender to the formidable Amazon Web Services. Despite public criticism from Ballmer, the current CEO of Microsoft continues to drive the company's efforts with Universal Windows Platform that allows developers to write code that works on both computers and Windows phones. Under Nadella, the company has also embraced Linux and other open source projects to shed its image as a proprietary dinosaur.
"Satya Nadella is the very visible face of sweeping change and innovation within Microsoft," said Michael Stump, systems engineer and the owner of Holden Information Services. "Look at the near-seamless integration between Windows Server 2016 and Microsoft Azure. That's a direct result of his influence and recognition that hybrid cloud is no longer on the horizon. It's here."
Nadella tweets as @satyanadella and is not a heavy Twitter contributor, but he has more than 700,000 followers. He mostly retweets a few times a week but is very deliberate with his promotions. Commanding one of the world's most influential companies puts Nadella in a unique position to steer resources and comment on the world at large. He uses Twitter to point out the company's humanitarian efforts -- such as using Microsoft's people and technology to help with rebuilding efforts in disaster areas -- and the need for more advanced computer science courses in U.S. high schools. The importance of community and education is a recurring theme; take, for example, his tweet about his desire to advance Internet access into the rural areas of Africa to promote innovation and entrepreneurship.
View All Photo Stories