Get started
Bring yourself up to speed with our introductory content.
Know-IT-all Chapter Quiz #25 Hardening Windows Systems
Think you have the skills to keep your Windows network secure? Take this quiz to find out if you're doing the right things to harden your Windows system! Send your score to us for a chance to win a copy of Hardening Windows Systems by veteran site expert Roberta Bragg, courtesy of McGraw-Hill/Osborne Media.

Download this free guide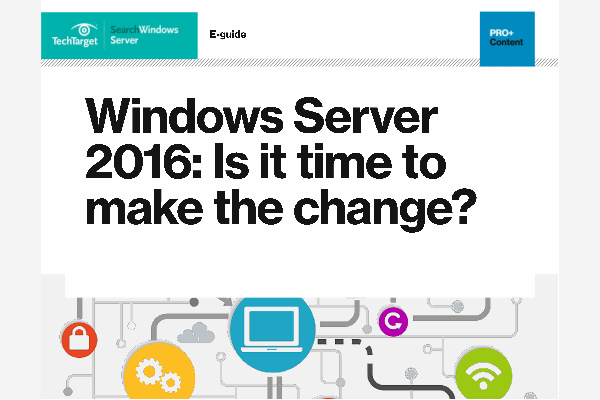 Download: Buyer's Guide to Windows Server 2016 in 2017
You may be due for an upgrade! Check out our full Windows Server 2016 Buyer's Guide to see if a switch to the new server would be the best move for your organization.

By submitting your personal information, you agree that TechTarget and its partners may contact you regarding relevant content, products and special offers.

You also agree that your personal information may be transferred and processed in the United States, and that you have read and agree to the Terms of Use and the Privacy Policy.

Think you have the skills to keep your Windows network secure? Take this quiz to find out if you're doing the right things to harden your Windows system! Send your score to us for a chance to win a copy of Hardening Windows Systems by veteran site expert Roberta Bragg, courtesy of McGraw-Hill/Osborne Media.
All answers to this quiz are found in the August 13-19 featured chapter download, but be warned - this quiz is designed to be challenging! Good luck!

How to take the quiz:
- After reading the question, note the letter of your answer. Check your answers by clicking the link to the answer key at the end of the quiz.
- Send us an e-mail telling us how you did to participate in our book giveaway this week.
NOTE: The weekly prize drawing is random - your score will not affect your chances of winning.
- To read more about a topic, open the chapter and locate the indicated page after each answer.


Chapter Quiz #25

1. What does NAT-T do that NAT doesn't?

a. NAT-T uses UDP to encapsulate the IPSec packet thus allowing it to pass through the NAT server.
b. NAT-T requires manual IKE synchronization but guarantees that no packets are dropped.
c. NAT-T requires manual RRAS synchronization but guarantees that no packets are dropped.
d. There is no 'NAT-T'. NAT and NAT-R are the only options in existence.

2. This is NOT true ot IPSec rules/policies:

a. Filter action determine what happens if a rule's filter is matched.
b. IPSec policies are not in effect until the policy is formally assigned.
c. It is possible to create an IPSec policy so tough it will make system recovery very difficult.
d. Possible filter actions are: Block, Permit and Negotiate.
e. There are a total of four methods of authentication.
f. Each rule can only have one filter action; however, a policy may be composed of several rules.
g. Policies may be scripted.
h. Filters specify source and destination IP addresses and protocols.

3. CMAK stands for...

a. Communications Manager Administration Kit
b. Communications Management Access Kit
c. Connection Manager Administration Kit
d. Connection Management Access Kit

4. This is the netsh-command for blocking connections during startup:

a. netsh ipsec dynamic set config bootexemptions value=tcp:0:3389:inbound
b. netsh ipsec static set config boot value=tcp:0:3389:inbound
c. netsh ipsec dynamic config exempt boot value=tcp:0:3389:all_inbound
d. netsh ipsec dynamic bootexemptions set value=tcp:0:3389:inbound
e. netsh ipsec dynamic config set bootexemptions value=tcp:0:3389:all_inbound
f. netsh ipsec static set config bootexemptions tvalue=tcp:0:3389:inbound
g. netsh ipsec dynamic set config bootexemptions value=tcp:0:3389:all_inbound

5. MS-CHAPv2 can be used used on all clients using Windows, except...

a. Windows XP Home
b. Windows 95
c. Windows Me
d. Windows 98
e. All the above can be configured to use MS-CHAPv2.



CLICK HERE FOR ANSWER KEY AND TO WIN A FREE BOOK!



Dig Deeper on Windows Server and Network Security