Windows Server 2008 makes its debut
Windows Server 2008 has been officially released. Learn what to expect with the new features and how to plan for migration.
Windows Server 2008 has been released.
But almost half of IT managers haven't thought about an OS migration yet. Are you one of them? No problem -- we can walk you through the process. Take a look at our section on preparing for Windows Server 2008 migration. In it you'll learn how to find the business value for migrating to Windows Server 2008 and how to determine the cost of a Windows Server 2008 migration. You'll also learn about the new certifications available to Windows IT managers.

Download this free guide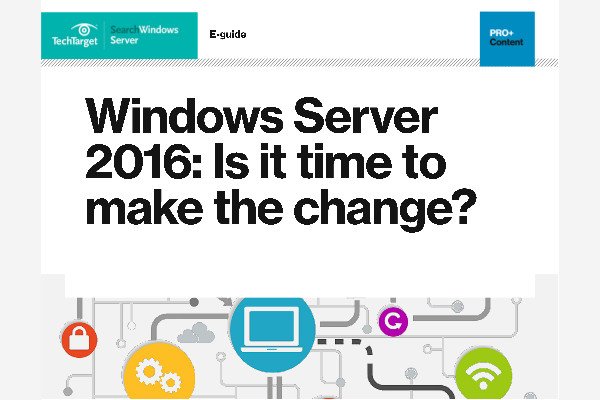 Download: Buyer's Guide to Windows Server 2016 in 2018
You may be due for an upgrade! Check out our full Windows Server 2016 Buyer's Guide to see if a switch to the new server would be the best move for your organization.
For IT shops already poised to migrate, we have a section that delves into the most popular Windows Server 2008 features to help get you started and our section on Windows Server 2008 security examines the technologies available in the new OS that IT shops can use to develop and maintain Windows server security.
And for IT shops already working with Windows Server 2008, we have a section that examines how to use Windows PowerShell to streamline Windows Server 2008 administrative tasks.
Ready to dive in? Check out the links below to find out how to navigate your way through Windows Server 2008:
Windows Server 2008 preparation
Although IT managers are expected to move slowly when it comes to migrating to Windows Server 2008, it's never too early to start getting ready for the eventual OS upgrade. Here you will find information that will prepare you to migrate to Windows Server 2008.

New certifications hit as Windows Server RTM arrives

Microsoft's revamped certification program coincides with the debut of Windows Server 2008 and gives you new accreditation choices.
Preparing for Windows Server 2008 migration

Do you think your Windows shop is adequately prepared for the migration? Review this Windows Server 2008 migration checklist and compare your migration strategy against our Windows experts' tactics.
Windows Server 2008 features
Already have a solid migration plan in place? Then you'll want to learn how Microsoft has enhanced or added features to its newest operating system. In this section, look for information on the features and enhancements you can expect to see in Windows Server 2008.

Podcast: We have lift off! Microsoft launches Windows Server 2008
Microsoft Windows Server 2008 has finally launched. This week, Greg Shields, MCSE, calls in to talk about the new features that will prove most important to admins, as well as why Windows Server 2008 adoption will likely be quicker than with Windows Vista.
Windows Server 2008 introduces "low-maintenance server environment"
Server Core, a bare bones installation of Windows Server 2008, is a new feature that will debut in Microsoft's next-generation OS. To help understand how Server Core works, Ward Ralston, a product manager on the Windows Server team explains how a Server Core installation simplifies server administration and addresses IT administrators' concerns about command-line interface usability. He also talks about how Server Core roles in Windows Server 2008 could include Exchange and SAP.

Ralston is not the only Windows expert to sound off on Server Core technology. Here, industry insiders weigh the pros and cons of Windows Server Core.

Active Directory gets a makeover in Windows Server 2008

Microsoft made a lot of changes to Active Directory in Windows Server 2008. In a two-part interview, Microsoft MVP Brian Desmond details which existing Active Directory features are getting a makeover in the new server. He talks about the standout Active Directory features in the new server and explains how these changes will benefit Windows administrators. Desmond also highlights some technologies administrators can use to ease Active Directory management.
New and improved features of Windows Server 2008
Active Directory and Server Core aside, there are many other features in Windows Server 2008. For example, Server Manager in Windows Server 2008 is a single source for managing a server's identity and system information, and the Event Viewer in Windows Server 2008 gives you the opportunity to create custom views for better Windows management.

Other features in Windows Server 2008 are showing upgrades. Terminal Services offers some new capabilities, while Group Policy Management Console has new searching and filtering on comments.
Windows Server 2008 security
Like any new release, Windows Server 2008 brings on new security challenges. However, Windows Server 2008 boasts many new security features that can help you develop and maintain Windows server security. Learn about these technologies and how they work, here.

Preview of NAP in Windows Server 2008
Network Access Protection in Windows Server 2008 manages the way machines on your network interact. In this article, Windows security pro Jonathan Hassell examines the pros and cons of this new Windows Server 2008 security protocol.
Windows Server 2008 security aided by NAP and IPsec

NAP has some negatives to it, namely that its weak enforcement methods (like DHCP-based protection) can get in the way of the effectiveness of the NAP concept itself. In addition, there are difficulties in detecting when new hosts come online, resulting in a lot of expense and headaches. However, as Windows Security expert Hassell explains, IPsec solves a lot of these problems. Here, learn how those solutions work and some of the benefits of IPsec and NAP alignment in Windows Server 2008.
Modular architecture in IIS 7.0 aids Web server security

IIS 7.0 has a new modular architecture in Windows Server 2008 that improves Web server security by allowing you to install features individually.
Podcast: What's Hot -- Windows Server 2008 security features
In this podcast, expert Kevin Beaver discusses the new security features of Windows Server 2008, some features that security admins might not be excited about and the possible scale of implementation for the new operating system.
Windows Server 2008 and PowerShell
Already working with your new Windows Server 2008 environment? This section reviews how using Windows PowerShell, a command-line scripting language, can help IT shops streamline Windows Server 2008 administrative tasks.

A basic introduction to Windows PowerShell

Interested in learning to use Windows PowerShell? This screencast explains the basics of the Microsoft scripting language and walks you through some simple commands to get you started.
Creating pipelines and interacting with objects in Windows PowerShell

This screencast demonstrates how to create basic pipelines in Windows PowerShell, and introduces you to three more simple commands: get-process, get-member and get-alias.
Dig Deeper on Windows Server storage management