Problem solve
Get help with specific problems with your technologies, process and projects.
A five-step approach to server consolidation for IT administrators
Here is a five-step approach that can help you reduce the total number of servers or server locations in your organization.

What does server consolidation mean to you today? Are you waiting for a magic solution to your server sprawl problems? How do you define your approach to consolidation?

This is the first in a series of articles that will focus on the current IT situation related to server consolidation. Each article will focus on an issue that IT administrators are living today. Overall the series will offer a five-step approach that can help you plan for a server consolidation project, or, if you have already started, help you review your plan.
According to research firm Gartner, more than 70% of IT budgets are spent on infrastructure. In our experience, this number can be even higher, especially before the organization aims for consolidation and/or optimization.
Gartner describes several categories of IT maturity. We've reduced it to four to keep it simple: basic, standardized, rationalized and dynamic.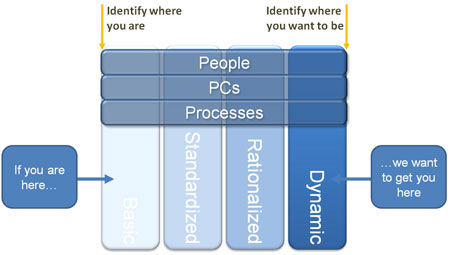 In the Basic category:
IT relies on manual processes.
There is minimal central control.
There are non-existent or unenforced IT policies for security, backup, image management and deployment, compliance and other common IT practices.
IT is very slow to implement change (weeks to months).
There is poor resource utilization.
In the Standardized category:
IT is still reactive.
There is a reasonable inventory.
IT begins to manage licenses.
Security measures are improved with a locked-down environment, but the organization is still at risk internally.
IT is very slow to implement change (weeks.)
IT is using few service-level agreements (SLAs) and no lifecycle management.
In the Rationalized category:
IT has the lowest costs in managing desktops and servers.
Processes and policies are mature and support the business.
The security strategy is proactive and controls the response to threats and challenges.
Zero-touch deployment is used and the number of images is minimal.
There is a clear inventory of hardware and software.
Only the required licenses and PCs are purchased.
IT can change more rapidly (days to weeks).
In the Dynamic category:
Costs are completely controlled.
Processes are fully automated.
IT uses self-provisioning of software.
Non-compliant systems are quarantined.
SLAs aim to support business requirements, not IT services.
IT relies on policy-based management at all levels.
Provisioning is done on an as needed basis and follows business requirements.
Even if you are either rationalized or dynamic, you still need to control server proliferation. For example, with Windows NT, all servers were single-purpose servers because of the nature of that version of Windows. NT was a monolithic operating system with applications running in kernel mode. If the application failed, the entire system would fail.
Today, even with applications running in user mode in Windows Server 2003 (WS03), the single-purpose server habit still persists. Even worse, projects are used to bring and pay for their own servers, and sometimes several copies of their own servers—servers for testing, for development and of course, for production. We all need to change this habit.
In the 1980s, organizations moved to information systems on a piecemeal basis. Business units developed their own systems and put in place the infrastructures required to support them. In the 1990s, organizations started to rationalize their infrastructure by moving to distributed networks of PCs. Today, organizations are beginning to realize they require complete integration if they want to control their costs.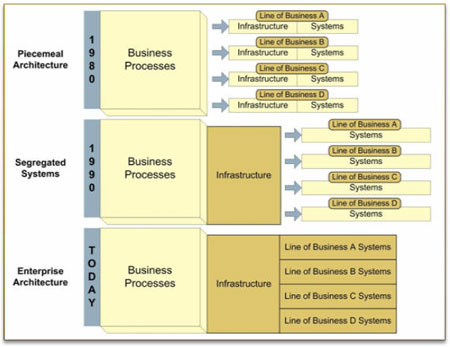 Consolidation is the key to control server proliferation and optimization is the key to control IT budgets. To get there, you need a defined approach. The approach we propose includes five steps to a successful server consolidation:
Learn to control IT costs.
Look to new technologies.
Create a balanced infrastructure.
Rely on virtualization.
Update your management strategy.
Each step will be discussed in the upcoming articles. Our goals are to help your server consolidation move forward, review administration best practices and provide you with consolidation and optimization tips and tricks. Your consolidation won't happen overnight, but if you stick with it, you'll find yourself in a truly exciting project. Turning your data center into a dynamic resource in support of business needs is a stimulating experience, one that will provide a foundation for the best IT strategies for years to come.
Continue to The first step in server consolidation: Cost control
More on server consolidation:
Danielle Ruest and Nelson Ruest are IT professionals specializing in systems administration, migration planning, software management and architecture design. They have written several books and are currently working on the Definitive Guide to Vista Migration for Realtime Publishers as well as the Complete Reference to Windows Server Codenamed "Longhorn" for McGraw-Hill Osborne. They have extensive experience in systems management and operating system migration projects. For more tips, write to them at info@reso-net.com.