Problem solve
Get help with specific problems with your technologies, process and projects.
Accessing SharePoint calendars through Microsoft Outlook 2007
Many Microsoft Exchange organizations manage large-scale projects using SharePoint 2007's document libraries and calendaring capabilities. Although SharePoint's calendar feature is useful, it's a bit different than an Outlook 2007 calendar. Here, Microsoft Exchange Server expert Brien Posey explains the steps in setting up a SharePoint calendar and viewing it through Outlook 2007.
Microsoft Exchange organizations often create Microsoft Office SharePoint Server (MOSS) 2007 sites as ways to manage large-scale projects. These sites often contain document libraries and a calendar. Although SharePoint's calendar feature is useful, it's different than a Microsoft Outlook 2007 calendar. In this tip, Microsoft Exchange Server expert Brien Posey shows an easy way to view your SharePoint calendar through Outlook.
---
The first step to use SharePoint calendars in Microsoft Outlook is to create a SharePoint calendar or list. Lists in SharePoint are typically used to store the same types of data that you would include in a spreadsheet.
To create a new list, open your SharePoint 2007 site and go to the Document Center. Next, click on Site Actions and choose Create from the menu . You will be taken to SharePoint's Create page, which lists several available document libraries and lists .
Choose the Calendar option and you will be prompted to enter a name and description for the calendar that you are creating. Click on Create to produce the calendar.
You can now access your calendar by going back to the Document Center and selecting the newly created calendar. Figure 1 shows the SharePoint calendar that I selected from the column on the left. I named the calendar SharePoint Calendar.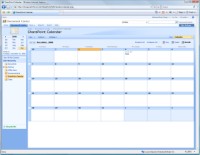 Figure 1. You can access a calendar by selecting it from the Site Hierarchy portion of the Document Center.
Once you've created a SharePoint calendar, you can add appointments to it. Click the New button and you'll be taken to the New Item page. On this page, which has a look similar to Microsoft Outlook, you can enter the date, time and various details of your appointment (Figure 2).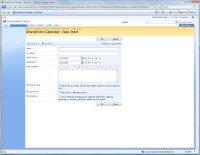 Figure 2. The New Item page lets you enter the date, time, and details of your appointment.
Next, you will export the calendar to Microsoft Outlook. Remember that anyone who can access your SharePoint site can access your SharePoint calendar. When you export the calendar, you're exporting the calendar's contents to your copy of Outlook -- not to everyone's Outlook calendars. Users who want to link the SharePoint calendar to their Outlook calendar must perform this action on an individual basis.
Choose the Connect to Outlook command from the Actions menu. The pop-up message shown in Figure 3 will appear in Outlook. This message asks if you want to import the SharePoint calendar.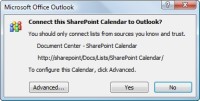 Figure 3. Outlook asks if you want to open the calendar.
Before choosing Yes or No, click Advanced. This will cause Outlook to display the screen shown in Figure 4.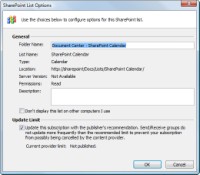 Figure 4. SharePoint displays the SharePoint List Options dialog box when you click the Advanced button.
If you don't want the calendar opened on other computers that you might use Outlook on, you can select that now. There is also an option to update the calendar according to the publisher's recommendations. You must make sure that this option is selected.
Click OK then Yes, and Outlook will open the SharePoint calendar. The SharePoint calendar is not merged with your calendar (Figure 5). Instead, the two calendars open simultaneously. Outlook doesn't give you the option to merge the calendars, but you can always view the calendars in overlay mode if you need to see a consolidated view.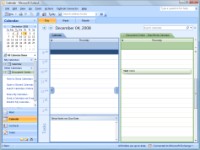 Figure 5. Outlook simultaneously displays both Outlook and SharePoint calendars.
About the author: Brien M. Posey, MCSE, is a five-time recipient of Microsoft's Most Valuable Professional (MVP) award for his work with Exchange Server, Windows Server, Internet Information Services (IIS), and File Systems and Storage. Brien has served as CIO for a nationwide chain of hospitals and was once responsible for the Department of Information Management at Fort Knox. As a freelance technical writer, Brien has written for Microsoft, TechTarget, CNET, ZDNet, MSD2D, Relevant Technologies and other technology companies. You can visit Brien's personal website at www.brienposey.com.
Do you have comments on this tip? Let us know.
Please let others know how useful this tip was via the rating scale below. Do you know a helpful Exchange Server, Microsoft Outlook or SharePoint tip, timesaver or workaround? Email the editors to talk about writing for SearchExchange.com.

Dig Deeper on SharePoint administration and troubleshooting