Problem solve
Get help with specific problems with your technologies, process and projects.
All about Exchange 2010 distribution list management
Do you dread having to manage distribution lists? The Exchange Management Console and Shell simplify the job, and you always have the option to offload the task to users.
Managing distribution lists is a common chore for Exchange administrators. The task can prove tedious, but it doesn't...
Continue Reading This Article
Enjoy this article as well as all of our content, including E-Guides, news, tips and more.
have to be difficult. Here are the types of distribution lists available in Exchange Server 2010, plus some help on how to create and manage them, as well as how to get users involved.
The different types of Exchange 2010 distribution groups
Most admins think of distribution lists solely as mechanisms for sending email messages to a group of recipients, but that is not their only purpose. For example, in an Active Directory environment, security groups are used to provide groups of users with access to resources. Exchange 2010 lets admins mail-enable a universal security group so that a single group can be used for role based access control and messaging.
Exchange Server 2010 also has a mail-enabled universal distribution group. It's different from a mail-enabled universal security group because it can only be used as a distribution list. Mail-enabled universal distribution groups cannot provide access to resources.
Creating distribution lists with the Exchange Management Console
Exchange 2010 makes it simple to create new distribution lists through the Exchange Management Console (EMC). Open the console and select the Recipient Configuration container. Next, click the New Distribution Group link in the Actions pane to launch the New Distribution Group wizard.
The wizard will ask if you want to create a new group or mail-enable an existing group (Figure 1). As you can see, the wizard can mail-enable an existing universal security group if necessary.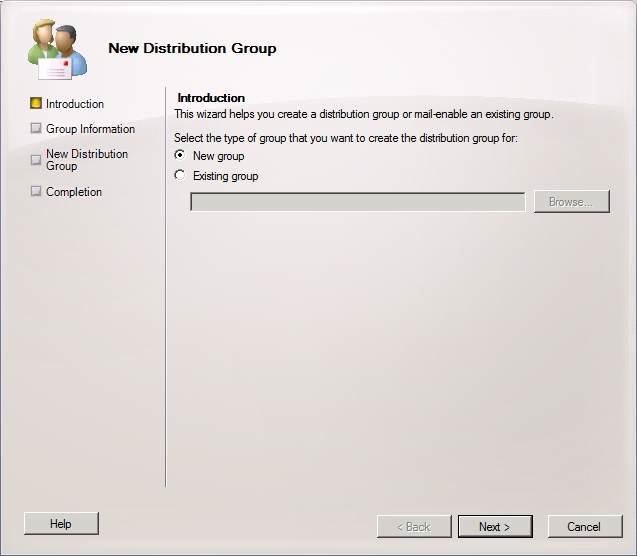 Figure 1. Use the Exchange Management Console to create a new group or mail-enable an existing group.
Click Next and the wizard will ask if you want to create a distribution group or a security group (Figure 2). Make your selection and provide a name, alias and an optional organizational unit (OU) for the group you're creating, then click Next.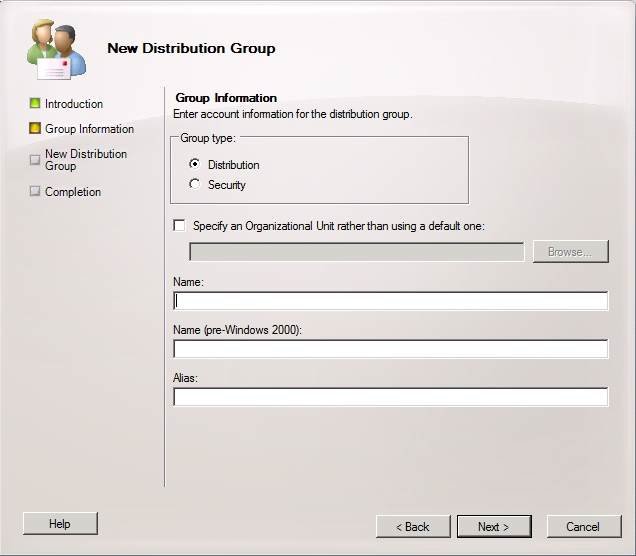 Figure 2. Use the Exchange Management Console to choose which type of group to create.
You will see a summary screen that displays the choices you've made. If everything looks correct, click New to create the group.
Creating distribution lists with the Exchange Management Shell
You can also create distribution lists using the Exchange Management Shell (EMS). This is done using the New-DistributionGroup cmdlet. For example, if you want to create a distribution list named MyGroup with the alias MyGroup, use the following command:
New-DistributionGroup –Name 'MyGroup' –SamAccountName 'MyGroup' –Alias 'MyGroup'
Adding Exchange users to a distribution group
If you want to manage a distribution group's membership, open the EMC and navigate to the Recipient Configuration -> Distribution Group container. Locate the distribution group you want to manage, then double-click on it. When the group's Properties sheet appears, go to the Members tab, click the Add icon, then select which users to add to the group (Figure 3).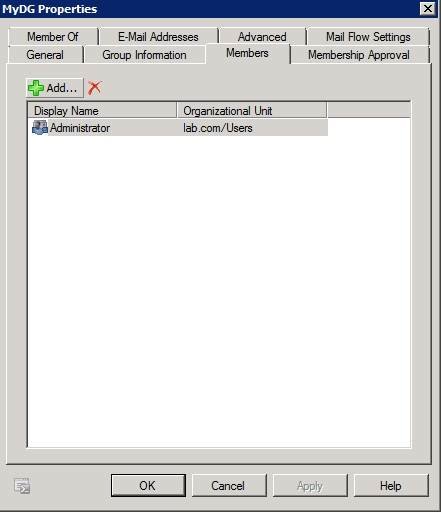 Figure 3. You can manage Exchange 2010 group membership through the Members tab.
Help users create Exchange 2010 distribution groups
As you can see, it's pretty easy to create distribution groups. That said, you can let users create groups themselves, which saves you time. After all, what busy Exchange admins want to spend their afternoon adding hundreds of names to a distribution group?
In order to grant users the ability to create their own distribution groups, you must create a new role group that contains the Distribution Groups permission. To do so, log into Outlook Web App (OWA) as an administrator and open the Exchange Control Panel (ECP). Next, select the Manage My Organization option, then select the Roles & Auditing container. Click the New button under Role Groups, then follow the prompts to create a new role group (Figure 4).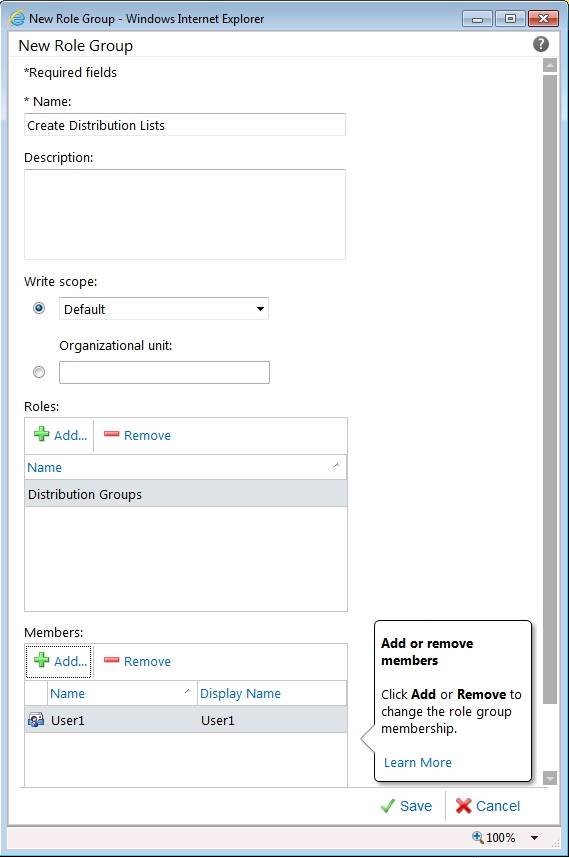 Figure 4. You can create a new role group that lets Exchange 2010 users create distribution groups.
Assign the Distribution Groups role to the new role group, then add the members' names that you want to have the ability to create distribution lists. Click Save to create the new role group.
When you are finished, your designated users will be able to use the ECP to create new distribution lists (Figure 5).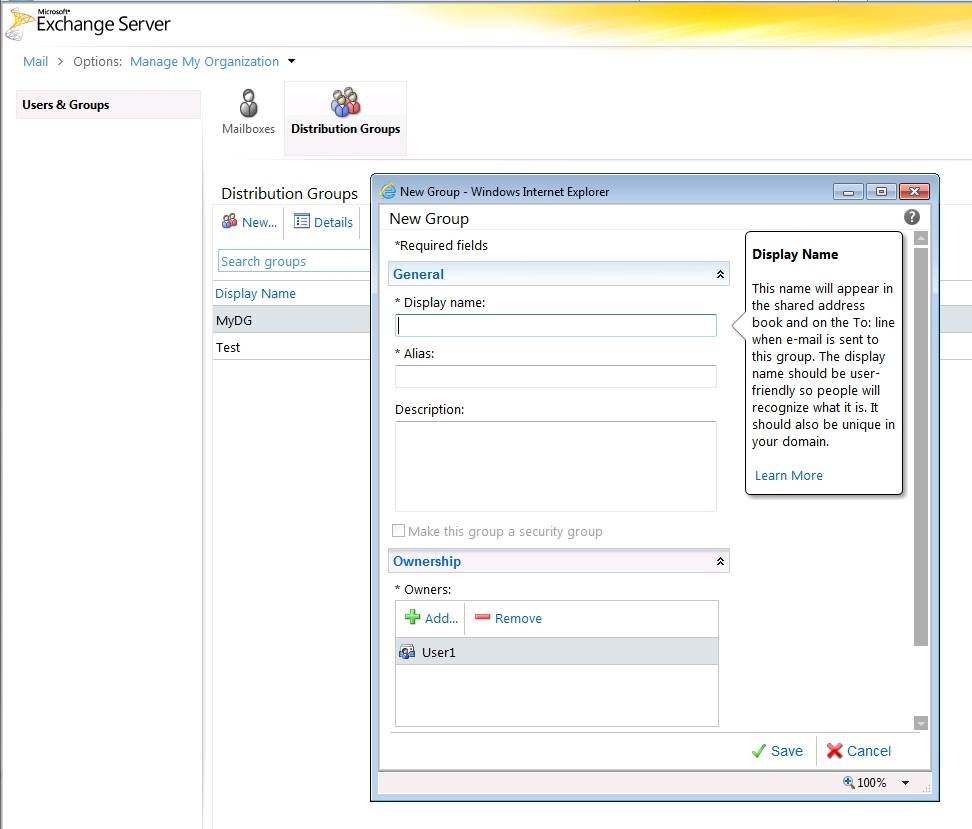 Figure 5. Your Exchange 2010 users can now create distribution groups.
ABOUT THE AUTHOR:
Brien Posey is an eight-time Microsoft MVP with two decades of IT experience. Before becoming a freelance technical writer, Brien worked as a CIO for a national chain of hospitals and healthcare facilities. He has also served as a network administrator for some of the nation's largest insurance companies and for the Department of Defense at Fort Knox.
Dig Deeper on Exchange Server setup and troubleshooting