Evaluate
Weigh the pros and cons of technologies, products and projects you are considering.
An introduction to Outlook 2007 and Exchange 2007 calendar features
Discover new calendar features in Outlook 2007 and Exchange 2007 and find out how the new Scheduling Assistant improves meeting and resource scheduling.
In Exchange Server 2007 and Outlook 2007, Microsoft has completely redesigned calendaring and scheduling features to make them more efficient, practical and user-friendly. In this tip, I discuss these new features and how they can be used to improve meeting coordination and calendar collaboration.

Resource mailboxes


Working hours


The Scheduling Assistant
Resource mailboxes
In previous versions of Exchange Server, it was common practice to create mailboxes whose sole job it was to act as a repository for scheduling resources, such as conference rooms or pieces of equipment. When scheduling a meeting, users would send an invitation to those dedicated mailboxes in the same way that they would invite their co-workers. By doing so, they could book the resource that the mailbox corresponded to. This feature is improved in Exchange 2007.
When you create a mailbox in Exchange 2007, the New Mailbox wizard asks if you want to create a user mailbox, a room mailbox or an equipment mailbox. You can see the New Mailbox wizard screen shown in Figure A.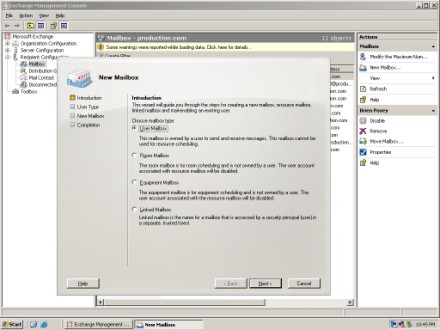 Figure A: Exchange Server 2007 is the first version of Exchange that differentiates between user mailboxes and resource mailboxes.
(Click on image for enlarged view.)
The fact that Exchange Server 2007 differentiates between user mailboxes and resource mailboxes might not seem like that big of a deal, but there are two distinct advantages to this:
You can associate resource-related attributes with the mailbox. For example, when creating a room mailbox, you can assign the room's seating capacity as a mailbox attribute.
Microsoft Outlook also differentiates between mailbox types. If you look at Figure B, you can see an Outlook Web Access (OWA) meeting request screen. The Resources field on this screen let's you select the desired conference room and any equipment you need for the meeting. Upon adding the room mailbox to the meeting invitation, OWA fills in the Location field automatically.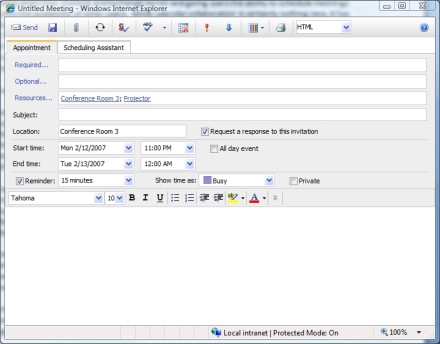 Figure B: OWA allows you to reserve resources as a part of a meeting request.
(Click on image for enlarged view.)
Working hours
Outlook has historically been really bad about suggesting meeting times that realistically worked for everyone involved. Microsoft has improved meeting scheduling in Outlook 2007 by allowing users to enter their normal working hours, which allows the calendar function to suggest more practical meeting times.
Users can enter their work hours either through Microsoft Outlook or through OWA. In OWA, a user must simply click the Calendar button followed by the Options button. This will display the screen shown in Figure C. Users are then able to select the days that they work and the start and end time for their shift.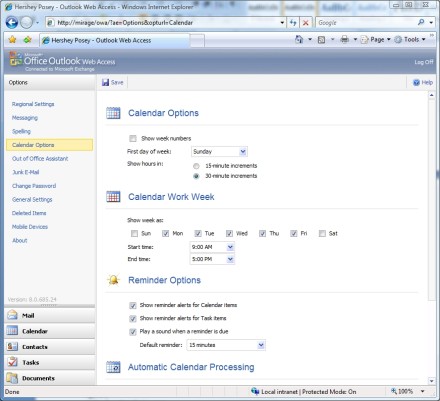 Figure C: Users can enter their normal work schedule.
(Click on image for enlarged view.)
The Scheduling Assistant
The centerpiece of Microsoft Outlook 2007's newly designed calendar is the Scheduling Assistant. The Scheduling Assistant helps users plan meetings based on attendee and resource availability.
The Scheduling Assistant is built into the New Meeting Request form. To see how it works, go to Calendar (in Outlook or OWA) -> New -> Meeting Request. You will see the main meeting request screen, which is similar to the one shown in Figure A.
To get the maximum benefit from the Scheduling Assistant, first fill in the meeting request form -- specifically, the meeting attendees and any resources that you would like to use during the meeting. It is also helpful to enter a beginning and ending time for the meeting, but this is not an absolute requirement because the Scheduling Assistant is going to help you narrow down the time slot.
In Figure D, you can see that I have filled in the meeting request form and specified a couple of required attendees and one optional attendee. In addition, I have requested a room resource, equipment resource and meeting time.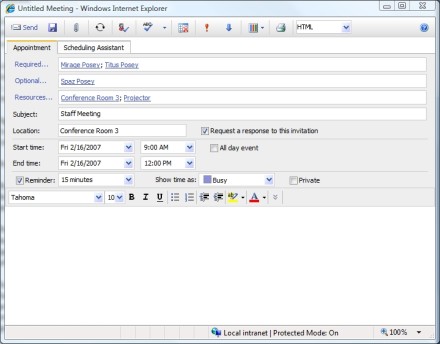 Figure D: In order to get the maximum benefit from the Scheduling Assistant, fill out the meeting request form as thoroughly as possible.
(Click on image for enlarged view.)
To access the Scheduling Assistant, now select the Scheduling Assistant tab to view a screen similar to the one shown in Figure E.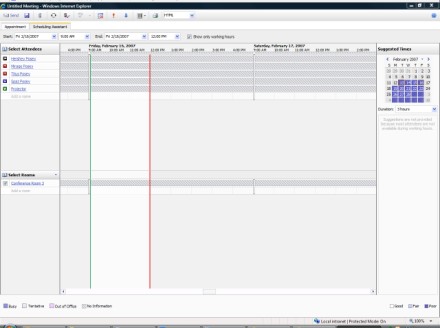 Figure E: This is what the Scheduling Assistant screen looks like.
(Click on image for enlarged view.)

Although the screen initially looks simple, there is actually quite a bit to take in. First, notice that the proposed start and end time for the meeting match what you entered on the Appointment tab. (Keep in mind that the meeting time is not set in stone yet.)

The whole point of the Scheduling Assistant is to find a time that works for everyone. The meeting time and duration you specified on the Appointment tab is only when you would ideally like to have the meeting.

Below the proposed start and end time for the meeting is a list of the attendees you specified earlier. Notice that there is an icon to the left of each attendee that represents the attendee's status.

These icons allow you to see, at a glance, which attendees are required and which are optional. The attendee at the top of the list has a unique icon, because this particular attendee is the meeting scheduler. The attendee at the bottom of the list also has a unique green icon that indicates that the listed attendee is a resource rather than a co-worker.

The lower half of the screen displays the schedule for the proposed conference room. Only one conference room is shown, but you could easily have Outlook or OWA show multiple conference rooms so that you can see which room is available for your proposed meeting.

The majority of the screen is made up of a calendar grid that displays free and busy information for the proposed attendees and resources. The proposed meeting time falls between the green and red vertical lines.

You will notice that the top line of the schedule grid lists times of the day and that it skips from 4 p.m. to 9 a.m.

That's because I have OWA configured to show only working hours (notice the checkbox just above the grid). Selecting the Show Only Working Hours checkbox prevents you from accidentally scheduling a meeting for after-hours.

Normally, the free and busy information is color-coded. In the lower left-hand corner of the screen, there are various colors and patterns shown for busy, tentative, out of office, etc. Each attendee's free/busy information would be displayed on the grid using these colors. In this case, the grid is blank because my selected attendees are test accounts on a lab server and, therefore, have no appointments on their calendars.

There are also color codes (in the lower right-hand corner of the screen) for good, fair and poor. If the attendees' calendars were populated with free and busy information, the empty area above these color codes would list some proposed meeting times.

The proposed meeting times would be color-coded to indicate if the proposed meeting time was good, fair, or poor based on everyone's schedule. As you select a proposed meeting time, the green and red vertical lines move to surround the proposed time. That way, you can see at a glance who the proposed time will and will not work for.

About the author: Brien M. Posey, MCSE, is a Microsoft Most Valuable Professional for his work with Exchange Server, and has previously received Microsoft's MVP award for Windows Server and Internet Information Server (IIS). Brien has served as CIO for a nationwide chain of hospitals and was once responsible for the Department of Information Management at Fort Knox. As a freelance technical writer, Brien has written for Microsoft, TechTarget, CNET, ZDNet, MSD2D, Relevant Technologies and other technology companies. You can visit Brien's personal Web site at www.brienposey.com.

Do you have comments on this tip? Let us know.



Dig Deeper on Exchange Server setup and troubleshooting