 BACKGROUND IMAGE: iSTOCK/GETTY IMAGES
Problem solve
Get help with specific problems with your technologies, process and projects.
Assessing Office 365's Lync Online for Exchange admins
Lync Online gets less fanfare than Exchange and SharePoint online, but that doesn't mean you should disregard it. Know what to expect if and when your company jumps on the Office 365 bandwagon.
There has been a lot of buzz surrounding Microsoft Office 365, but most of the attention has understandably focused on the Exchange Online component. SharePoint Online has also received a modicum of interest, but its nature as an intranet/Internet collaboration product makes it an easy fit for Office 365 customers. One aspect that has barely been mentioned in all the hype is Microsoft Lync Online.
Why should you care about Lync Online? Well, in many Office 365 shops, you may be the all-in-one admin who is responsible for Exchange Online, SharePoint Online and Lync Online. In others, Exchange and SharePoint administrators may be ready to assist users, but the organization may not have a full-fledged Lync team. In fact, many experts suggest that Lync comes under the Exchange umbrella with regard to unified communications (UC). So like it or not, you should get familiar with Lync Online before digging in.
What Lync Online offers
Lync Online is the next generation of Microsoft Office Communications Online and Live Meeting. It allows organizations to provide instant messaging, user presence and online meetings -- complete with audio, video and screen sharing. Other features include file transfer, remote access, distribution lists, content sharing and more. For those of you who were BPOS users, you'll appreciate the enhancements within Lync Online, as well as the new Lync client.
Windows Phone and Lync Online
Windows Phone is another great way to access Office 365 because the Lync app allows you to use Lync online voice capabilities (but not video) easily through the connection. In other words, if you're looking at new devices, go with Windows Phone if you're planning an Office 365 deployment.
Users can also communicate with external organizations running Lync Online through federation. In addition, they can connect to other users running Windows Live Messenger. Users outside the Lync world can join meetings via audio-conference through their phones using conferencing services supported by Lync.
Where Lync Online falls short
Lync Online's enterprise voice functionality just isn't up to snuff yet. Also, the ability to call external phone numbers -- a feature available in Lync on premises -- is missing. In fact, if you look at the feature-comparison matrix found in the appendix of the Lync Online service agreement, you'll notice that most voice and telephony features are missing when compared with on-premises Lync Server 2010. That will no doubt be rectified in the near feature. (Perhaps Microsoft's purchase of Skype will provide that missing piece.)
In the meantime, you can provide the necessary functionality by implementing an on-premises Lync server within your online environment. But isn't cost savings the biggest benefit of going to an online product such as Office 365? Hybrid Exchange may be an exception, but that defeats the whole purpose of foregoing an excessive infrastructure and internal support. The missing telephony features could well be a deal breaker.
Configuring Lync Online
There are several key elements when it comes to configuring Lync Online. The first might take you 15 minutes or so, with the most difficult part being the Domain Name System (DNS) configuration. From within the Admin overview section, select Management -> Domains (Figure 1). Next, select Edit domain intent to ensure that you have Lync Online selected.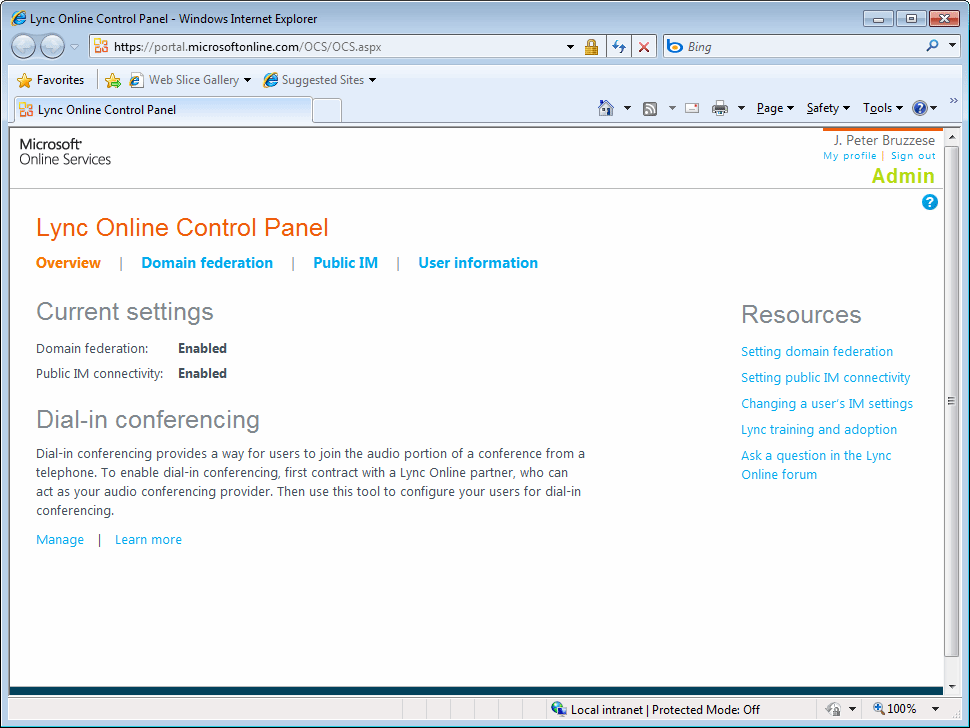 Figure 1. Getting started with Lync Online's admin interface.
Next, check your DNS settings to see that the records for _sip and _sipfederationtls need to be created on your external DNS server. Configure these records exactly as they are laid out for you. The complexity depends on the external DNS provider you use.
After you've configured the DNS server and allowed the settings to take effect, you can use the Troubleshoot Domain option from within the management portal to make sure that you're ready to go.
Beyond that, you have the ability to configure domain federation (Figure 2), which allows your Lync Online domain to communicate with other Lync-enabled domains.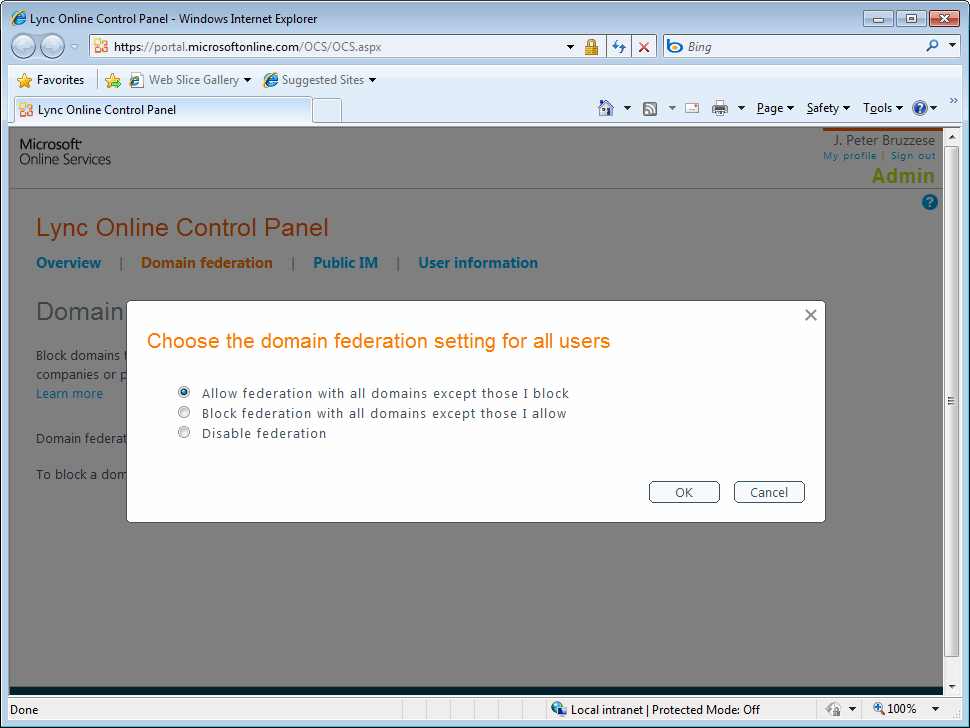 Figure 2. How would you like to configure domain federation in Lync Online?
You can also connect to public instant messaging (Figure 3), which allows your Lync Online domain to communicate with public IM networks such as MSN or Yahoo. This is done by going back into the Admin Overview and selecting Lync Online -> Manage. You must enable the features by navigating to each of the individual tabs and selecting them.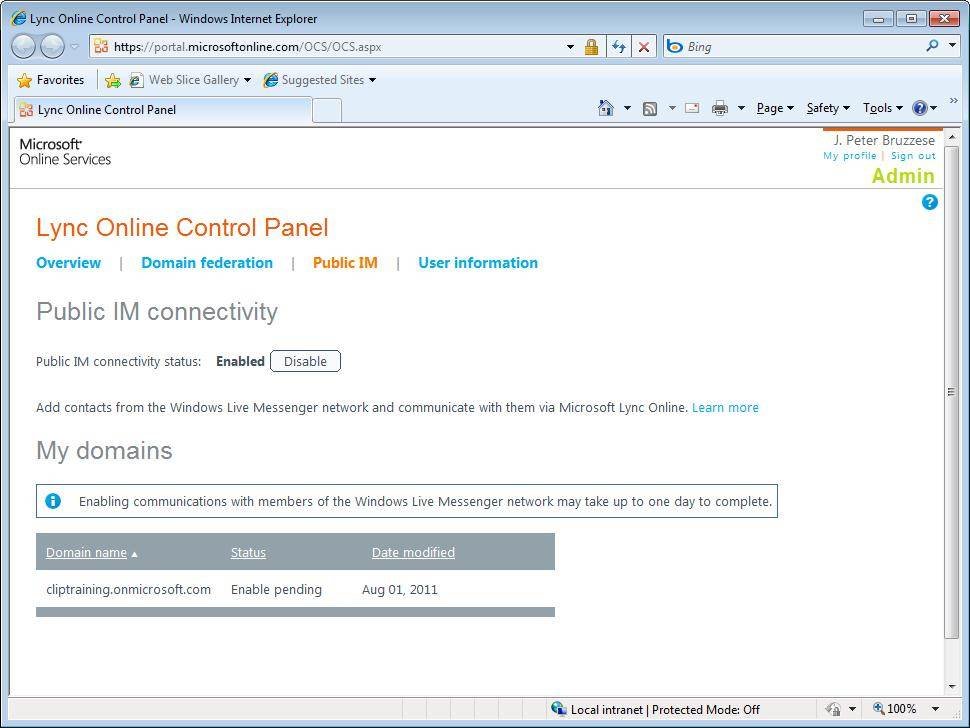 Figure 3. After configuring domain federation, set up instant messaging connectivity in Lync Online.
In Figure 4, you'll note the User Information tab. This lets you specify which abilities your Lync Online users will have. After everything is configured for your organization and domain, users can download the client software and then use Lync Online.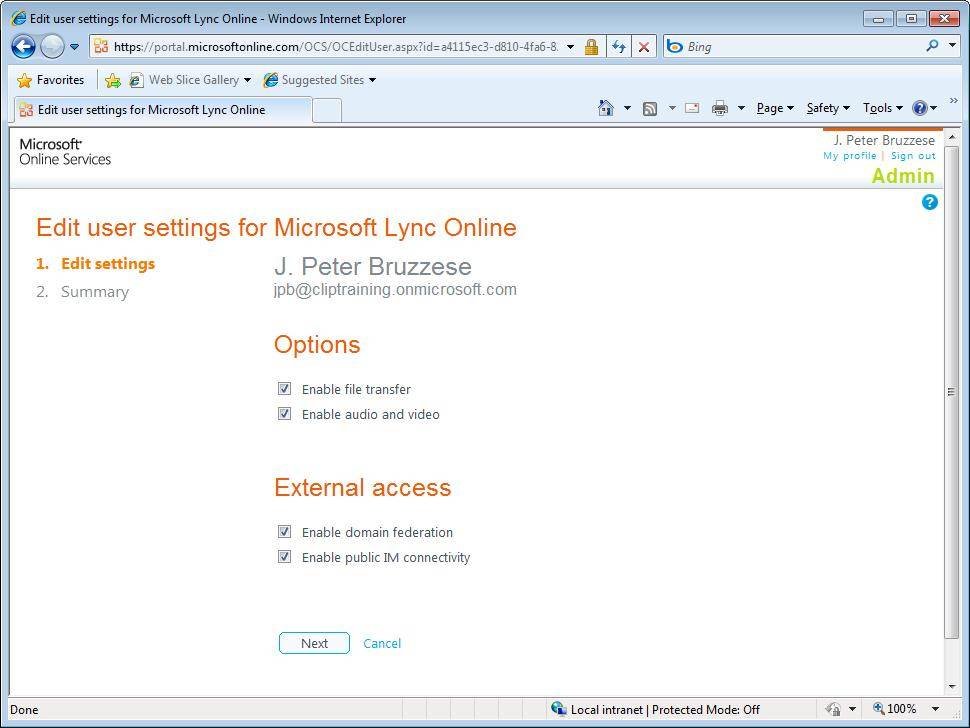 Figure 4. Now you can edit Lync Online user settings.
Lync Online: Thumbs up or down?
Right now, Lync Online is not a home run. It's actually only a subset of features of on-premises Lync Server 2010. Considering the ease of setup and the features it does bring to the table, however, it's icing on an already tasty online cake.
Enhancements are sure to come, eventually bringing more telephony elements. If telephony isn't a major factor for your organization, you're sure to love Lync Online. If it is, you can still implement an on-premises Lync server that will work with your Office 365 deployment.
ABOUT THE AUTHOR
J. Peter Bruzzese (Triple-MCSE, MCT, MCITP) an Exchange MVP, is the co-founder of ClipTraining, an Exchange and SharePoint Instructor for Train Signal, and a well-known technical author for Que/Sams. He is a product reviewer for MSExchange.org, has spoken at Techmentor, Connections and TechEd, and is also the Enterprise Windows columnist for InfoWorld. Follow him on Twitter @JPBruzzese.
Dig Deeper on Microsoft messaging and collaboration services