auris - Fotolia
Evaluate
Weigh the pros and cons of technologies, products and projects you are considering.
Availability requires monitoring mailboxes in Exchange 2013
For a better understanding of Exchange Managed Availability, learn how to create and manage monitoring mailboxes, and how to fix a corrupted mailbox.
Exchange Server 2013 introduced monitoring mailboxes. Admins who run Exchange 2013 should get to know this new mailbox type, including how to create, use and manage it.
The built-in Exchange monitoring system, Managed Availability, performs continuous tests to simulate end-user activity with the monitoring, also known as health mailboxes, and ensures all Exchange components work as expected. Understanding monitoring mailboxes can provide insights into how Managed Availability works.
First, locate these special monitoring mailboxes. Run Get-Mailbox –Monitoring to see the output of the health mailboxes in your organization. Narrow down the information by running Get-Mailbox –Monitoring –Server <servername> and Get-Mailbox –Monitoring –Database <database name> (Figure 1).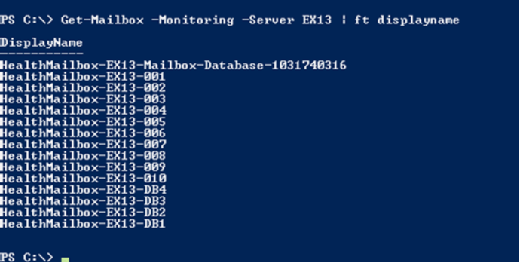 You may also want to know how many mailboxes are in a typical environment -- it could be a surprising number. You'll have 10 health mailboxes per Client Access Server (CAS) role, plus one for each mailbox database copy, including active and passive copies. For example, a large Exchange 2013 deployment with three copies will have hundreds of monitoring mailboxes.
Create monitoring mailboxes
The Microsoft Exchange Health Manager service is responsible for creating and maintaining the monitoring mailboxes. The Health Manager service runs on every Exchange 2013 role and implements Managed Availability functionality.
A large Exchange 2013 deployment with three copies will have hundreds of monitoring mailboxes.
The Health Manager service runs in two processes -- MSExchangeHMHost.exe and MSExchangeHMWorker.exe. During server or service startup, the HMWorker process checks for monitoring mailboxes and creates mailboxes if required.
To find the associated Active Directory (AD) user accounts for these mailboxes, use AD Users & Computers. Enable Advanced Features and navigate to Microsoft Exchange System Objects > Monitoring Mailboxes for a list of all end user accounts (Figure 2).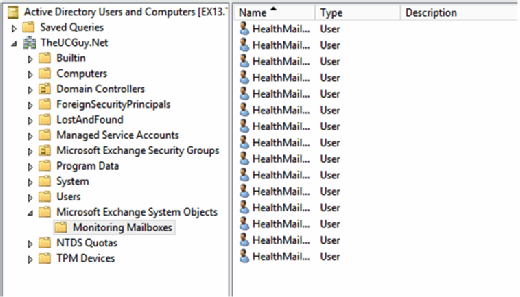 Monitoring mailboxes follow a particular naming convention. Mailboxes created for the databases follow a standard format of "HealthMailbox-" + server name + "-" + database name. Mailboxes for the CAS role have "HealthMailbox-" + CAS server name + "-001" through "010". The second setup appears on Exchange 2013 Cumulative Update 6 or later.
Manage health mailboxes
New health mailboxes are created upon the addition of CAS server roles or creation of new databases and its copies. When you delete a database (which is often created by default), the AD user account for the associated monitoring mailbox remains. Admins have to manually carry out that task.
Microsoft recommends leaving the monitoring mailboxes as is with these four important factors:
Don't move mailboxes from one database to another;
Exclude the mailboxes from user account lockout policies;
Don't perform manual password resets -- it is managed by the HM Worker process; and
Don't move them out of the monitoring mailboxes container.
If you have a corrupt health mailbox -- which is often highlighted in logs and the Exchange Management Shell -- you can stop the Health Manager service, delete the AD account and restart the service, creating a new monitoring mailbox. You don't have to manually recreate the health mailbox with the same details.
If you manage to delete the Microsoft Exchange System Objects > Monitoring Mailboxes organizational unit, running PrepareAD will create it for you.
About the author:
Rajith Enchiparambil is a UC Architect who works on large Exchange and Office 365 projects for clients in the U.K. He specializes in Exchange, Office 365, Active Directory and a bit of Lync. He has been working in the IT industry for the last 13 years and has worked extensively with Microsoft Exchange since version 5.5. Enchiparambil has worked for consultant services such as HP, Siemens, AtoS, CapGemini and Computacenter. He regularly writes about Office 365 and Exchange in his personal blog, theucguy.net.
Dig Deeper on Exchange Server setup and troubleshooting