Avoid print queue overload with priority printing
What Microsoft Windows admin hasn't dealt with the issue of printer queue overload caused by frivolous end users who tie up network resources for hours on end with large and non-essential print jobs? Here's a simple workaround to this perennial problem.
If you have a user who is notorious for printing things that are not work related, you can ease the burden that...
Continue Reading This Article
Enjoy this article as well as all of our content, including E-Guides, news, tips and more.
the user places on the network by creating a special, priority print queue just for that user.
Prioritized print queues allow you to configure network printing in such a way that a user with a reputation for frivolous printing will never disrupt users who are trying to do legitimate work.
Sure, it's possible for admins to simply delete a user's job from the print queue when it ties up a printer for hours. But a priority print queue is a much more reliable and efficient solution to this perennial problem. And, they are easy to set up because Windows allows you to connect multiple print queues to a single physical printer. To prioritize network printing, all you have to do is to point these multiple print queues to the same physical printer.
The procedure for doing so is no different than the way that you would set up any other network printer. However, there are two important differences:
Each print queue should be assigned a different local name and share name.
The print queues – both low and high priority -- must be hosted by a Windows server. Creating a low priority print queue on a user's workstation won't have the desired effect; users must send documents through these shared print queues in order for prioritization to work correctly.
Once you've created and tested the various print queues, you can begin prioritizing.
Step 1: Lock the troublesome user out of your primary print queue.
Right click on your primary print queue, and select the Properties command from the resulting shortcut menu. You'll see the printer's properties sheet. You can use the properties sheets Security tab, shown in Figure A, to deny print rights to the troublesome user. This will prevent the user from simply connecting to a print queue that has been assigned a higher priority.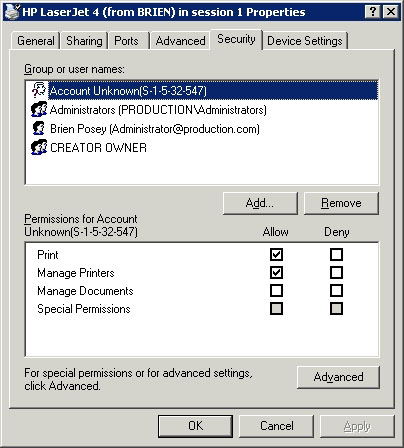 Figure A: You can use the Security tab to deny Print permissions to the troublesome user.
Step 2: Assign a priority to the print queue that you have created for the troublesome user.
Go to the properties sheet's Advanced tab. As you can see in Figure B, the Advanced tab contains a Priority setting. By default, all network printers have a priority setting of 1. The lower the priority setting, the higher the priority. Therefore, you'll want to use a number that is higher than 1 for your low priority print queue.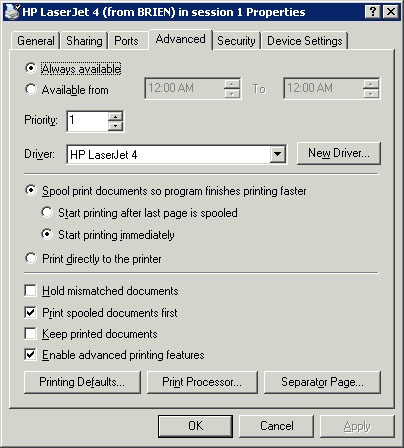 Figure B: Windows allows you to prioritize individual print queues.
You might also notice in the figure that the Advanced tab allows you to configure the times a day when the printer is available. You can use these settings to prevent a troublesome user from coming in to the office late at night and printing something. Availability settings are applied to specific print queues, so you can limit the hours that the printer is available to the troublesome user, without impacting the other users.
More on printer management
About the author: Brien M. Posey, MCSE, is a Microsoft Most Valuable Professional for his work with Windows 2000 Server, Exchange Server and IIS. He has served as CIO for a nationwide chain of hospitals and was once in charge of IT security for Fort Knox. He writes regularly for SearchWinComputing.com and other TechTarget sites.