JRB - Fotolia
Get started
Bring yourself up to speed with our introductory content.
Better email collaboration with Exchange 2016
The new versions of Office and Exchange make it easier to collaborate on documents in email. Use new features in Exchange Server 2016 and Outlook 2016 to work quicker and smarter.
Outlook and Exchange 2016 work in new ways to make it easy to collaborate on documents over email. In this article...
Continue Reading This Article
Enjoy this article as well as all of our content, including E-Guides, news, tips and more.
we look at two new features. If you use OneDrive for Business in Office 365 and plan to use Outlook 2016 with Exchange Server, you will gain additional email collaboration capabilities when you upgrade.
Working together on documents has been disjointed -- the sharer would often visit OneDrive for Business and choose to share the document via the website.
With cloud integration, the Outlook user interface allows you to send a linked attachment rather than the attachment itself. The changes to Outlook allow you to share the attachment directly from the Outlook client, making it a natural part of the email experience (Figure 1).

When adding a new, cloud-based attachment, the sender can attach a copy and allow the recipient to view or edit the attachment (Figure 2).

Exchange Server 2016 also extends this capability into Outlook on the Web. Cloud attachments appear like regular attachments in OWA and, as in Outlook, they have a cloud icon overlaid in the bottom right corner to signify the difference (Figure 3).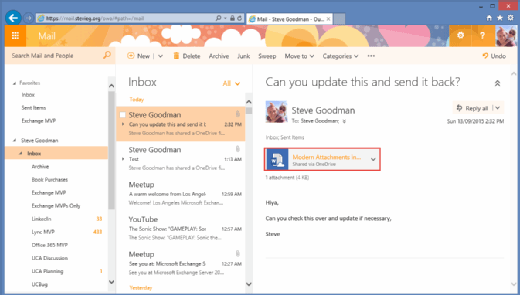 After the release of SharePoint 2016, Microsoft is likely to extend this capability to on-premises installations of OneDrive for Business, bringing the new functionality to organizations that are unable to store files in the cloud.
Attachment collaboration in Outlook on the Web
Exchange Server 2016 now uses the Office Online Server for document viewing and editing to ease email collaboration.
Office Online Server replaces Office Web Apps Server and is updated in line with the 2016 products and current Office 365 versions.
Microsoft removed the old WebReady attachment viewing engine from Exchange 2016. To view any attachments, you must install Office Online Server alongside Exchange. Office Online Server can be installed as a farm for high availability, but can't be installed on the Exchange Server itself. Installation is straightforward through a simple wizard.
Once installed, Office Online Server doesn't perform any function straight away. Configuration must be performed on the Office Online Server farm in Exchange 2016.
Additionally, you'll need to install a valid SSL certificate on the Offline Online Server, add relevant DNS names internally and externally, and publish it with your reverse proxy or load balancer.
With base prerequisites in place, install the farm using the following PowerShell command:
New-OfficeWebAppsFarm -InternalURL "https://oos.stevieg.org" -ExternalURL "https://oos.stevieg.org" -CertificateName "StevieG.org Wildcard"

After installation, use the Set-OfficeWebAppsFarm command to allow document editing.
Set-OfficeWebAppsFarm -EditingEnabled:$True
To configure Exchange Server 2016 to use Office Online Server, you need to configure the WacDiscoveryEndpoint at the server level and at the organizational level.
To configure it at the server level, use Set-MailboxServer against each Exchange Server:
Set-MailboxServer -Identity EX1601 -WacDiscoveryEndpoint "https://oos.stevieg.org/hosting/discovery"
If you do not have Exchange 2013 in the organization, then you can also configure the organizational level setting.
Set-OrganizationalConfig -WacDiscoveryEndpoint "https://oos.stevieg.org/hosting/discovery"
After making either change, recycle the OWA app pool using the following command on each server:
Restart-WebAppPool MsExchangeOwaAppPool
After implementing Office Online Server and integrating it into Exchange 2016, users can view Office attachments inline when selecting a message. Open a message and then click on the attachment. As shown below, you'll see the document displayed in the relevant Office Online app:

If you want to make changes to the document and then attach the updated document in a reply, choose Edit and Reply.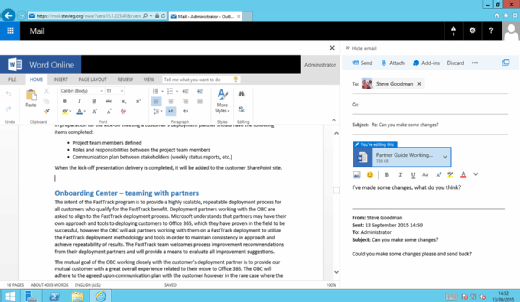 This will make a copy of the attachment and create it as an editable attachment to a new reply. You'll be able to make changes to the document and send it. The updated version will be stored in your mailbox.