Evaluate
Weigh the pros and cons of technologies, products and projects you are considering.
Building a Hyper-V home lab for your certification needs
One way to build up your expertise -- and your resume -- is to put together a Microsoft certification study lab using client Hyper-V for little to no money.
For the last 20 years, I've helped thousands of people prepare for their IT certification exams. While there are...
Continue Reading This Article
Enjoy this article as well as all of our content, including E-Guides, news, tips and more.
several ways to build your experience with technology, putting together a Hyper-V home lab is a cheap and effective way to build experience with different applications.
There are several ways to tackle Microsoft certification training: attend training sessions with an instructor, try computer-based training, or read through books and the IT vendor's website for the required background knowledge. You can purchase IT certification practice exam simulations from reputable companies, such as Boson and Transcender. Be sure to avoid "brain dumps" -- illegally obtained transcripts of actual exam questions -- which violate the nondisclosure agreement with the certificate vendor and can result in grave consequences if you're caught.
My experiences have taught me the most successful certification candidates use three elements as part of their preparation:
Understanding the theory;
Applying the technology in a practical way; and
Reviewing legitimate practice exams.
For this article, I'll focus on developing hands-on experience with the technology through a Hyper-V home lab.
Learn by doing
Even if you're already working in IT, you don't want to ever experiment on production systems. You should build a safe sandbox environment to test things out and make mistakes with no harm done.
For Microsoft certification training, we can build an effective Hyper-V home lab that won't cost much. All we need is a physical computer running Windows 8.1 with decent hardware resources. The following specs should work well:
A processor that supports virtualization extensions;
At least 8 GB of RAM;
At least 300 GB of available hard disk space; and
An Internet connection.
I will focus on Windows 8.1 because it is the first Windows desktop OS that includes client Hyper-V. Windows 8.1 and Windows 10 include the Hyper-V client hypervisor. Some may think of Hyper-V as an exclusive Windows Server technology, but I think Microsoft bundled it with the desktop OS to support backward compatibility with older software to help programmers with development environments.
Visualizing the virtual environment
A proper Hyper-V home lab for certification practice should have at least one Windows Server virtual machine (VM), one Windows client VM, one Linux VM and a router. You can assemble this without spending any money.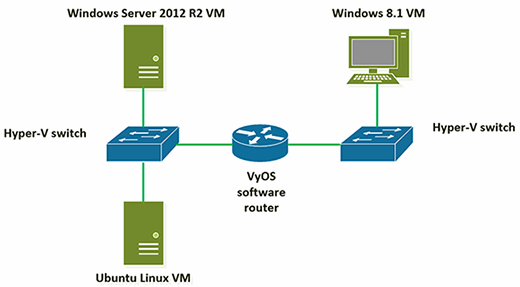 Depending upon how much RAM is in the host, you may have to restrict the number of simultaneously running VMs. If possible, maximize the amount of RAM to keep things running smoothly.
Building the virtualization host
Open an elevated Windows PowerShell console -- right-click the PowerShell icon and select Run as Administrator from the shortcut menu -- and run the optionalfeatures command to open the Windows Features dialog box. Click the Hyper-V checkbox and expand the feature to put checkmarks next to Hyper-V Management Tools and Hyper-V Platform.
After a system restart, you should be ready to proceed. Hyper-V configuration is beyond the scope of this article. For additional details, read this Microsoft guide and pay particular attention to how to create virtual switches.
Max out the memory for best results
This lab will provide the platform you need to practice all the tasks covered in the Windows Server 2012 R2 and Windows 8.1 configuration exams. I strongly suggest your hardware host have at least 16 GB of RAM but 32 GB would be preferred. With more RAM you can run several Windows Server VMs to simulate advanced configurations, such as:
While you won't get stunning system performance when you build out these more complex infrastructures, you'll certainly be able to transform your theoretical knowledge into practical application.
Finding operating system software
The Microsoft TechNet Evaluation Center provides unrestricted, 180-day trial copies of any Microsoft business software. To build our lab, download the ISO disk images for Windows Server 2012 R2, and Windows 10 -- or Windows 8.1, depending upon your certification goal.
While it's optional, learning how to handle Linux is a skill that is growing in demand. Go to the Ubuntu website and download the latest Ubuntu Desktop distribution ISO.
Finally, we need a virtual router to simulate a real-world multi-subnet architecture in our practice lab. VyOS is a free, open source Linux-based virtual router with no graphical user interface, a tiny disk footprint and the ability to perform many different types of IP routing.
Now that we have our operating system ISOs, we can create the VMs and get the IT certification lab constructed.
Deploying the VMs
This brief tutorial from the Microsoft Developer Network explains how to use Hyper-V Manager to deploy VMs. One cool aspect of this tutorial is the Windows PowerShell script that makes VM deployment faster and more accurate.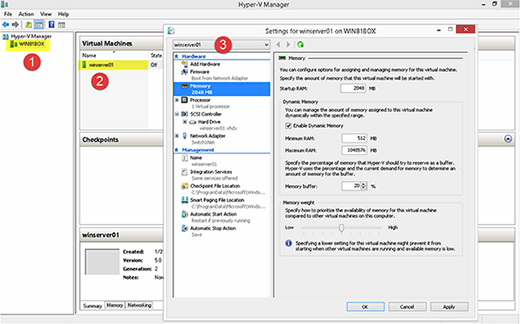 The VyOS User Guide includes a walkthrough to set up the VyOS virtual router. You can see my completed lab network from the perspective of Hyper-V Manager in Figure 3.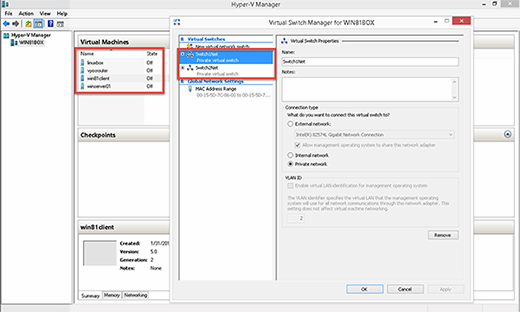 Protect those VMs
You will want to protect your environment regularly through snapshotting and rolling back VMs. For instance, say you need to deploy and configure Active Directory Certificate Services on your network, but you don't want those bits to affect your future lab work. Simply take a snapshot of each VM in its pristine "before" state and roll back the VMs to that snapshot to restore the environment.
Examining the practice network
Home labs come in many shapes and sizes. The details of my lab network are in Figure 4.

I gave the Windows Server VM a static IPv4 address and assigned the "near side" virtual router address as the default gateway. I also installed a DHCP scope for the "far side" subnetwork, supplying the appropriate host and default gateway addresses.
The router needs two virtual interfaces, each equipped with its own appropriate IPv4 address.
The Windows client VM is configured for DHCP. I configured the virtual router to pass BOOTP/DHCP broadcast traffic to make this happen.
Because the VMs don't need to communicate with the host computer or the Internet, I defined both Hyper-V virtual switches for private communications only.
Further tweaks may be needed
You may need to adjust memory allocations depending on how many VMs you want to run simultaneously. The VyOS router doesn't need more than 512 MB of RAM, and I've had Windows 8.1 client VMs that run fine at 1 GB of RAM.
Dig Deeper on Microsoft Hyper-V management