Problem solve
Get help with specific problems with your technologies, process and projects.
Building a Windows Server 2008 virtual test lab
When it comes to preparing for a Windows Server 2008 migration, there is nothing like hands-on experience with the new server. Directory services expert Gary Olsen explains the quirks of creating a virtual test environment for Windows Server 2008.
Now that beta 3 for Windows Server 2008 is old news and Microsoft announced the Feb. 27 launch date, the time has come to start thinking about getting a test lab environment set up.
While reading press releases, articles and how-to guides is all well and good, when preparing for Windows Server 2008 there is really no substitute for hands-on experience. This is the best way for administrators to become familiar with the server and determine how its features can benefit their Windows environments.
Previously I described how to easilycreate a test lab environment using a single physical computer, plus virtual computing software such as VMware or Microsoft Virtual Server. While the principles for building a virtual Windows 2008 server are very similar to those for working with Windows Server 2003, there are a few technical twists you should be aware of.
In review, here are the steps for building a simple test environment:
Get a good powerful host computer. Virtual machines share the physical memory, CPU and disk of the host computer. There is no reason not to get an x64 dual-core two- or four-processor host computer with 8 GB of RAM and tons of disk space.
Use your favorite virtualization software to create a new virtual machine by installing the Windows Server 2008 operating system.
After you install the OS, install any applications, Windows support tools and so forth that you want for a standard server image. This image will be used to generate multiple servers.
Create a Sysprep image. Sysprep is a utility from Microsoft that strips machine-specific identification information such as computer name, network information and SID.
Put the Sysprep-converted image in a protected directory for safe keeping.
Copy the image into another folder. You can then use the virtualization software to "open" that image, which will cause the image to boot into a mini-setup that will prompt you for network info, computer name, etc. -- as you would expect on any setup. When the dust clears, with the base image you created, you will have a unique server that you can turn into a domain controller, member server and so on.
Repeat the previous step as many times as you want. By making additional copies of the Sysprep image, you can create unique machines.
Differences with Windows Server 2008
There are several "gotchas" to be aware of when you set up a lab environment that didn't exist for Windows Server 2003. The first one is Sysprep, which I described in Configuring a virtual test lab on a budget. Sysprep in Windows 2000 Server and Windows Server 2003 consisted of three files -- SYSPREP.EXE, SETUPMGR.EXE and SETUPCL.EXE -- found on the Windows Server CD in the \Support directory.
Windows Server 2008, on the other hand, has Sysprep built right into the OS, found at C:\windows\system32\sysprep\sysprep.exe. That's it -- just sysprep.exe.
In the virtual machine, you can run sysprep.exe either from the command line or from the GUI. From the command line, enter:
sysprep /OOBE /Generalize /shutdown.
Note that if you enter Sysprep without any options set, the GUI will appear and prompt you, as shown in Figure 1. It is important to use the /shutdown option rather than the /reboot option, since /shutdown allows you to make copies of the setup image (/reboot goes right to setup and creates a new machine). You can find more details on this in the Microsoft step-by-step guide on Windows Deployment Services update.
Figure 1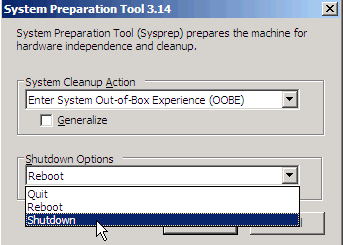 Another change from Windows Server 2003, of course, is the choice you now have between full version and Server Core. Early in the installation, you are presented with the screen shown in Figure 2. In your test environment, in order to have both versions, you will need to install one of each. That is, install one machine as full version, Sysprep it and save it. Then install another machine as Server Core, and do the same.
Figure 2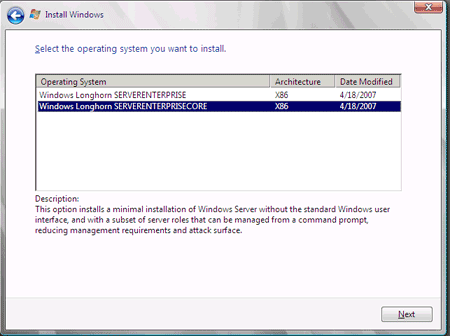 Microsoft has (for reasons unknown to me) decided to require a Product ID, or PID, to be entered for this product, which is still in beta. In addition, you must activate it within 30 days or you have to reinstall. The activation is real -- I tried to activate one copy twice and I was notified that the PID was already activated. I asked Microsoft about how to create a training domain with a single copy of Windows Server 2008; the company recommended to not activate it and just reinstall every 30 days. This is not a great solution, but it's the best we have for now.
Here's another issue: The virtualization software you use must be able to build a Windows Server 2008 image. In VMware Workstation 5.5, for example, there was no option for Longhorn or Windows Server 2008. However, the new version 6.0 includes options to install "Longhorn" as well as Vista.
Note: I was able to just use the Windows Server 2003 option and installed 2008 successfully. I don't know if that's supported by VMware or not.
If you take my recommendation to buy an x64 machine as the host for your virtual lab, note that VMware Workstation versions 5.5 and 6.0 will both install on 64-bit architecture, plus they will both install a 64-bit guest OS (for the virtual machines). However if you have an older x64 computer, it may have an old chipset that did not have the Intel "Virtual Technology" feature. If that is the case, you will see a pop-up during the x64 OS installation in the virtual machine saying that your processor does not support that technology, stopping the installation. Installing an x64 version of the OS is therefore important if you want to install Exchange Server 2007.
In building the Windows Server 2008 environment, you will have to decide if you want to add Longhorn DCs and servers in an existing Windows Server 2003 forest or put them in a pristine Windows Server 2008 forest. You may want to do both, as you'll need to test interoperability and migration issues, but you also want to have a native Windows Server 2008 forest in order to see the full functionality of the features.
As long as you keep these factors in mind, using virtualization and the free Windows Server 2008 beta 3 download, you can easily set up a test and training environment to gain experience and prepare to move your environment to Windows Server 2008.
ABOUT THE AUTHOR
Gary Olsen is a systems software engineer for Hewlett-Packard in Global Solutions Engineering. He authored Windows 2000: Active Directory Design and Deployment and co-authored Windows Server 2003 on HP ProLiant Servers. Gary is a Microsoft MVP for Directory Services and formerly for Windows File Systems.
Dig Deeper on Windows Server troubleshooting