Problem solve
Get help with specific problems with your technologies, process and projects.
Centralize Outlook contact lists in an Exchange 2003 public folder
Global access lists store contact info for co-workers, but not for anyone outside your organization. Making a public folder an address list keeps external contacts in one location.
The Exchange Server 2003 Global Address List (GAL) gives users access to contact information for everyone in the organization. But users also need to maintain contact information for people outside the organization. One way to do this is to create a public folder that houses external contacts. Then you can turn this folder into an address book or create a distribution list based on the public folder's contents. This tip shows you how.
Methods explained in this tip work in an Exchange Server 2003 environment with users on Microsoft Outlook 2007 and assumes that you have created a contacts folder. Although this method will work with Outlook 2003, the steps may be slightly different.
First, right-click on the public folder and choose Properties. Select the properties sheet's Outlook Address Book tab. Next, select Show this Folder as an E-Mail Address Book (Figure 1) and then verify that the name of the address book matches the folder name and click OK.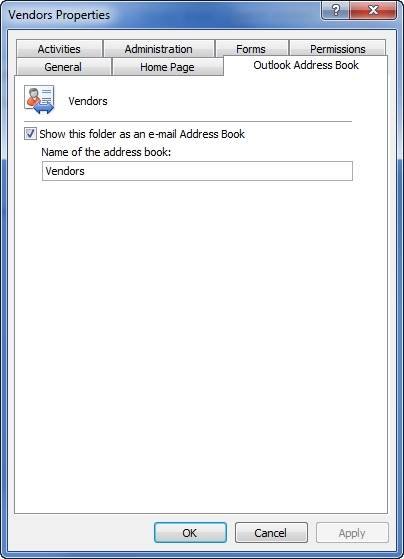 Figure 1. The first step is to show the folder as an email address book.
The public folder's contents will become accessible through Outlook and searchable by default. Select Outlook's Contacts option and enter the name of a contact from the public folder into the search box and Outlook will retrieve the contact's information. If you prefer to view the contact list in its entirety, click the Folder List icon and select the public folder from the tree.
Adding a distribution list to a public folder
You can't use the public folder itself as a distribution list, but you can add a distribution list to the public folder. This technique works well if users want to occasionally email a contact whose information is stored in a public folder.
Open the public folder in Outlook and click the down arrow on the New icon. You'll see a menu that allows you to choose which type of object you'd like to create. Select Distribution List.
When a new distribution list window opens, enter a name for the new distribution list in the space provided and click Select Members. Outlook will display the contents of the GAL by default.
Choose your public folder from the Address drop-down list to base the distribution list on the public folder content. Select the contacts that you want to include in the new distribution list and click the Members button and then OK. Click Save and Close to create the new distribution list.
The distribution list is an object within the public folder that you've created; however, this may not be a convenient location for users who access the distribution list frequently. You can copy the distribution list to other locations.
For example, if a user wanted to add the distribution list to his personal Contacts list, he could drag the distribution list from the public folder to the Contacts container.
The distribution list we created is static. To add other contacts to the public folder, you must manually add them to the distribution list. Exchange Server 2003 also supports the creation of query-based distribution groups; however, there's no easy way to limit this type of group to contacts found in a specific public folder.
About the author: Brien M. Posey, MCSE, is a five-time recipient of Microsoft's Most Valuable Professional (MVP) award for his work with Exchange Server, Windows Server, Internet Information Services (IIS), and File Systems and Storage. Brien has served as CIO for a nationwide chain of hospitals and was once responsible for the Department of Information Management at Fort Knox. As a freelance technical writer, Brien has written for Microsoft, TechTarget, CNET, ZDNet, MSD2D, Relevant Technologies and other technology companies. You can visit Brien's personal website at www.brienposey.com.
Do you have comments on this tip? Let us know.