Evaluate
Weigh the pros and cons of technologies, products and projects you are considering.
Comparing Exchange 2013 and Office 365 pricing and feature sets
Exchange 2013 and Office 365 pricing and feature sets are important items to examine when weighing an email migration. Here's what to know.
In the first part of this three-part series, we examined new features in Exchange 2013 that may influence migration...
Continue Reading This Article
Enjoy this article as well as all of our content, including E-Guides, news, tips and more.
decisions for companies debating whether they should upgrade their current on-premises deployment or go to a cloud deployment with Office 365. This second installment examines feature set comparisons and pricing.
Exchange shops today have three basic deployment scenarios if they're considering Exchange 2013:
An on-premises Exchange Server deployment. This has long been considered the conventional deployment model, in which your own organization hosts all Exchange servers and provides the related technical support in-house or through support organizations. You are responsible for such things as disaster recovery and backup.
A cloud (Exchange Online or Office 365) deployment. This option exists for organizations that want to avoid the overhead of managing their Exchange environments. Microsoft handles disaster recovery, backups, hardware, antivirus protection and more.
A hybrid deployment. A mix of on-premises and cloud, a hybrid approach is for companies that wish to maintain a modicum of control in certain areas of their mail infrastructure, while outsourcing other areas. This splits risk and cost and could enhance performance of the overall mail infrastructure. In a hybrid deployment, an organization can choose to place some mailboxes in the cloud and leave others on-premises.
The various deployment models for Exchange 2013 differ in terms of functionality, and it's crucial to understand these differences when determining if your organization should migrate to Exchange 2013 on-premises or Exchange Online.
Take a moment to review the feature comparisons between on-premises Exchange and Exchange Online in Table 1.
Office 365 pricing vs. Exchange on-premises pricing
When evaluating a move to Office 365, it's important to consider driving factors such as available features and functionality, but for most, the decision ultimately comes down to cost.
It is essential that you fully understand your existing cost model for email delivery before making any decision to outsource; only then can you accurately assess how much -- if anything -- you'd save by switching.
Organizations sometimes find it difficult to determine how much their email infrastructure costs, and a one-size-fits-all template to determine cost doesn't exist. Still, cost per user is generally recognized as a good format.
To determine per-head cost, assess the following:
Cost of hardware. This includes ancillary hardware such as load balancers or email message hygiene, as well as maintenance costs.
Cost of licensing. This includes not only Exchange, but also any other third-party tools that you may use, as well as their associated maintenance costs.
Cost of storage per user.
Costs of staff time to support the mail environment.
You might want to expand your assessment to include operational costs such as network links between sites versus accessing your mail environment from the Internet. You may also want to include such factors as the cost of facilitating disaster recovery for your mail system on-premises versus having Microsoft take care of it for you within Office 365.
Case study comparison
For the purposes of this tip, I've devised a simple Exchange organization that is based on on-premises Exchange 2007 using continuous cluster replication between two data centers. The environment supports 6,000 users. The environment does not provide archiving features, and internal and external message hygiene services are used (Figure 1).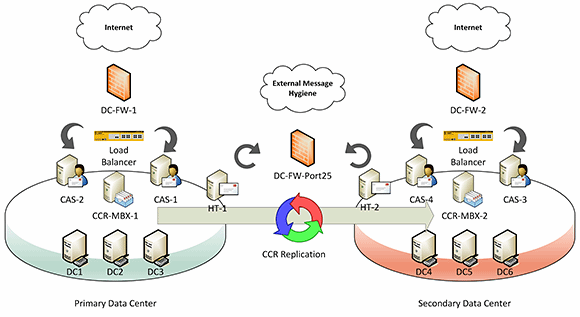 Figure 1. An example of an on-premises Exchange 2007 setup.
The IT director of the organization is considering a move to Office 365 and has asked his messaging staff to come up with a running cost -- per year -- for his existing environment in order to baseline it against various Office 365 pricing plans.
Table 2 displays the cost comparison that the staff came up with.


Table 2. Sample analysis of Exchange on-premises vs. Office 365 pricing
The data suggests that if the fictional company moved its email to Office 365, there would be an annual savings of $56,160. If the company included Lync, SharePoint, Microsoft Office and archiving functionality for all 6,000 users, it would see an annual increase of $31,200.
That said, the additional features and value in opting for the E3 plan might justify what is potentially a very modest increase in annual costs.
Other Office 365 considerations
Remember that Office 365 is not just an email platform. It also provides access to SharePoint, Lync and the Office application suite, which includes Word and Excel, among others. If your users need these products, your organization can get real value from migrating to the cloud, where they are available prepackaged.
Lync and SharePoint can be complex and expensive to set up on-premises and then integrate with Exchange. By moving to the cloud, you have access to these services but don't have to turn them on immediately.
That said, many of the drawbacks of using Lync and SharePoint in the cloud apply to Exchange Online as well; this includes security, sight and ownership of data. If, for any reason, the service is unavailable, you lose access to more of your information base, since all your eggs are in one basket.
Note: You can review the full Office 365 offerings with their associated price plans on Microsoft's site.
While Exchange 2013 enhances integration with products such as Lync and SharePoint, keep in mind that this strengthened integration is fully exploited only when you run the 2013 equivalents of these products.
About the author:
Andy Grogan is a multiple recipient of the Microsoft Exchange MVP award (2009-2013). He is based in the U.K. and has worked in the IT industry for the last 16 years, primarily with Microsoft, HP and IBM technologies. Grogan's main passion is Exchange Server, but he also specializes in Active Directory, SQL Server, storage solutions, technology strategy and technical leadership in large-scale enterprises. Grogan currently works for a large county council in Surrey as its technical delivery manager and supports 15,000 customers on more than 240 sites. Visit Andy's website at www.telnetport25.com/.
Dig Deeper on Exchange Server setup and troubleshooting