Problem solve
Get help with specific problems with your technologies, process and projects.
Configure Microsoft SharePoint mobile access via Exchange Server 2007
Mobile access to Microsoft SharePoint documents in Exchange Server 2007 is more secure. Learn how to implement SharePoint document access for mobile users.
There's a misconception that Exchange mobile users can browse the Microsoft SharePoint document library through Exchange Server 2007. This is only partially true. Mobile users can browse the SharePoint document library, but they don't need Exchange Server 2007 to do so.
To make SharePoint accessible over the Internet, you must open port 80 on your firewall, and direct HTTP traffic to your SharePoint server. Mobile users can then browse the entire SharePoint site without Exchange Server installed (Figure A).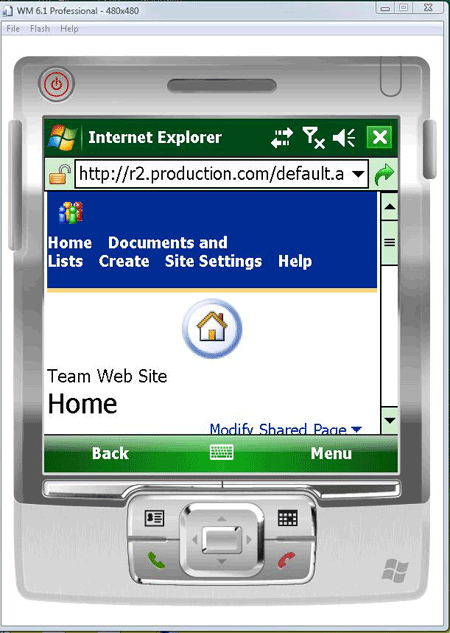 Figure A. Mobile users can browse SharePoint independently of Exchange Server.
Accessing Microsoft SharePoint via Exchange Server 2007
If SharePoint supports mobile access without Exchange, then why did Microsoft build a SharePoint feature into Exchange Server 2007? SharePoint sites often contain sensitive information, so administrators are reluctant to make a SharePoint site accessible via the Internet for security reasons. Making it available through Exchange Server gives mobile users access to SharePoint documents without requiring an organization to expose its entire SharePoint document library.
To configure access to SharePoint documents through Exchange Server 2007:
Open the Exchange Management Console (EMC) and navigate to Server Settings -> Client Access.
Choose the client access server (CAS) from the upper portion of the screen, and then select the Outlook Web Access tab from the console's lower portion.
Right-click on the listing for the client access server at the bottom of the screen, and choose Properties. When you do, you will see the OWA (Default Web Site) Properties sheet.

The properties sheet lists separate profiles for public and private computer access. Assuming that you don't want to allow mobile users to access SharePoint documents from public computers, select the Private Computer File Access tab, and then select the Windows SharePoint Services tab (Figure B).

Click OK.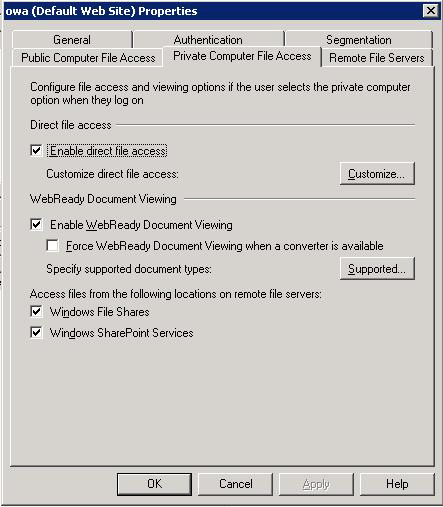 Figure B. Select the Windows SharePoint Services checkbox and click OK.
Let's suppose that you want to send a mobile user a link to a document that's stored in the SharePoint document library. You must first open SharePoint, navigate to the document and right-click on it. Then choose Copy Shortcut (Figure C). This copies the document's URL to the Windows clipboard. Next, paste the URL into an email message and send it to the recipient.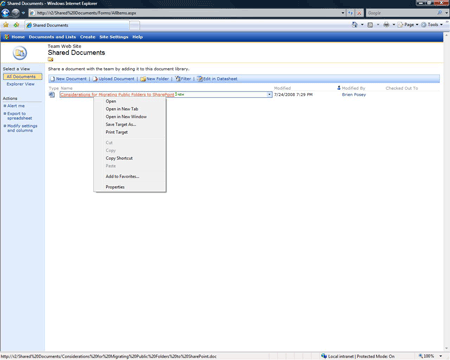 Figure C. Right-click on the SharePoint document and select Copy Shortcut. (Click for enlarged view.)
When the mobile user receives the email message, he can click on the document's URL. What happens next depends on the mobile user's platform. If he's using a Windows Mobile device, a prompt will ask if he wants to continue to the specified URL.
When the mobile user clicks Yes, he's prompted to enter authentication credentials, and then he's asked if he wants to open or save the document. Once the user clicks Yes to open the document, the Exchange Client Access server proxies the SharePoint document library and then delivers the desired document to the mobile device (Figure D).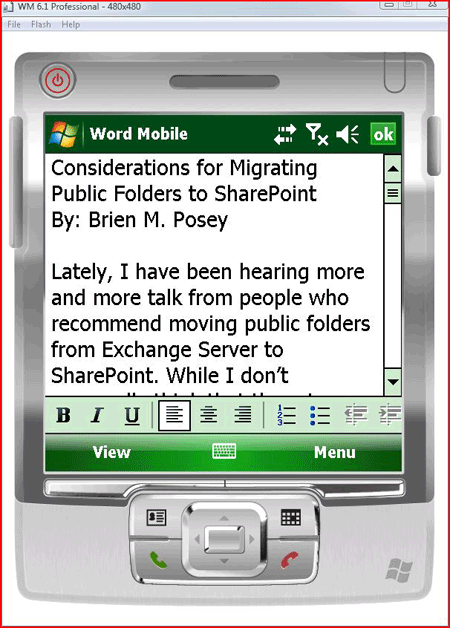 Figure D. This is a SharePoint document that has been accessed from a Windows Mobile device.
The same basic concept applies if you open the SharePoint document in Outlook Web Access. The only difference is that OWA users receive a slightly stronger warning before they are redirected to the document (Figure E).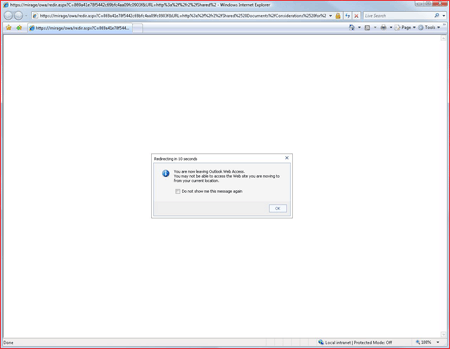 Figure E. OWA users see this warning when they attempt to open a SharePoint document. (Click for enlarged view.)
It's easy to provide mobile users with the ability to open links to SharePoint documents. However, regardless of whether accessing via OWA or a Windows Mobile device, mobile users are only given Read Only access to SharePoint documents.
About the author: Brien M. Posey, MCSE, is a five-time recipient of Microsoft's Most Valuable Professional award for his work with Exchange Server, Windows Server, Internet Information Server (IIS), and File Systems and Storage. Brien has served as CIO for a nationwide chain of hospitals and was once responsible for the Department of Information Management at Fort Knox. As a freelance technical writer, Brien has written for Microsoft, TechTarget, CNET, ZDNet, MSD2D, Relevant Technologies and other technology companies. You can visit Brien's personal website at www.brienposey.com.
Do you have comments on this tip? Let us know.
Please let others know how useful this tip was via the rating scale below. Do you know a helpful Exchange Server, Microsoft Outlook or SharePoint tip, timesaver or workaround? Email the editors to talk about writing for SearchExchange.com.

Dig Deeper on SharePoint administration and troubleshooting