Configure SharePoint 2010 to send notifications through Exchange 2010
Email notifications are a great way to alert admins and users to SharePoint changes; you just need a mechanism to deliver them. That's where Exchange 2010 comes in.
There are plenty of reasons to set up SharePoint 2010 email notifications. For example, you can use them to alert SharePoint administrators of configuration changes. You can also inform users whenever additions are made to a document library or when existing documents are modified.
No matter which notifications you want to set up, you must have a way to deliver them. Follow these steps to configure SharePoint 2010 to send email notifications through an Exchange 2010 server.
Step 1. Set up a SharePoint server email address
To begin, first give your SharePoint server an email address -- even though SharePoint never actually logs onto the mailbox. The address will be used as both the From: and Reply To: addresses for outbound messages. After creating the Exchange mailbox, delegate permission for the mailbox to the SharePoint administrator.
Step 2. Create an Exchange 2010 receive connector
Now create a receive connector on your Exchange 2010 server. This lets Exchange 2010 receive messages directly from SharePoint 2010. To create the receive connector, open the Exchange Management Console (EMC) and navigate to Microsoft Exchange On-Premise -> Server Configuration -> Hub Transport. Click the New Receive Connector link to launch the New Receive Connector wizard.
Choose a name for your new receive connector and specify what you will use the connector for. Name the connector something descriptive like "SharePoint 2010 Outbound Messages," then set the connector's intended use to Custom. Click Next to continue.
The next screen asks which IP addresses you want to use to receive mail. Leave the default setting of All Available IPv4 on Port 25, then click Next.
You will see a screen that asks which remote IP addresses the connector should be configured to receive mail from. Click the Add button, then enter the IP address for your SharePoint 2010 server. The connector is set to receive mail from all addresses by default. Remove this address range so that the connector only accepts messages from your SharePoint server.
Click Next and you'll see a summary of the configuration information you've entered. Make sure that the information checks out, then click New. When Exchange finishes creating the new receive connector, click Finish.
Finally, configure Exchange to accept non-authenticated connections. While this sounds risky, it's safe because you've already configured Exchange to only accept connections from the SharePoint server. To adjust the permissions, right-click on the receive connector, then click Properties. When the Properties sheet appears, select the Permission Groups tab. Select the Anonymous Users checkbox (Figure 1) and click OK.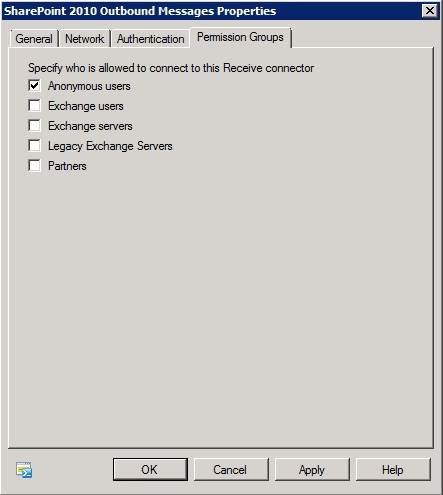 Figure 1. Set the Exchange 2010 receive connector to accept connections from anonymous users.
Step 3. Configure your SharePoint 2010 server
Now that you've prepared your Exchange 2010 server, you must configure SharePoint to use it for outbound messages. To begin, open the SharePoint 2010 Central Administration Console. Click on System Settings, then on the Configure Outgoing E-Mail Settings option (Figure 2).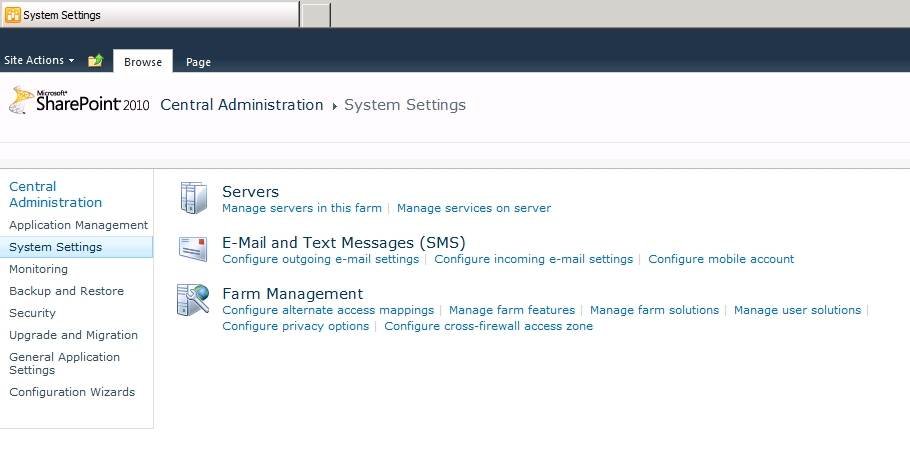 Figure 2. Click the Configure Outgoing E-Mail Settings link in SharePoint 2010.
When prompted, enter your Exchange server's IP address into the Outbound SMTP Server field. Next, enter your previously designated SharePoint mailbox's address into the From Address and Reply-To Address fields (Figure 3). Click OK to complete the configuration process.
Figure 3. Enter your Exchange server's IP address and your SharePoint mailbox's email address.
Step 4. Create and test SharePoint alerts
Now that you have configured SharePoint to use Exchange for outbound mail, there is a final step. You must also configure SharePoint 2010 to send alerts. To find out how to create SharePoint 2010 alerts, see my previous tip on the topic.
In Figure 4, you can see that I've added an alert to a document library. SharePoint is configured to notify the Administrator, User1 and User2 whenever you make a change to the document library. You'll also notice that SharePoint is configured to send the alerts via email.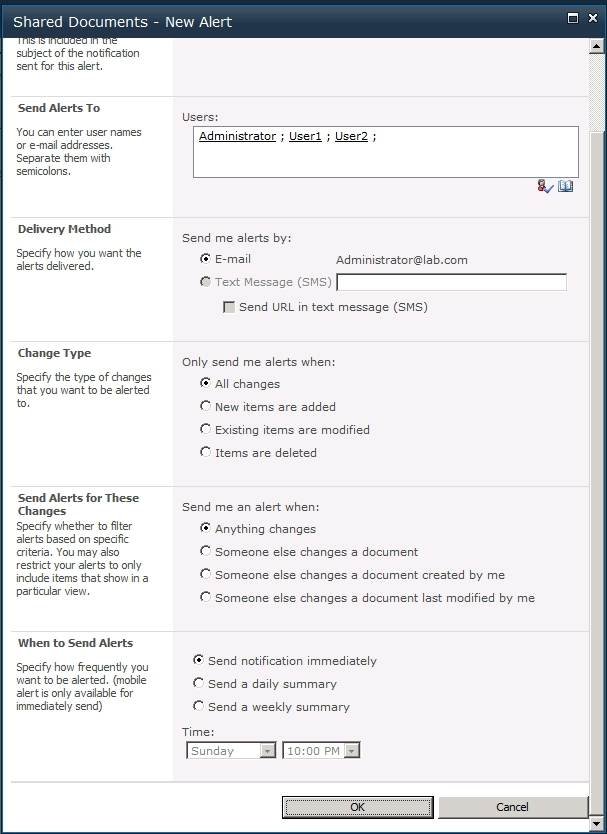 Figure 4. You can configure a SharePoint 2010 alert to send email notifications.
If you look at Figure 5, you can see that SharePoint sent an email message informing me -- the administrator -- that an alert was created. This proves that both our configuration and the outbound email connection work properly.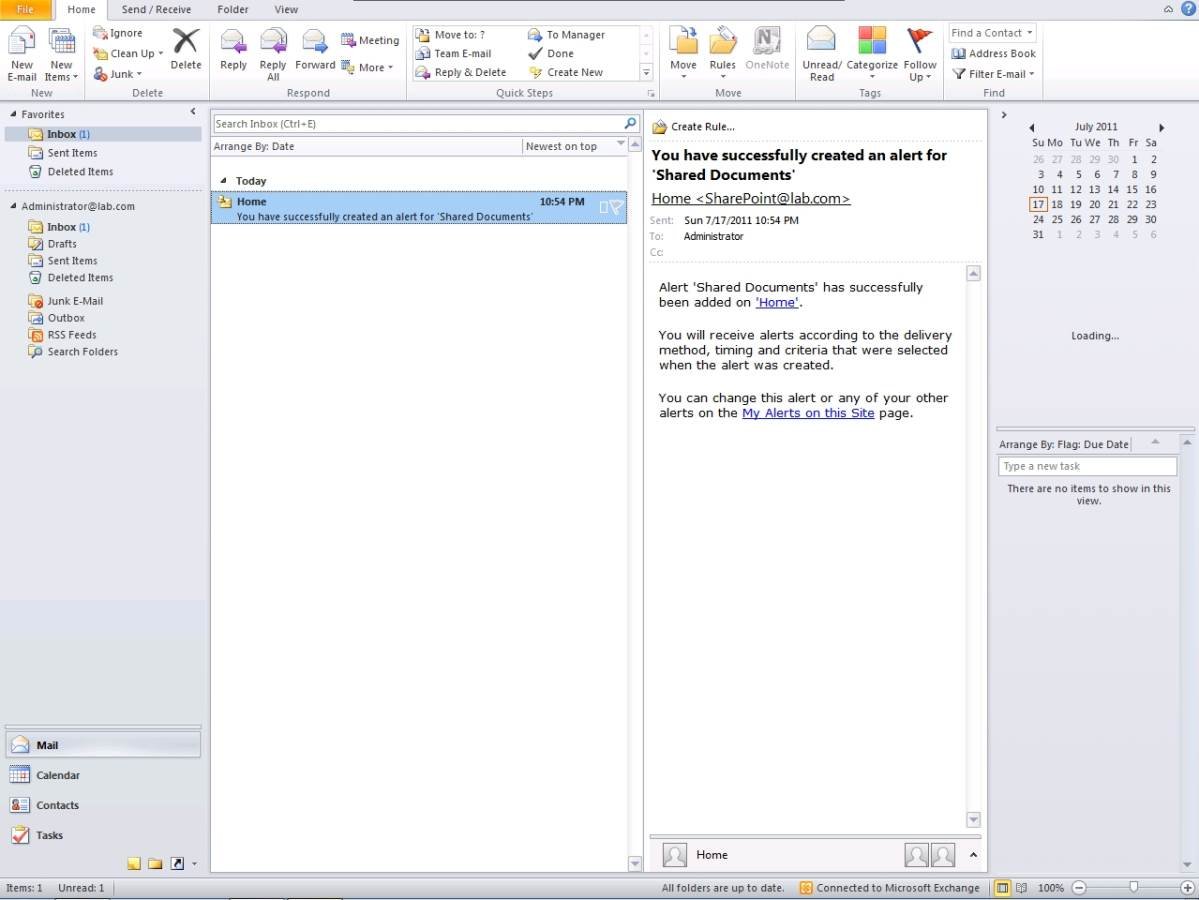 Figure 5. SharePoint 2010 sends a notification stating that an alert was created.
ABOUT THE AUTHOR:
Brien Posey is an eight-time Microsoft MVP with two decades of IT experience. Before becoming a freelance technical writer, Brien worked as a CIO for a national chain of hospitals and healthcare facilities. He has also served as a network administrator for some of the nation's largest insurance companies and for the Department of Defense at Fort Knox.
Dig Deeper on SharePoint administration and troubleshooting