Problem solve
Get help with specific problems with your technologies, process and projects.
Connecting Hyper-V hosts to iSCSI targets in Windows
Creating failover clusters is key to ensuring high availability of your virtual machines. Learn to use iSCSI targets for single-site host clusters.
In order to provide high availability for the virtual machines (VM) you run on Hyper-V, you should create failover clusters for your host servers. Two cluster types are available for Hyper-V hosts: single-site clusters and multi-site clusters. Single-site clusters are based on shared storage in the form of either Fibre Channel storage area networks (SANs) or iSCSI targets.
Despite its name, the multi-site cluster does not need to span more than one site. Instead, it can support the creation of clustered servers using direct-attached storage (DAS) along with a replication engine to keep the data between cluster nodes in sync.
Still, the most common host cluster type is the single-site cluster and more and more organizations are relying on iSCSI targets to build it. This is because working with iSCSI storage allows you to rely on standard network adapters to connect remote storage to a machine. All storage traffic moves through the network adapters. Storage is provisioned and offered for consumption to endpoint machines by an iSCSI target—a storage container running an iSCSI interpreter so that it can receive and understand iSCSI commands.
An iSCSI target can be A) the actual device offering and managing the storage, or B) a bridge device that converts IP traffic to Fibre Channel and then relies on Fibre Channel Host Bus Adapters (HBAs) to communicate with the storage container. iSCSI target storage devices can be SANs that manage storage at the hardware level or software engines that run on server platforms to expose storage resources as iSCSI targets.
You can use several products to evaluate iSCSI targets as you prepare to work with highly available VMs. Microsoft offers two products that support iSCSI targets: Windows Storage Server 2003 R2 and Windows Unified Data Storage Server 2003. Both can be obtained as evaluations for use as iSCSI targets. A registration process is required for each evaluation product you select.
You can also obtain an evaluation version of StarWind Server from Rocket Division Software to create iSCSI targets for testing virtual machine clustering. The retail version of StarWind Server lets you create iSCSI targets from either physical or virtual machines running Windows Server software and including multiple disks. This greatly simplifies cluster constructions in small environments because it doesn't require expensive storage hardware to support failover clustering.
iSCSI clients run iSCSI Initiator software to initiate requests and receive responses from the iSCSI target (see Figure 1). If the iSCSI target is running Windows Server 2003, you must download and install the iSCSI Initiator software from Microsoft. If the client is running Windows Server 2008, the iSCSI Initiator software is included with the operating system. You can learn more from the iSCSI Initiator User Guide. Because iSCSI storage traffic is transported over network adapters, you should try to install the fastest possible adapters in your host servers and reserve them for iSCSI traffic in VMs.
Figure 1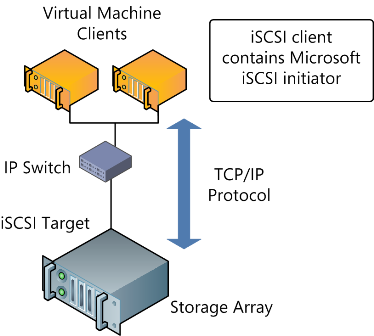 Relying on iSCSI targets for host servers is becoming more and more popular because of its simplicity and easy fault tolerance. For more information on this and other protection mechanisms for Microsoft Hyper-V virtual machines, look up MCITP Self-Paced Training Kit (Exam 70-652): Configuring Windows Server Virtualization with Hyper-V.
ABOUT THE AUTHOR
Danielle Ruest and Nelson Ruest are IT professionals specializing in systems administration, migration planning, software management and architecture design. Danielle is Microsoft MVP in Virtualization and Nelson is Microsoft MVP in Windows Server. They are authors of multiple books, including the free Definitive Guide to Vista Migration for Realtime Publishers and Windows Server 2008: The Complete Reference for McGraw-Hill Osborne. For more tips, write to them at [email protected].