Problem solve
Get help with specific problems with your technologies, process and projects.
Converting VMware ESX machines to Hyper-V format
There are two different ways to migrate VMware virtual machines to a Microsoft Hyper-V resource pool – and both are easier than you think. Check out the step-by-step process for each option.
Organizations that are running VMware virtualization tools and wish to migrate to a Hyper-V resource pool will...
Continue Reading This Article
Enjoy this article as well as all of our content, including E-Guides, news, tips and more.
need to recover their existing virtual machine assets. This involves converting the virtual machines from VMware to Hyper-V format. This is relatively simple to do, and there are actually two ways to do it.
Convert VMware VMs using System Center Virtual Machine Manager 2008
System Center Virtual Machine Manager 2008 (SCVMM) will convert virtual machines from VMware ESX format to Hyper-V format. Just remember that the source ESX server must be a managed host in your SCVMM environment for the conversion to work. Only the guest operating systems listed below are supported for conversion:
Windows 2000 Server SP4 and Windows 2000 Advanced Server SP4 or later
Windows XP Professional SP2 or later (32-bit or 64-bit)
Windows Vista SP1 (32-bit or 64-bit)
Windows Server 2003 SP1 or later (32-bit or 64-bit)
The virtual to virtual (V2V) process converts virtual disks from the Virtual Machine Disk Format (VMDK) to VHD, uninstalls VMware Tools, and installs Integration Services. Machines can be dragged from an ESX host to a Hyper-V -- or Microsoft Virtual Server -- host to begin the conversion process, or you can use the Convert Virtual Machine command in the Actions menu of the SCVMM Administrator Console. The wizard used to support the process follows these steps:
1. Launch the Conversion Wizard and click Browse to select the source VM to convert.
2. Change the VM name if you need to, use the default owner, and add a description if required.
3. Assign the appropriate resources to the target VM.
4. Select an appropriate host as presented by the Intelligent Placement option.
5. Select the host path to store the target VM.
6. Attach the network adapters to the target VM.
7. Modify the Additional Properties field if required.
8. Review your settings and click Create to begin the conversion process. You can also click View Script to capture the Windows PowerShell script generated by the wizard for later use.
Once you click the Create button, the Jobs window will open and display the status and progress of the operation.
Convert VMware VMs using a VMDK to VHD conversion
If you do not use SCVMM, or if your VMware virtual machines are not running on ESX servers and are from VMware Workstation or VMware Server, you might want to rely on the VMDK to VHD conversion tool for conversion. Note that this tool does not perform any VM creation or operations within the guest operating system. Therefore, you must use the following process to run this tool:
1. Clean up your source VM and remove VMware Tools from the source machine.
2. Compact the VMDK before the move and remove any undoable disks.
3. Make sure the guest operating system is running a version of the operating system that supports Integration Services or Components. If not, update it if possible.
4. Download and then unzip the tool to launch VMDK2VHD.exe.
5. Select the source VMDK. Only one disk can be converted at a time. Files can be either local or remote.
6. Name the target VHD and click Convert (see Figure 1). The conversion process will take some time depending on the size of the source disk.
Figure 1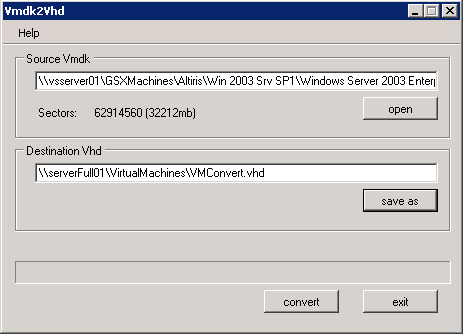 7. Repeat for all required disks.
8. Create a new machine in Hyper-V and make sure you assign the system disk to an IDE connection.
9. Boot the VM in Hyper-V and install Integration Services or Components.
10. Move to Device Manager within the VM and make sure all the devices work properly. If not, remove unnecessary devices and correct any issues that appear.
That's it; your machine is ready to run in Microsoft Hyper-V. For more information on this and other migration processes to Hyper-V, check out chapter 6 of MCITP Self-Paced Training Kit (Exam 70-652): Configuring Windows Server Virtualization with Hyper-V.
ABOUT THE AUTHORS
Danielle Ruest and Nelson Ruest are IT professionals focused on technology futures. Both are passionate about virtualization and continuous service availability. They are authors of multiple books, including MCITP Self-Paced Training Kit (Exam 70-652): Configuring Windows Server Virtualization with Hyper-V for MS Press as well as Virtualization, A Beginner's Guide and Windows Server 2008: The Complete Reference for McGraw-Hill Osborne. Feel free to contact them at infos@reso-net.com for any comments or suggestions.
Dig Deeper on Microsoft Hyper-V management