Create Outlook 2007 rules to organize email
Creating rules in Outlook 2007 will help Exchange Server administrators and users organize inboxes. This tip explains how to create and define different rules.
We all receive a lot of email every day. Creating a series of rules in Microsoft Outlook 2007 can help you better organize your inbox. This tip gives examples of different Outlook rules and shows how easy they are to create.
Users often belong to different group email distribution lists, which can clutter mailboxes with low-priority messages. Outlook 2007 allows you to create a special folder and a rule that automatically reroutes the messages to it. Another Outlook rule will color-code important messages so that they stand out from spam in your inbox.
Creating these Outlook rules is easy; however, you have to enter a product key to enable all options associated with rules. To create a new rule, choose the Rules and Alerts option from the Tools menu to display the dialog box (Figure 1).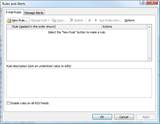 Figure 1. Use Outlook 2007's Rules and Alerts dialog box to define a new rule.
After you define the rule, you can create it by clicking on the New Rule button. At this point, Outlook will launch the Rules Wizard (Figure 2).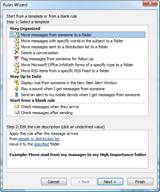 Figure 2. Use the Rules Wizard in Outlook 2007 to create a new rule.
Outlook rules consist of a trigger, an action and an optional exception. Consider the following examples:
A trigger is when you receieve a message from a coworker.
An action, which responds to the trigger, is a desktop alert of the trigger.
An exception is when the desktop alert is disabled if the message is an Out Of Office notification.
If you look back at Figure 2, you'll notice that the trigger options are divided into three sections. The top two sections contain predefined rule templates that you can implement without manually specifying a trigger, action and exception. The option selected here is Move message from someone to a folder.
The bottom section of the dialog box shows that the rule is complete. All you have to do is to click on the hyperlinks and replace them with specific rule parameters. For example, after clicking on people or distribution list hyperlinks, you should select either the name of a user or a distribution list.
Templates make it simple to create new rules, but they aren't very flexible. If you want to create a rule that's different than what the template allows, you'll need to use one of the options in the Start from a blank rule section. Choosing the Check messages when they arrive option allows you to apply your created rule to inbound mail.
Creating a blank rule is similar to creating a rule from a template. The only difference is that you must select check boxes that correspond to the triggers, actions and exceptions you want to use.
After you've created several rules, I recommend backing up your rule collection. To do so, click Options (Figure 1) and then Export Rules.
About the author: Brien M. Posey, MCSE, is a six-time recipient of Microsoft's Most Valuable Professional (MVP) award for his work with Exchange Server, Windows Server, Internet Information Services (IIS), and File Systems and Storage. Brien has served as CIO for a nationwide chain of hospitals and was once responsible for the Department of Information Management at Fort Knox. As a freelance technical writer, Brien has written for Microsoft, TechTarget, CNET, ZDNet, MSD2D, Relevant Technologies and other technology companies. You can visit Brien's personal website at www.brienposey.com.
Do you have comments on this tip? Let us know.
Dig Deeper on Exchange Server setup and troubleshooting