Problem solve
Get help with specific problems with your technologies, process and projects.
Creating custom views in Outlook 2007
Outlook 2007's built-in views work fine, but modifying them or creating your own inbox view can save users time when searching for email messages.
By default, Outlook 2007 messages are displayed in a standard format; however, you're not limited to this user interface. Outlook not only comes equipped with several customizable views, but you can also create your own views.
Some useful view options that already exist in Outlook 2007 include the Filter option and the Sort option.
The Filter option lets you display only messages that meet specific criteria. For example, you can create a filter that only displays messages from certain people or that pertain to a particular subject. A common use of the Filter option is to create a view that only displays messages with attachments.
The Sort option allows you to control how messages are arranged. Outlook arranges messages chronologically by default, but you can also sort messages according criteria like size, date or recipient.
One way to customize your Outlook 2007 view beyond this is to create a built-in view that displays only new email messages. To do so, navigate to Outlook's View menu and select Current View -> Unread Messages. You can also set it to display messages that have arrived in the last seven days.
Built-in views are handy, but there are other options. You can customize any of Outlook 2007's built-in views or create and define your own. To define a new view, go to the View menu and select Current View -> Define View (Figure 1).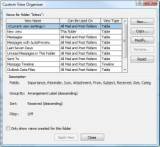 Figure 1. Create, modify and define Outlook 2007 views with the Custom View Organizer.
The dialog box in Figure 1 lists all available views. To modify any of the built-in views, select it and click on the Modify button. You can also create your own custom view by selecting New. When you do, Outlook displays the Create a New View dialog box.
You'll need to name the new view and specify its type (Figure 2). After selecting the option you want to use, choose which folders the new view will apply to and click OK.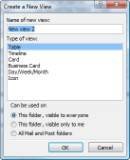 Figure 2. You must specify the type of view and name it in Outlook 2007.
Outlook will then display a dialog box in which you'll need to create your view (Figure 3). I recommend starting with the Fields option, which lets you specify which columns are displayed in your inbox. You can also rearrange the order of the columns to suit your needs.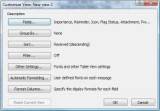 Figure 3. You can design your own custom view in Outlook 2007.
About the author: Brien M. Posey, MCSE, is a seven-time recipient of Microsoft's Most Valuable Professional (MVP) award for his work with Exchange Server, Windows Server, Internet Information Services (IIS), and File Systems and Storage. Brien has served as CIO for a nationwide chain of hospitals and was once responsible for the Department of Information Management at Fort Knox. As a freelance technical writer, Brien has written for Microsoft, TechTarget, CNET, ZDNet, MSD2D, Relevant Technologies and other technology companies. You can visit Brien's personal website at www.brienposey.com.
Do you have comments on this tip? Let us know.