Deconstructing Central Administration in SharePoint 2010
You still can't manage individual sites and site collections from Central Administration in SharePoint 2010; but there are eight sections that you can manage.
SharePoint is a very broad platform. Since its inception in 2001, Microsoft has steadily added features, functions and capabilities. What was once a primarily document-centric sharing tool, has now become effectively a development platform that provides Web content management, business intelligence, personalization, line-of-business application integration and, yes, document sharing.
With all of the changes, however, Microsoft has struggled to create an equally capable set of administration controls. In the latest release, SharePoint 2010, its Central Administration site is more complete than in past versions. Unfortunately, you'll still need to administer SharePoint through a combination of local interfaces, site/site collection interfaces and command-line utilities.
Just what is Central Administration?
SharePoint Central Administration is a proper SharePoint site that exposes a lot, but not all, of the administrative interfaces to control various functions and configurations within SharePoint. The focus of the site is "farm" administration and not individual site or site collection management. As a result, all administrative interfaces will manage the services or functions that are common to all SharePoint sites in your environment.
During the SharePoint installation process, the Central Administration site is created automatically for you. When the SharePoint configuration utility runs, it prompts you to choose a port for the site, but only associates the host name and not a fully qualified domain name (FQDN).
The default port is chosen by the configuration wizard, though you can and should select your own port. As such, you should create an alternate access map for Central Administration if you want to access Central Administration -- without remoting to the physical server -- and ensure that your firewall doesn't block the port you've chosen. It's also highly recommended that you implement a Secure Sockets Layer (SSL) certificate.
Once everything is installed and running, Central Administration will look something like Figure 1. There are numerous management areas within the tool, as you can see. The layout is generally understandable, but if you have administered previous versions of SharePoint, quite a few functions have moved or have been reclassified.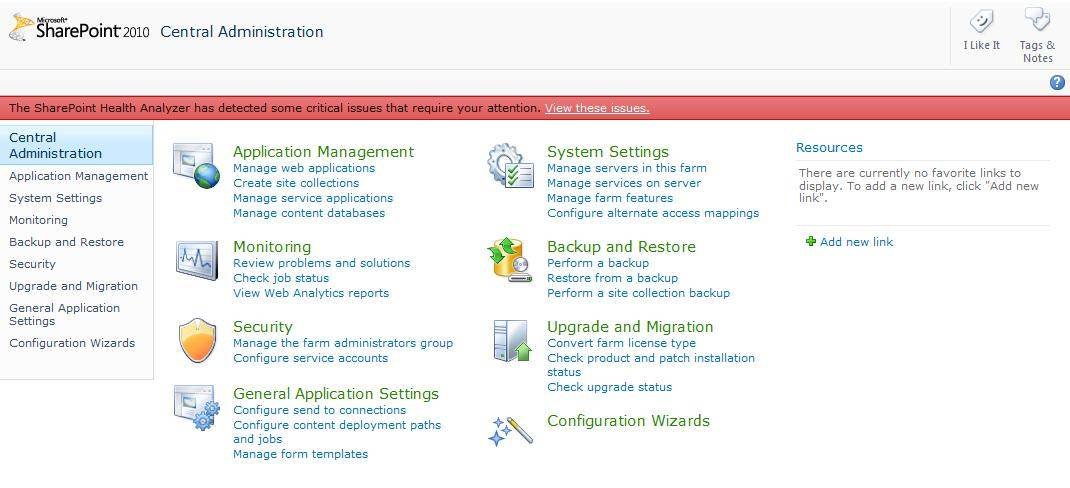 Figure 1: The SharePoint 2010 Central Administration root page
Administrative functions
Central Administration exposes what are primarily farm-level administrative interfaces. Because of SharePoint's breadth of functionality, it's often difficult to find what you need.
To help, here is a list of the sections in Central Administration and brief explanations:
1. The Application Management section provides management interfaces for application-centric functions. For example, if you want to create a new Web application or site collection, this is the place. If you need to review which content databases have been created for your Web application, look for that function here. Finally, if you need to administer services applications, such as the managed metadata service application, go to Application Management.
2. The System Settings menu lets you configure basic farm settings. For example, if you want to configure the outgoing email settings (e.g., Simple Mail Transfer Protocol [SMTP] server, email address), establish alternate access mappings to existing Web applications -- such as a new URL for an existing Web application -- or change which services are loaded on specific servers in the farm, all of that happens here.
3. Monitoring is new to SharePoint 2010. This section contains links to the "health analyzer" function, which alerts administrators to potential problems in their environment, such as the outgoing email settings aren't set or you need an update to claims authentication. This section is also where you find timer job definitions and review their status (e.g., has my Variations Create Page job run, or is the user profile synchronization running regularly?). Finally, you have access to administrative reports, such as search query latency and configuring diagnostic logging, for determining where the logs should be placed and which throttles should be used.
4. Backup and Restore enables you to back up your SharePoint environment. If you're familiar with SharePoint 2007, you'll find similar functions under Farm Backup and Restore. This allows you to back up farm-level resources as well as some lower-level components, such as site collections.
5. The Security section is focused on managing the various service accounts needed to run SharePoint and end-user access to Web parts. The biggest improvement in SharePoint 2010 is the concept of a managed account. Through the managed account concept, you can create a set of accounts for use with SharePoint services. In addition, you can have SharePoint manage assigning and changing passwords and avoid the dreaded password change that can render your SharePoint farm useless.
6. Upgrade and Migration lets you upgrade to the enterprise license features, check installation and patch versions as well as migrate from older content databases (e.g., detached migration from SharePoint 2007). While it is unlikely you will spend a lot of time in this section of Central Administration, the ability to see what version of SharePoint is installed and which patches are applied is key to good farm administration.
7. General Application Settings allow you to manage some of the more day-to-day farm-level features. For example, if you use SharePoint for Web Content Management scenarios, you can create and manage your content deployment jobs. If you want to use InfoPath, this is the place to manage Forms Services.
In this section, you can configure your "sent to" links for libraries (e.g., send a document to a record center or create a pre-defined copy from one site collection to another). A link to manage farm search is also here, but it ultimately takes you to the service application -- you can see all service applications through the Application Management section of Central Administration.
8. Configuration Wizards is the final section in Central Administration and helps you set up certain features of your SharePoint farm. Commonly, you will access this section when you first set up your SharePoint farm or you are enabling a feature for the first time. For example, when you first install the farm, there is a wizard to help you establish all service applications and their service accounts. Beyond the initial setup, however, you are unlikely to need this section of Central Administration.
So what's not central?
As in past versions of SharePoint, Central Administration's role as a singular administrative console falls short of truly central administration. The most notable example continues to be site collection and site security. Beyond managing service accounts and granting site collection administrative rights, individual sites and site collections cannot be managed from Central Administration.
You could argue that this is where permission management should lie -- within the site owner's control. However, this is particularly challenging for administrators of even medium-sized SharePoint farms who need to control the entire environment; there is no centralized interface to enable you to see who has access to which site, library or list.
In addition to permission management, some very real situations require administrators to use either the new Windows PowerShell extensions for SharePoint or the command-line STSADM command to supplement administrative control.
For example, if you want to enumerate which Web parts are associated with a specific solution file (WSP), you will need to use STSADM or use the corresponding PowerShell cmdlet (here's an index of available cmdlets); there is no Web-based interface in Central Administration for this. The same is true if you want the re-installation of a SharePoint feature embedded in a solution file or simply to install a solution. In Central Administration, you can deploy or retract solutions once they are in the solution store, but that is all.
Note: Microsoft states that PowerShell cmdlets supersede STSADM-based administration.
Recommendations
Ultimately, you'll need to use a combination of Central Administration, Site/Site Collection-Level Administration and PowerShell (and/or STSADM if you are more comfortable there) to administer your SharePoint environment, which was true in the past and has not changed in SharePoint 2010.
ABOUT THE AUTHOR:
Shawn Shell is the founder and principal consultant at Consejo Inc., a firm specializing in the development of information worker solutions. Shell has spent more than 20 years in IT, with a focus on the development of portal, collaboration and content management solutions. He is an expert on SharePoint, Office, Microsoft Content Management Server and custom ASP.NET applications, as well as a contributing analyst for the Real Story Group and a co-author of Microsoft Content Management Server 2002: A Complete Guide, published by Addison-Wesley. Check out his blog at http://blog.consejoinc.com, and follow him on Twitter @shawnshell.
Dig Deeper on SharePoint administration and troubleshooting