Problem solve
Get help with specific problems with your technologies, process and projects.
Enable incoming and outgoing email in Microsoft SharePoint Server 2007
Enable incoming and outgoing email in Microsoft Office SharePoint Server 2007 (MOSS 2007) in Exchange and non-Microsoft Exchange Server environments.
Enabling incoming and outgoing email within Microsoft Office SharePoint Server (MOSS) 2007 can create a powerful collaboration tool. It can increase productivity -- allowing users to remain on-task within Microsoft Outlook while pushing content directly into SharePoint. Users also can do all of this without having to access individual team sites. Although the incoming and outgoing email capabilities of MOSS 2007 may seem similar, they have nothing in common with one another. Bob Fox, SharePoint MVP, outlines these differences and explains how to enable incoming and outgoing email in SharePoint 2007 for environments running Exchange Server 2000 or greater, or non-Exchange Server environments.
---
Set up outgoing email in MOSS 2007
Outgoing email in SharePoint Server handles alerts, invitations to sites and notifications such as workflow, tasks, etc. Setting up outgoing email is straightforward and can be done via SharePoint Central Administration -> Operations -> Topology and Services (Figure 1).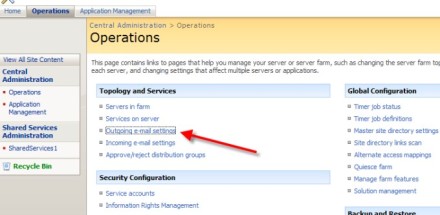 Figure 1. Set up outgoing email through the SharePoint Central Administration -> Operations -> Topology and Services screen. (Click on image for enlarged view.)
From the Operations tab within Central Administration site, click on Outgoing Email Settings. You'll then see the From address, which can have any email address (real or fabricated) that you want to place here; and Reply-to address, which requires that a valid email address is set (Figure 2). Make the address meaningful to users who will receive email to avoid confusion about where the email was sent from. This can be considered vanity email from your MOSS environment.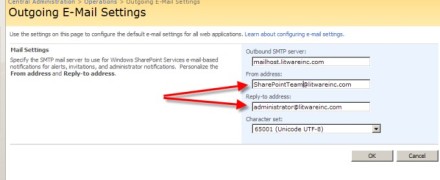 Figure 2. The Outgoing Email Settings tab displays the "From address" and "Reply-to address" fields. (Click on image for enlarged view.)
Figure 3 shows the location of a "vanity" address in an email. Some call this an alias, but I hesitate using this term because the address doesn't point to anything.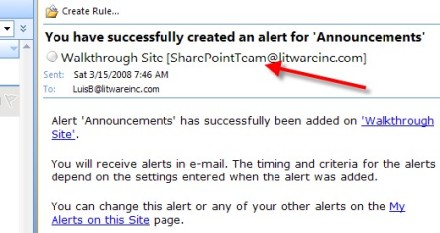 Figure 3. This screenshot shows a SharePoint vanity email address. (Click on image for enlarged view.)
Setting up outgoing email in SharePoint Server 2007 is relatively simple, and requires you to obtain only the SMTP address you want to use, and which account or distribution list alias you want to use to receive mail. If you're running an environment with hundreds or thousands of users, and your email address is [email protected], you will receive all undelivered email. To avoid this, have the Exchange Server administrators create a distribution list and add SharePoint administration or support team members to the list, and then assign it an alias.
Set up incoming email in MOSS 2007
Enabling incoming email in MOSS provides the ability to route messages and attachments to a list or SharePoint library directly. There are two ways to set up incoming email in MOSS. I like to call them "Super Mode," which incorporates the use of Active Directory (AD) and Microsoft Exchange, and "Simple Mode," which requires that basic SMTP is enabled on the Web front-end (WFE) server or WFEs in a load-balanced configuration.
When incoming email on a list is enabled in "Super Mode" (AD and Exchange), an email address is created and placed into an organizational unit (OU) within AD automatically. For this to occur, your environment must be running Exchange 2000 or greater. To enable "Super Mode":
Open Active Directory Users and Computers (ADUC) and create an OU to act as a holding container for List email addresses that are created.
Enable SMTP on the WFE server(s).
Open Central Administration -> Operations-> Incoming Email Settings.
Fill in required fields and click OK (Figure 4).


Figure 4. Configure incoming email settings in SharePoint using the "Super Mode" method (AD and Microsoft Exchange). (Click on image for enlarged view.)
In Step 1, we created an OU in Active Directory. As Figure 5 shows, the top red arrow points to where you will place that name. When lists are enabled for incoming email they will locate this setting and place the list's email address in the proper container. This also makes it easier to find email accounts because they are all in one place, and not scattered throughout other OUs.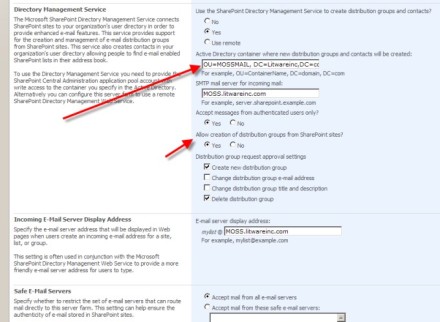 Figure 5. The SharePoint Directory Management Service supports for the creation and management of email distribution groups from SharePoint sites. (Click on image for enlarged view.)
If the second red arrow in Figure 5 was set to No, you would need to request that the Directory Services team manually create the distribution group, instead of allowing users or site owners to do so.
NOTE: This method only works if your environment is running Exchange Server 2000 or greater.
Set up incoming email in MOSS 2007 without Microsoft Exchange
If you don't have Exchange Server running in your environment, you still can have users send mail to SharePoint lists directly using the "Simple Mode" method (i.e., enabling basic SMTP on WFE servers). In Figure 5, we selected Yes to use SharePoint Directory Management Services ("Super Mode"). If we selected No, which is the default (Figure 6), we use a limited version of the email capabilities.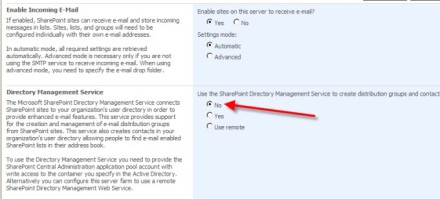 Figure 6. Allow SharePoint users to receive incoming email without Microsoft Exchange. (Click on image for enlarged view.)
This configuration will work with SMTP without requiring much additional input (Figure 7). All of the work is done within SharePoint Central Administration along with Active Directory and the IIS SMTP service.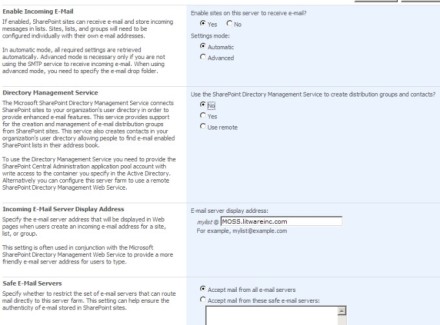 Figure 7. This configuration uses SMTP with little input required. (Click on image for enlarged view.)
More on this topic
Improve SharePoint design and navigation with managed paths
Integrating SharePoint Server 2007 and Exchange 2007 -- 6 tips in 6 minutes
Viewing this from a site perspective, you can create or enable incoming email in two ways:
During library creation
After library creation
You only need to supply the name that you want to use for the email and provide that to your list users. For example, I'm going to create a Disaster Recovery Library and name the address DR.moss.litwareinc.com. To enable this, go into the Document Library Settings for this library and select Incoming Email Settings (Figure 8).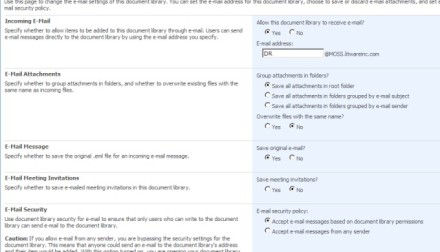 Figure 8. Supply a name that you want to use for the SharePoint library email and share it with users. (Click on image for enlarged view.)
If I go into Microsoft Outlook and draft an email (Figure 9) to send to this library, both the email message and the attachment appear. I also can group these in the root folder according to email subject or email sender.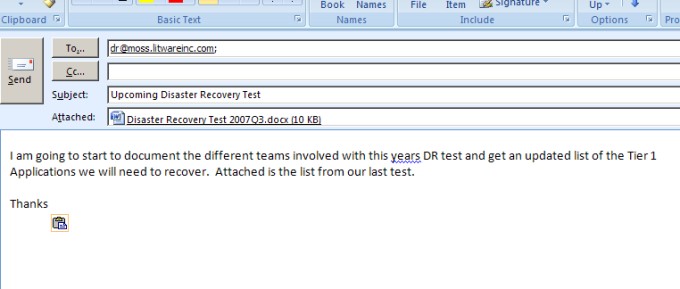 Figure 9. Sending outgoing Microsoft Outlook email to the SharePoint library includes the message and the attachment. (Click on image for enlarged view.)
When the mail is sent, the library receives the mail and groups it according to preferences set in Email Grouping, as shown in Figure 10. Both the attachment and email are captured.


Figure 10. Set Email Grouping preferences to group Sent messages in the SharePoint library. (Click on image for enlarged view.)
About the author: Bob Fox is a Microsoft SharePoint MVP who has worked with Microsoft technologies since the mid-1990's.For the past five years, Bob's primary focus has been Microsoft SharePoint Services, specializing in architecture, deployment, portal and site customization, administration, and collaboration solutions. He currently works as a SharePoint Technologies Technical Lead for Lawrenceville, N.J.-based B&R Business Solutions LLC. Bob has worked for companies including Merrill Lynch, BISYS Retirement Services and Educational Testing Services, Time Warner Cable, The National Football League, Pfizer and Johnson & Johnson. Visit Bob Fox's SharePoint blog at bobfox.securespsite.com
MEMBER FEEDBACK TO THIS MICROSOFT SHAREPOINT TIP
Bob Fox is the man! I hope we get to see more articles from him in the future.
—Muhanad O.
Do you have comments on this tip? Let us know.
Please let others know how useful this tip was via the rating scale below. Do you know a helpful Exchange Server, Microsoft Outlook or SharePoint tip, timesaver or workaround? Email the editors to talk about writing for SearchExchange.com.
Dig Deeper on SharePoint administration and troubleshooting